Seattle Central College is located in the middle of Capitol Hill, right near Cal Anderson park. Long before the current U.S. presidency, it has been the site of many protests, rallies, drives, and other events. This summer, it directly paralleled CHOP – Capitol Hill Occupied Protest, or the swath of land occupied by protestors for the Black Lives Matter movements – even having an aid station set up for its occupants by student and faculty volunteers. It comes as no surprise, then, that come Tuesday, November 3, 2020, the college must plan for civil unrest regardless of the outcome. This is a matter not only for security, but faculty as well.
"I think next week will be anticlimactic, but I am prepared to meet students where they are," says John Horton, faculty advisor to the Seattle Collegian and long-time English faculty member. "In 2016, I remember walking into my Shakespeare class the morning after November 8. To describe the mood of the room, you'd have thought someone had walked in and shot a puppy in the face just before my entry." Horton goes on to describe how he worked with his students around the difficulties that faced them. "After an open dialogue with those students, we decided to take the rest of the week off. By the following week, we were able to discuss more cogently how Shakespeare's Julius Caesar mirrored current events."
Not only can civil unrest and the government response to it affect a student's ability to complete work on time, depending on severity, location and response, but policies set to be enacted by the incoming president as well. With so much hanging in the balance in one election, instructors will have to prepare for the reality that their students may not be able to complete certain tasks at certain times or may struggle with the quality of their work. There may also be the issue of class discussions and other group work, which may become unproductive or even outright hostile depending on where the topic goes and how well-moderated the discussions are.
There was an email sent out to the entire Arts, Humanities, and Social Science department by Jaime Cardenas, the Dean of the department and History faculty member. It warned of both past and future struggles, discussing both the COVID-19 pandemic and the issue of civil unrest and political tensions. "These last seven months have been strange and extra-tough for our students, the faculty, and the staff. You've done a fantastic job in the midst of challenging circumstances. As I've mentioned in the past, I'm very fortunate to be collaborating with you all in these times", said Cardenas. "But the circumstances might get more complex.  I think there's a decent chance that we will soon have another challenge as educators: how our students are affected by post-election day political protests and government responses."
Cardenas went on in the email to offer the suggestion of adjusting lesson plans and being prepared to alter or circumvent group projects. "As an example, I'd like to suggest that you plan alternative assignments in case a group assignment is difficult for students to finalize in November or December. May I also suggest that you reconsider assigning a final exam or project worth many percentage points and due in December", he states.
Cardenas went on to say that he has already shared his thoughts with the other deans and plans to strategize more in-depth in an upcoming meeting about teaching during Fall 2020. Cardenas wraps up the email with a note of confidence: "In the end, I believe we'll be okay. You and the students will find ways to teach and learn, even if the situation gets tougher. And after being the Interim Dean for over a year, and an instructor for over 15 years, I know that you're an empathetic and talented faculty. So, I'll repeat what I stated earlier: Our students are in good hands."
Students may prepare by knowing their rights as protestors and bystanders. They may also consider keeping in close contact with their instructors about any planned or unplanned life events that may interfere with their work, as well as being honest with them if their planned or current group activities do not seem to be viable at a moment in time.
Anyone taking on-campus classes must also consider the possibility of further adjustments and cancellations in their schedule according to the surroundings of the school. This can be partially mitigated by signing up for Rave alerts, the college's emergency alert system. You can find out how to sign up here.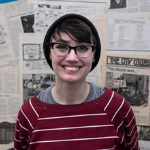 Danny Barber is the Managing Editor of the Seattle Collegian and an English student at Seattle Central college. She enjoys writing creatively, drawing, baking, video games, and going on long-winded random internet research sessions. After Seattle Central, she plans on getting her Master's in English and working on the editorial board of another paper someday.