If the hot sauce incident is all you remember about Unity Fair 2022, then stay until the end of this article and we will show you what this event was actually about. 
Unity Fair 2022 at Seattle Central College was an event that revolved around the idea of celebrating the versatility of students, college staff cultures, backgrounds, and communities, while listening to live music, tasting freshly cooked food, and playing interactive games.
The event was held on Thursday, May 26, by the Student Leadership team of Seattle Central College. With under three months of planning, the four hours of in-person connectedness and loud laughter from every corner became a real experience thanks to more than 30 students across the Student Leadership Boards. According to J.C. Ignacio, program specialist, "Based on our sign-in sheet, we had more than 250 staff, students, and professors attend Unity Fair! A couple of attendees I've talked to throughout the event have told me that this is the most people they've ever seen in one area at Seattle Central."
Why do we celebrate the Unity Fair Event?
We asked the program manager from Information Central, Yiqiu Viv Cai, why it is essential for events to take place at Seattle Central: "All kinds of small and large social events need to occur as it helps build community, helps students find friends, and more. It also gives them time away from studying."
Anna Hackman, a professor in the communication department mentioned, "a strong college is vibrant, both inside and outside the classroom. Students need spaces where they can actively engage with the college. Performing arts, open study spaces, and festivals, like the Unity Fair, create spaces that make Seattle Central College a community, not just a place to take classes."
Did attendees enjoy the event?
Mycole Brown, a student of informatics at Seattle Central, shared that after Zoom fatigue and pandemic time, he was happy to be back to in-person events, such as the Unity Fair event. For him, it was an exhilarating experience to meet new students from all over the world in one place. Since Brown enjoys learning foreign languages, he highlighted, "Unity Fair helped revive my sense of connectedness to the international community as I practiced Spanish and Ukrainian pronunciation, learned cool facts about countries other students are from, and had a great time."
A student from the nursing program, Christiana Akaeke, mentioned she was impressed by students' level of enthusiasm to participate in various activities such as games and dancing. Akaeke said, "kudos to the organizers, leadership team, and volunteers for putting this together."
Students and college staff collectively agreed that the encouragement to participate in various games and challenges was the reward of tickets for a delicious free meal. Three food trucks were conveniently located on the South Plaza, serving as the central attraction to the event attendees. "I lost a food ticket at one point, but I was fine as I got a replacement and enjoyed some great cuisine," Brown added.
A computer science tutor, Dias Mashikov, said he came down from his work office to South Plaza to get some free food and play games. "We [Dias and his colleagues] went there and smashed some dumplings while playing darts and discussing communism. That was a legit experience."
The space Unity Fair created was not just to have fun but also to brainstorm new ideas for projects and the future of Seattle Central.
Hackman said that the students' enthusiasm brought her and her colleagues new perspectives and ideas about what colleges can be. "The three unions at our college – AFT 1789, WFSE 304, and AFT SPS 6550 – had a table to talk about our contract negotiations. The negotiation process has been a difficult one. The opportunity to connect with all of you for a day was an important reminder of why we do this. You, the students, are why we chose Seattle Central College for our careers. The solidarity and support you showed us at Unity Fair meant so much to us."
Anything to improve?
Ignacio informed us that the event went well; however, there is always room for improvement. "One thing that would improve all aspects of the next Unity Fair: start planning earlier, like in January," he said.
Regarding the hot sauce challenge incident, The Seattle Collegian did not receive a response from student leaders regarding how the future event will prevent such incidents. "At this time, I cannot speak much on the hot sauce challenge as I was not involved in the planning and execution of Unity Fair," said Yiqiu Viv Cai to our question about future improvement in planning the event.
The stories about the hot sauce challenge may linger in Seattle Central. Nevertheless, the success level of the Unity Fair is evident. The goal of gathering students and college staff in one melting pot, surrounded by music, food, and games, was accomplished. Students' perspectives inspired college staff, some finally met their professors in person, and others made new foreign friends. Isn't that what is most important?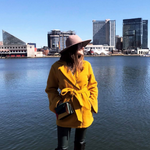 Veronika is a student from Seattle Central College, an International Student Ambassador, and a member of the Editorial Board of Seattle Collegian. She loves to cook Ukrainian dumplings, travel in the Pacific states, read E.Hemingway, listen to The Rolling Stones and Led Zeppelin. Veronika is pursuing her degree in web development. Her goal is to own her own business and financially contribute to Seattle Colleges Foundations to support low-income international students. While being a member of Seattle Collegian, Veronika is eager to share her own experience of living, visiting, working, and studying in foreign countries.