Are you interested in studying and developing your academic career at Seattle Colleges but need help finding funding? Then consider applying for a scholarship or grant through the Seattle Colleges Foundation today. 
A scholarship that pays a part of the entire cost of tuition can help relieve students' wallets tremendously. Scholarships, grants, and financial aid allow students to remain in school without the risk of dropping out for financial reasons.  
Unlike student loans, scholarships offered by Seattle Colleges do not need to be repaid. Although one may think about the many hours of scholarship application preparation, scholarships can be seen as an investment in one's academic and future career. 
Who can apply for scholarships at Seattle Colleges?
The Seattle Colleges Foundation provides financial assistance to incoming and current students; those pursuing an associate's or bachelor's degree; international students; students who benefit from the DREAM Act or DACA; Running Start students who will be graduating from high school this year; students planning to transfer; and more.
What are the details of the application process?
The scholarship deadline for the 2022-23 school year is April 13. Incoming and current students from all three campuses should create an account at seattlecolleges.academicworks.com in order to apply. 
Once signed up, students must fill out the general application which is required before applying for scholarships. Within application forms, students provide general info such as name, date of birth, campus, and several open response questions in which students can share their story, experience, and future career goals. In addition, students should provide a descriptive narrative of the financial situation which made them apply for a scholarship.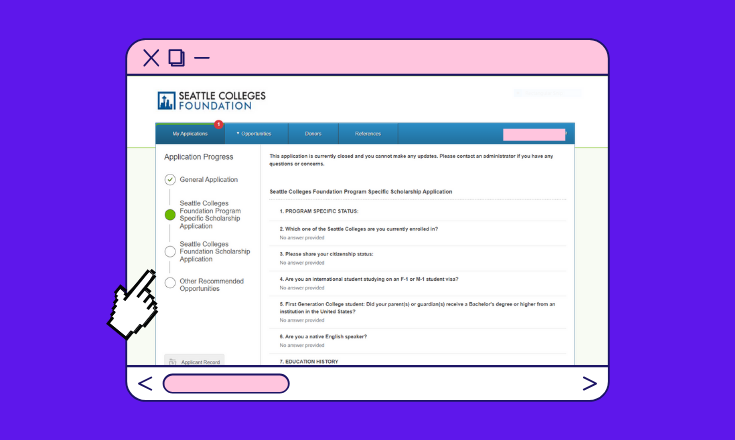 The Seattle Collegian reached out to Lyanne Asada O'Connell, Scholarship & Program Director at the Seattle College Foundation, to ask a few questions which were not answered on the Seattle Colleges Foundation website. 
O'Connell's answers are presented below:
What would you say to students who doubt their credibility to apply for a scholarship?
"Don't count yourself out, and we have over a hundred scholarships available to students from all walks of life and with a wide range of backgrounds. Including program-specific scholarships (Arts, Business, Allied Health, IT, Culinary, Wood Technology, Maritime, STEM, etc.) or based on academic merit, race/ethnicity, involvement in the community or on campus, art skills, leadership excellence, and more. About half of all applicants receive scholarships each year."
Who is included in the scholarship committee team? How are scholarships judged?
"Scholarships are first reviewed by over 200 volunteer reviewers, including Seattle College staff and faculty, community partners, board members, and donors. Here are the five areas that students are rated on.
Personal and Purpose Statements – The applicant's personal statement demonstrates their story and experience that has shaped them; the purpose statement – the student demonstrates their perseverance and progress taken toward their educational goal.
Financial Need – The applicant shares their financial situation and the impact a scholarship would have in pursuing their educational goal.
Perseverance through Challenges – The applicant shares how they have persevered through challenges and/or took advantage of opportunities in pursuit of their educational goal.
Engagement in Community/Campus Activities, Leadership Capabilities and Additional Responsibilities – The applicant has demonstrated their involvement on their college campus, commitment to volunteerism, additional responsibilities, or family commitments, and/or other leadership activities.
Academic Progress – The applicant has demonstrated a significant level of tenacity and motivation through increased progress of grades over time, academic honors, shared progress, and steps taken to continue or improve academic standing."
What are the chances of receiving multiple scholarships?
"Students could receive between 1-3 scholarships and scholarship awards can range between $3500 – $4000. Scholarships will be available to use in the 2022-2023 academic year."
Students who apply for a scholarship have the opportunity to get financial assistance and gain experience in presenting their potential skills and unique personal goals. This experience can also help students in their future professional endeavors such as job interviews and promotions. 
You can apply for a scholarship or grant through the Seattle Colleges Foundation here.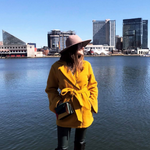 Veronika is a student from Seattle Central College, an International Student Ambassador, and a member of the Editorial Board of Seattle Collegian. She loves to cook Ukrainian dumplings, travel in the Pacific states, read E.Hemingway, listen to The Rolling Stones and Led Zeppelin. Veronika is pursuing her degree in web development. Her goal is to own her own business and financially contribute to Seattle Colleges Foundations to support low-income international students. While being a member of Seattle Collegian, Veronika is eager to share her own experience of living, visiting, working, and studying in foreign countries.