Public debates take center stage when shaping a flourishing democracy. In the spirit of a vibrant election season, Seattle CityClub and the Greater Seattle Business Association (GSBA) are partnering to host a public debate on Tuesday, Oct. 10 at 7 p.m. in Seattle Central's Broadway Performance Hall between primary candidates Joy Hollingsworth and Alex Hudson, who are vying for the District 3 position on the Seattle City Council. Without an incumbent running for the position, the debate is significant in influencing the direction of the city's future.
According to the Seattle CityClub's website, GSBA and Seattle CityClub "look forward to facilitating access to free… live, moderated debates between candidates seeking elected office at locations within each of their respective districts."
In an email to the Seattle Collegian, Executive Director of Seattle CityClub Alicia Crank, wrote that she wants to "engage as many residents in their district as possible to encourage civic engagement and civil discourse" as well as "help voters by educating them about the candidates looking to represent the District."
Crank says the debates will help inform students and young voters on campus.
"Civic engagement and the electoral process should be learned early. It's also imperative that young voters know and feel that their votes and opinions matter," Crank said. "Making sure the student body, of all ages and backgrounds, receives the most accurate information possible should have a significant impact on their decision making."
The debates will cover a wide range of key issues, and topics like arts and culture, housing, homelessness, and public safety will be addressed to provide comprehensive insights into the candidates' perspectives and policy stances.
A panel of experts has been assembled to ensure a robust and diverse exchange of ideas. Cesar Canizales from Converge Media, Hana Kim from FOX 13, and Greg Copeland from KING 5 will moderate. Their expertise and experience will contribute to the engaging discussion during the event.
You can find more information about the candidates and the entire series of debates, as well as register for the event, at this link.
Doors open at 6 p.m. The debate begins promptly at 7 p.m., so don't miss out on this pivotal event in Seattle's political landscape.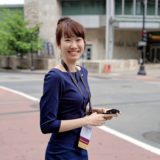 Anh Nguyen is The Seattle Collegian's Managing Editor. With a natural curiosity and a love for storytelling, Anh is drawn to the power of storytelling and its ability to connect people. Anh understands the power of using different mediums to convey powerful narratives. She firmly upholds the notion that every story holds the potential to educate, inspire, and spark meaningful conversations.