"Are you happy to finally graduate?" If you are a student, I bet you've had goosebumps from these feelings of excitement and sadness all at once. Graduating from college might bring both feelings of accomplishment and anxiety. This is the culmination of a chapter in your life.
You might finally feel euphoria from completing your education, but also tired from listening to your parents' repetitive question, "What's next?"
As an international student myself, I know it is not easy to plan for after graduation. International students often depend on school since this gives them legal status for living, studying, traveling in the U.S. Thus, thinking ahead, planning, and figuring out new opportunities once completing your education is essential for an F-1 student.
Some international students may return to their homeland where a degree through Seattle Colleges will provide a high-paying job; others choose to continue their education at a four-year college to get a Master's degree. A few may also decide to apply for Optional Practical Training (OPT).
In short, OPT is a 12-month work authorization available to F-1 international students. A STEM OPT might be extended to 24-month work authorization.
The goal of OPT is to allow international students to gain valuable hands-on experience and begin contributing their education and training to the U.S. work market. International students are responsible for finding a full-time job related to their field of study during the work training.
There is no need to have a job offer to apply for OPT. Please visit the United States Citizenship and Immigration Services (USCIS) official website or talk to your college academic and immigration advisors for more detailed information.
I am an international student majoring in Web Development and Design and will soon be applying for the OPT. I started the application process a few weeks ago. Before, I could not imagine how complex immigration laws are and how misleading international students might be when preparing for the OPT. Thus, it is important for international students to plan effectively and communicate with the college staff to graduate and obtain OPT work authorization.
You might be surprised at how ambiguous the requirements of an OPT application might be. But, hold on, do not get stressed. In this article, you will read the pieces of advice which I prepared for you to avoid future turbulent feelings when applying for OPT.
Before reading through the rest of this article, please keep in mind that everyone has a unique situation in life, and with this, your experience might be very different from mine. I am not an immigration lawyer or academic advisor. If you need advice or guidance from a professional, please talk to the IP office on campus. The international student staff is always there to help you. 
Start planning early
You are allowed to apply up to 90 days before your program ends. It is a good idea to enable the whole three months for the application processing, processing in your international student office, and mailing. If you plan to graduate in the spring quarter, it can be a good idea to set up your appointment regarding OPT application with an advisor in early March. See the image below, which might help you understand the schedule.
I started folding the required documents two quarters before my graduation day. Yes, I am serious. Recently, I had an appointment with my advisor to let him know about my plans and confirm that everything I do is right.
Before you can apply for the OPT, you must talk to your academic advisor ahead of time to make sure you are eligible for graduation. I was surprised to figure out that I need to take several additional required classes to graduate. If I did not ask him ahead of time to confirm my graduation plan, I wouldn't graduate; as a result, I would not be able to apply for OPT.
It is crucial to communicate with your advisor, who will provide a legitimate plan of your actions. My advice is to set the deadlines when to apply, whom to send the documents, and what documents to prepare. Watch out for important emails from your advisor, be responsive and respectful of those who lead you during this process.
Moralis: Preparation for the OPT application is a serious process requiring attention to deadlines and being responsible for your own decisions. Here is an excellent quote for you: "By failing to prepare, you are preparing to fail." — Benjamin Franklin.
Check out available internships and jobs
The average USCIS processing time to issue the OPT Employment Authorization Document (EAD) is three to five months. During the waiting period, applicants must finish the program and graduate successfully. If international students do not complete the college degree program, they must speak to an international advisor as soon as possible.
In addition, remember that you can not start working until you receive an EAD card. Working without legal authorization might ruin your immigration status in the U.S.
However, no one prohibits you from starting writing and polishing your resume, portfolio, etc. Instead of watching Netflix, I would encourage you to spend some time learning about the job market. Take the time to research what jobs are available in your field of interest. Learn the requirements, skills, knowledge, tools, and platforms the companies use. While waiting for your EAD card, you also have enough time to cultivate and grasp new skills using free platforms like LinkedIn Learning or Coursera.
Moralis: Learn what are the most common qualifications, platforms, and frameworks your dream job or company uses while you wait for the EAD card. This knowledge will help you be less stressed during future interviews and prove your deep interest in your degree field. Remember, you cannot land a job without getting approval from USCIS and receiving an EAD card. International students can work after they have received an EAD card.
Maintain Status on OPT
Once the EAD card was approved and received by the applicant, international students may not exceed 90 days of unemployment during their 12 months of Post-Completion OPT. They must report their employer's name and address within that time frame.
To submit all the required information about your employment, an international student will need to fill out the form on SCDGlobal. As well, meet with the advisor to ask about responsibilities during the OPT. During your OPT period, remember that you maintain F-1 student status and must adhere to all F-1 regulations. During OPT, you are not required to be enrolled in classes.
Besides maintaining your immigration status, please remember that the goal of the OPT is not only to work off-campus but also to cultivate and practice the knowledge you gained at Seattle Colleges.
Hence, expand your skills by working in a field that relates to your degree. Make professional connections and share your ideas and practices while working on OPT. This is the time to show off your knowledge and be a start! Be open to new opportunities, and always plan ahead!
Moralis: OPT must be used all at once; it cannot be broken up. With this, remember to show all your potential and implement your creative ideas into the professional arena.
Good luck!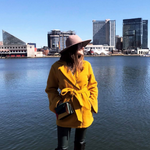 Veronika is a student from Seattle Central College, an International Student Ambassador, and a member of the Editorial Board of Seattle Collegian. She loves to cook Ukrainian dumplings, travel in the Pacific states, read E.Hemingway, listen to The Rolling Stones and Led Zeppelin. Veronika is pursuing her degree in web development. Her goal is to own her own business and financially contribute to Seattle Colleges Foundations to support low-income international students. While being a member of Seattle Collegian, Veronika is eager to share her own experience of living, visiting, working, and studying in foreign countries.