On May 15th, American filmmaker Lynn Shelton passed away at 54 due to a previously undiagnosed blood disorder. Shelton's partner, Marc Maron, said that she collapsed on Friday after several days of ill health and clarified that it had not been COVID-19.
Shelton was born in Ohio and grew up in Seattle. After attending Oberlin College, she went to the University of Washington School of Drama. She moved to New York City later on to follow the Master's of Fine Arts program in photography and related media at the School of Visual Arts in Manhattan. Shelton started out as a film editor and made a series of experimental and accomplished short films. She began making films in her mid-30s, despite her worries that it had been too late to begin, and went on to write and direct eight feature films within the duration of 14 years. Her first feature film was "We Go Way Back" which has been described as "polished" and "impressionistic." It's a quiet film based on subtle and awkward human interactions.
Most recently, she's known for her work on the popular Hulu series "Little Fires Everywhere" starring Reese Witherspoon, in which she directed several episodes. Other popular shows she was a part of include "Shameless", "The Good Place", "New Girl", "Glow", and "The Mindy Project".
Despite Washington state's comparatively small film incentive program, Shelton made an effort to make sure that film productions stayed in the state and supported her local crews vehemently. "Since I had the pleasure of working on a set with my dear friend Lynn Shelton in 2009," producer Jennifer Roth wrote on Facebook, "I have always treated my colleagues, my crew and everyone around me differently. She taught me that being a true professional is to lead with love, trust and respect."
Upon asking Seattle-based writer Jake Uitti for a few words, he said: "I never met Lynn. But we corresponded over email and social media a fair amount. I interviewed her for The Stranger after a movie she made and, about a month ago, Lynn connected me with her partner, Marc Maron, for an interview – one of the most high-profile of my career. It was acts of kindness like this that defined Lynn. People knew her for her movies and high-profile television shows. But we mourn her because of her kindnesses."
A week before her death, she had revealed that she was in the process of co-writing a dramatic film with her partner, Maron.
Reese Witherspoon and Mindy Kaling paid their tributes on Twitter. The former tweeted that she's "so devastated" and that she's in "complete shock that this vibrant, talented, and soulful filmmaker is no longer with us." She also gushed about how passionate Shelton had been about "Little Fires Everywhere". Kaling tweeted that "her lovely, sunny energy was infectious and actors always drifted to video village between takes to be around her. She had such a quiet power and I will miss her. Rest in Peace, Lynn. Love you."
Maron had also spoken about his grief candidly to his podcast audience. He was effusive about her work, describing her as "a determined artist who just needed to put her expression out in the world." He also said that "no one's got anything bad to say about Lynn Shelton" and that he was "definitely a better person when he was engaged with her." Shelton had been in quarantine with Maron in Los Angeles before she died, writing and watching movies.
It is terribly sad to hear that such a talented and passionate soul has left this earth, especially during these tough times. She will be remembered for her incredible work in the film industry and for being an even more incredible person. Rest in peace, Lynn Shelton.
On Thursday, May 21st, Shelton had planned to host a livestream of "We Go Way Back" on NWFF's Facebook Videos page. This event will still be held but with the new purpose to share memories of Shelton.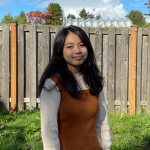 Alex Su is a Biochemistry student and a staff writer at the Collegian. Harboring a passionate love for fiction, she enjoys writing prose as much as reading books. She's fascinated by the complexity of living things and aims to work in the medical field. She likes writing for the Collegian as much as bullet journaling, drawing, and eating.