May 1, 2019 saw the annual El Comité Immigrant and Workers' rights march return for its 20th year. A large crowd of indigenous and immigrant dancers, protesters, and spectators, shadowed by an equally large crowd of police officers, weaved through the streets of Capitol Hill and Downtown, eventually congregating at Seattle's U.S. District Court.
Many demonstrators held signs opposing the Trump administration's stance on immigration. The policies of migrant detention and family separation at the border were the chief concerns for many in attendance. In addition, pro-union sentiment was voiced on the steps of the District Court by Secretary Treasurer of the Washington State Labor Council, April Sims.
Although May Day may provoke images of violence, pepper spray, and destruction in the minds of many, it seems that today, much as last year's march, saw little or no hostility. Despite the calm, there was certainly no shortage of police presence at the march, including police resources drawn from neighboring cities likely in an attempt to dissuade any conflicts or confrontations.
For anyone unfamiliar with the historic precedence of May 1st, its roots are grounded in the harsh working conditions in the early days of the Industrial Revolution. Workers had few rights and working conditions were harsh, dangerous, and even fatal. The push for an 8-hour work day eventually led to tensions between workers and police, sparking the bloody Haymarket Riots on May 4, 1886.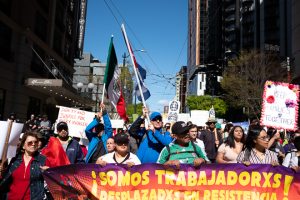 Check out our Two Minute Warning video of May Day here!