On April 16th, South Seattle College took part in the ROC Walk Out. Signs supporting the Walk Out were seen throughout the neighborhood nearby, in yards and on overpasses. About 50 students and teachers assembled outside of the campus. Like other Seattle Colleges campuses, postcards to send to the State Legislation and sign making materials were available, as well as musical instruments to keep the crowd lively and chalk for decorating the sidewalk.  
"We will continue to see students and teachers leaving the district. " – Janey Kapp
Janey Kapp, a tenured professor of nutrition, health, and biology, said she hopes the walkout will help the Washington State Legislature recognize the work teachers, administrators and support staff do. "It's not salary. It's losing classes. It's having core classes canceled because we can't afford them, even when they're near capacity. We're losing veteran teachers who can't afford to continue working and living in Seattle. We just need funding to do the work we do, or we will stagnate. We will continue to see students and teachers leaving the district."
Student Government President Jeffrey Campbell said "If we look at how the state is funding Seattle colleges, teachers pay rate becomes stretched to include administrative costs. Since 2013, the State has only covered 65% of the salary increased that they have approved, forcing the colleges to cover the remaining 35% with tuition and other revenue. In the end, this pulls from operating and support costs. This results in cutting services, programs, and staff. It also means we lose attentiveness from teachers and that transcends to students. For example, last quarter one of my professors was working at three campuses, unable to make ends meet, and she was a wreck. It really affected the quality of learning in the class. We have teachers commuting from Bellingham and Walla Walla working three to five jobs, and as students, we can feel that."
The student advising center, library, and other support offices were unable to close for the Walk Out, as students still needed those resources. Angela Pak, the Program Coordinator for Student Disability Services, disclosed that the ASL interpreter who worked with the keynote speakers outside had to be pulled from the disability office, meaning that for the duration of the event there were no other interpreters available. "I think it can be easy to forget how very important disability and student support is until we don't have it, and that's a very real possibility we may be facing in coming fiscal years if things don't change at a State level." Like at Central, Disability Services have been particularly impacted by budget cuts.
"There are lost of projects we have in the works and want to be able to complete, but our ability to expand is in jeopardy." – Marianna Asaturova
Marianna Asaturova, Director for Educational Support Services, talked about the increasing need to cut staff and reducing the number of tutors that can be available, to the point that the drop-in center has had to reduce its hours. "Students cannot get enough help from our office. A few years ago there was a $30,000 cut from State Legislators, which brought tutors from 75 to 50. There are lots of projects we have in the works and want to be able to complete, but our ability to expand is in jeopardy. We may have to give up on projects intended to improve student learning and access, and we don't want to have to do that."
For information on the ROC Walk Out at North Seattle College, click here.
For background on the walkout, click here.
For information on course cancellations, click here.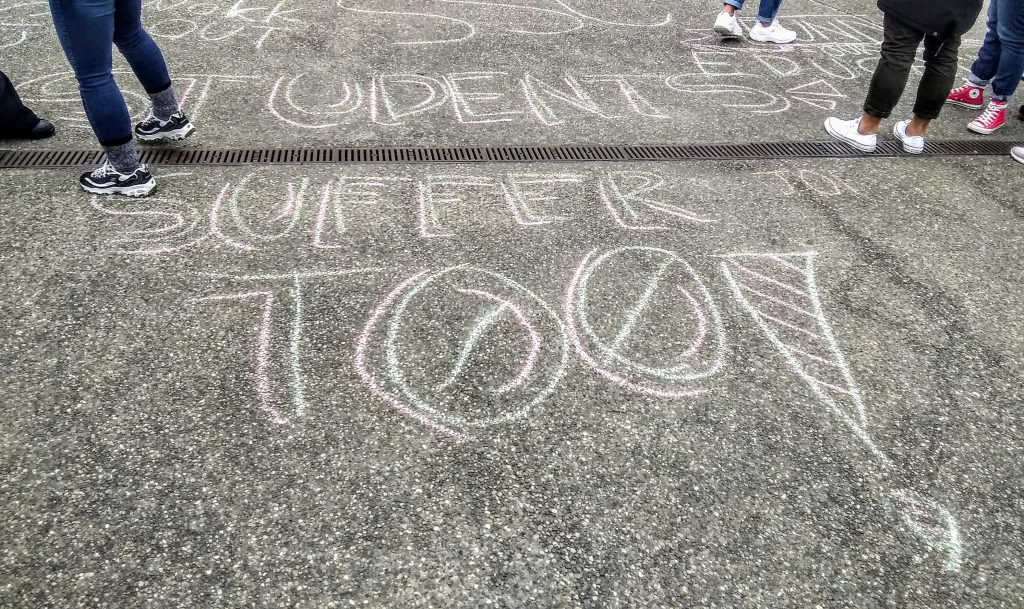 Morgan is a Seattle Central alumni currently attending Oregon State University where she is majoring in Anthropology. In addition to writing, she enjoys painting and linguistics. She lives in a very small house with a very fat cat.