Once again, the Seattle Central College Tournament and Games Team hosted their Winter Showcase called "Seattle Central's Got Talent" on Friday, March 6th, from 5-8 p.m. The showcase was a perfect opportunity for Seattle Central students to walk out of their comfort zone, and express their talents live on stage at the Broadway Performance Hall located on Seattle College's campus. 

The TAG team held their first audition on February 19th in MAC210 (Mitchell Activity Center) located next to the Student Leadership Building from 2-5 p.m. "I think the reason why I passed the audition was because of my self-confidence. I know my music", said DJ Hung Vo.

"This was a great opportunity to express what I like to do in my life. The TAG team always puts effort into their events. Community college is hard work…, and it's nice to have events like these to fit in the stress atmosphere. I believe if the students' connections are better the events would be better." Said Le Hein.

"Everyone has their weakness. But the most important thing is we get to feel what we feel. We get to show what weaknesses are to make it our strength. This is what the event is about", said Viet Tran.

Before the event, groups of volunteers helped out with backstage equipment while contestants gathered in groups doing last minute practice for the showcase. Because I arrived early, I had the chance to sit down with the one group contestant that participated in Seattle Central Got Talent both last year, and the year before: The "Step Up" club. "Teamwork is our strength. As a team, we support each other. We want to show people how dance as a group brings us together as a great opportunity because of teamwork." "The audience is our strength, they brought us together", said the girls.

As the audience started to walk in at 5 p.m., two MCs, Michael Chu and Robert Selfe roleplayed themselves well to fit with the showcase. Chu first introduced the audience to more information about TAG, with videos of their team's previous events and games since Fall Quarter 2019.

The showcase had nine acts in total. The first act started at approximately 5:30 p.m. The first act, Elyzha Marie singing "Love on the Brain" by Rihanna; followed by Guo Pu (Penny) performing Mozart's Sonata KV330 on piano; "Step Up" club performing a hip-hop dance to "Me Too" by Megan Tranior and Daddy-PSY; Piano-A Yiruma Medley with Ron; and Le Hein Singing "Dancing on my Own" by Robyn. After the fifth act, Chu and Selfe transitioned to an intermission, for audiences to have a little stretch.

After a fifteen minute intermission the acts continued with Sierra Johnson on guitar singing "Unbreakable Smile" by Tori Kelly; Guo Pu dancing to "Gui Qu Xi Lai"; and Quoc Viet Tran Ngoc singing a music mashup (with piano accompaniment by Ron). The event ended with the audience handing flowers to their favorite contestant and the showcase wrapped-up with DJ Hung Quoc Vo bringing both the audience and contestants onto the dance floor.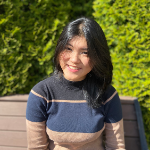 A young STEM student aspired for Mechanical Engineering and a staff writer at the Collegian. She's interested in design, machines, and the advancement of technology. Her dream is to use her design and technology skills to achieve a significant role in a dominantly male field. She enjoys playing video games, cooking, and mostly spending her time studying.