In November 2017, former Mayor Tim Burgess unveiled the Housing Affordability and Livability Agenda (HALA), a plan to combat rising housing costs by creating 50,000 new residential units by 2025. HALA's crown jewel is the Mandatory Housing Affordability program (MHA), a plan to rezone 27 of Seattle's neighborhoods and impose new requirements on developers in order to accommodate higher-density and more affordable development. After a long political process, which included compromising with development interests and dealing with legal challenges posed by neighborhood groups, the City Council finally started debating the proposed legislation last Monday.
The legislation, which comes on the heels of last year's upzoning of South Lake Union, the University District, and the International District, would allow taller and denser buildings in a wide range of Seattle neighborhoods including Ballard, Wallingford, Lake City, Capitol Hill, Beacon Hill, Rainier Beach, and the West Seattle Junction.
Areas deemed to have a low risk of displacement and high access to transit, parks, and jobs, such as Ballard, Wallingford, Fremont, Ravenna, and West Seattle would see the most dramatic zoning changes. Historic districts and certain environmentally critical areas are excluded from the plan, as well as most blocks within 500 feet of freeways.
Although the majority of growth would be concentrated in blocks that are already part of urban villages, which refers to the city's dense commercial corridors, the plan also proposes expanding 10 urban villages into surrounding blocks which are currently zoned for detached single-family housing. 6% of the city's total single-family zoned lots would be opened for higher density development. Two-thirds of those lots would be redesignated as "residential small lots," allowing for duplexes, cottages, and townhouses. The other third would be raised to "low-rise zone," a zoning designation that allows the construction of small-scale apartment buildings.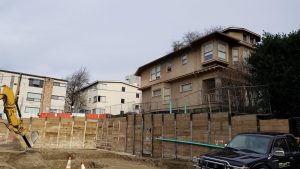 In order to ensure that the new development enabled by the plan includes affordable housing, developers would be required to either reserve a portion of new residential developments for low-income housing or pay a square-footage-based fee to the city. That money would then be used to fund lower-income housing developments. However, as the plan is currently written, there is no guarantee that the money would go back to the neighborhood in which the original development was built.
For individuals to qualify for affordable housing created by MHA, they must make less than $40,320 per year and will pay a maximum of $1,008 for a one-bedroom unit. For a family of four to qualify, they must have a household income of less than $57,600 and will pay no more than $1,296 for a two-bedroom.
The initial version of the plan was met with resistance from groups who argued that the plan would fundamentally change the character of the city's neighborhoods and have a negative effect on livability. A group calling themselves the Seattle Coalition for Affordability, Livability and Equity, made up of neighborhood organizations from Eastlake, Wallingford, Magnolia, the University District, and West Seattle, filed an appeal against the plan's environmental impact statement soon after it was proposed. The appeal, which asserted that the plan would degrade tree cover, create more traffic and pollution, and make the city less affordable, was struck down by a judge in November.
A number of block-by-block amendments to the current plan have been proposed, some including scaling back proposed upzones in neighborhoods such as Beacon Hill, Rainier Beach, Wallingford, and Queen Anne. Other amendments propose more upzones in transit-accessible areas, including blocks around the upcoming Roosevelt and Northgate light rail stations. In the coming weeks the City Council will be reviewing these proposals, and on February 21st at 5:30 pm a public hearing will be held at City Hall. The final vote on the legislation will be held in March.
Seattle's push towards higher density development has come amid a larger nationwide movement to create more affordable housing units in big cities. In December, Minneapolis became the first major city in the US to abolish single-family housing altogether, opening up every neighborhood in the city to higher density developments. The city's Minneapolis 2040 plan aimed to combat the legacy of racial segregation that is often associated with single-family housing while creating a large amount of new housing stock with easy access to transit and jobs. Although the Minneapolis City Council passed it 12-1, it was strongly opposed by many of the city's residents, who feared that it would lead to the bulldozing of their neighborhoods.
Minneapolis' upzoning plan makes ours look conservative, but it could give us an idea of what kind of legislation might soon be coming to Seattle. Cities all around the country are debating whether or not to follow Minneapolis' lead. Oregon legislators are already drafting a sweeping statewide proposal that would ban single-family zoning in all cities with a population higher than 10,000.
However we choose to deal with it, there's no hiding from the fact that Seattle is one of the fastest-growing metropolitan areas in the country. Data released by the Census Bureau in 2016 showed that around 1,100 people move here every day, and as our local economy continues to thrive there's no reason to believe that the influx will stop any time soon. No matter how the current upzoning proposal plays out, the debate about how to deal with our growing population and the costs that go with it -while still retaining our city's unique identity- will continue long after MHA clears City Hall.