On Wednesday, October 7th, the Student Organization Resource Council (SORC) hosted a virtual meet & greet event for clubs at Seattle Central College via Zoom. The virtual affair was designed in a manner to encourage students to participate and form connections in different clubs this Fall while classes remain online.
The meeting began with Jacob Chin, (Student Leadership Program Manager, SORC Council Advisor, College Activity Board (CAB) Advisor), paying respect to the traditional stewards of this land and the enduring relationship that exists between Indigenous Peoples and their traditional territories, then continued with each participant's introduction. After the introduction, Chin stated a small list of active clubs available in Fall:
African Student Association: This club serves as a body of students from and linked by heritage to African Nations. The mission of the African Student Association is to educate, restore, and promote the cultural heritage of Africa through various efforts such as symposiums, workshops, and cultural exhibitions. 
Health and Human Services Student Club: This club's purpose is to organize health and human services for students, to improve the likelihood of completing educational programs by supporting one another with study groups, as well as hosting social activities that promote degree completion.
Vietnamese Student Association: The purpose is to create a friendly and close-knit atmosphere for Vietnamese Students as well as anyone who wishes to know more about Vietnamese culture.
SACNAS (Society for Advancement of Chicanos/Hispanics & Native Americans in Science): is an inclusive organization dedicated to fostering the success of underrepresented groups of people in attaining advanced degrees, careers, and positions of leadership in STEM. 
NAMI On Campus Club: "This club works to end the stigma that makes it hard for students to talk about mental health and get the help they need. Clubs hold creative meetings, hold innovative awareness events, and offer signature NAMI programs through partnership with NAMI State Organizations and Affiliates across the nation."
Immigrants & Refugees Club: "Central to our group is our commitment to advocacy, organizing and action. We aim to build powerful immigrant and refugee youth in Washington state through community organizing. We build strong relationships, learn through training plans, strategic actions and implement a plan of action. Our group is active in local politics and civic engagement. We are invested in holding elected officials accountable to represent us, and we propose to push for laws that reflect our needs and aspirations for immigration and education reform. We aspire for every community to be a safe space of connection, support, and solidarity. We want to be able to express our struggles and celebrate our successes. We hope that our community will inspire and inform other similar groups throughout Washington state."
Respiratory Care Club: "This club promotes awareness and progress of respiratory care. We plan to have respiratory care tabling and respiratory tutoring sessions. We plan to collaborate with other clubs in order to create smoking cessation activities and medical seminar series."
SACNAS, NAMI On Campus, and the Immigrants & Refugees Club are currently the only clubs participating in the event. According to SORC, the clubs' final list will be updated on the Seattle Central College Website shortly. More information about Seattle Central College groups, clubs, events, news, and updates can be accessed through the Seattle Central App.
In closing, Chin announced the basic guidelines of being involved in a club and provided contact information for the SORC team. The event concluded with Chin opening breakout rooms for students to create networks with their club(s) of interest.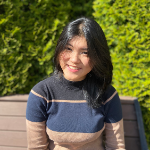 A young STEM student aspired for Mechanical Engineering and a staff writer at the Collegian. She's interested in design, machines, and the advancement of technology. Her dream is to use her design and technology skills to achieve a significant role in a dominantly male field. She enjoys playing video games, cooking, and mostly spending her time studying.