Since the dismantlement of protestors' Capitol Hill Organized Protest (CHOP) Zone on Jul 1, protests challenging issues of democracy, police brutality, and racial inequity had begun losing significant momentum. A lack of extensively publicized protests in the Seattle area seemed to have caused reduced numbers as mass media outlets and social media shifted away from highlighting demonstrations.
Protestors, which have resorted to rioting after recent civil activity lost traction, have begun to leave a trail of property destruction as the City of Seattle and the U.S government are pressured to continue defunding police, addressing racial inequity, and funding systematically oppressed communities.
Earlier in June and July, protestors were encouraged to intervene to deescalate possible destruction of property. But now, as a means of disruption, new protests have established the avoidance of protest policing as mass opinion seems to have shifted on property damage among demonstrators.
Inspired by the clash between federal agents and protests in Portland, who have seen tear gas and police brutality for over 60 days now, Seattle returned to the streets with a crowd of over 2,000 this past Saturday, Jul 25 in solidarity.
Seattle's City Council legislation to ban the use of crowd control weapons, unanimously passed in June, was expected to be in effect on Saturday morning. However, ahead of the weekend protest's, Federal Judge James Robart issued a temporary restraining order (TRO) on Wednesday, Jul 22 on the city's ban.
The TRO, issued after the U.S. Department of Justice sued the City of Seattle, claimed the ban of crowd control weapons would cause the public to "suffer irreparable harm resulting from officer confusion and the inability to modulate force or de-escalate situations in which force may be needed."
Despite the threat of crowd control munitions, protestors gathered on Seattle Central's South Plaza on Saturday afternoon with hidden identities as gas masks, goggles, black clothing and head wraps covered their faces. In the dense plaza, which has become a meeting place for several protests this summer, many practiced de-arresting, in which protestors grab the arrestee from police using a large group.
Thousands began to march, including many with leaf blowers to redirect possible tear gas fumes and mothers dressed in yellow, like the Wall of Moms in Portland who have stood up for their protesting children.
The group, which marched to a juvenile detention facility construction site on 12th Avenue and Jefferson Street, set aflame multiple trailers, jumping in delight at the aftermath. Many demonstrators have advocated to dismantle the school-to-prison pipeline and imprisonment of youth in BIPOC communities.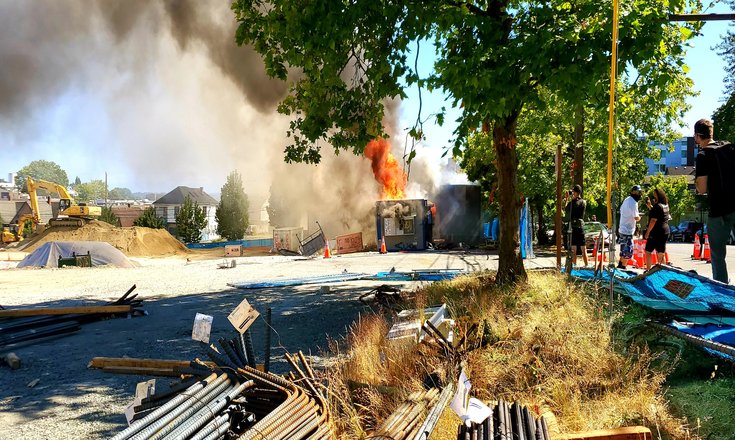 Recently, pressure and demand from protestors resulted in King County Executive Dow Constantine's promise to depopulate King County's youth jail by 2025. However, many protestors demanded that the youth jail be dismantled now, and destroyed the construction site for a new juvenile detention center to stress their stance against incarcerating youth.
The group also continued spreading graffiti as the march continued, the group staying tight, and "moving like water", a strategy inspired by Hong Kong protestors. On the way, many broke into a Starbucks, destroying windows, merchandise, and tagging the inside of the store.
Not until the demonstration walked back towards Pine, and reached the East Precinct, did the police elicit a response, beginning to follow the group after they damaged the police station and marched past.
Protestors, now staged on 11th and Pine, looked up the hill at police. One police officer yelled from the top of the block that the march was an unlawful assembly, but as police moved forward and began throwing flash and OC gas blast ball grenades, no official dispersal order was issued.
The group, who retaliated throughout the afternoon with rocks, water bottles, and fireworks, protected themselves with leaf blowers, shields, umbrellas, and other protective gear.
Chief Best, in response to Judge Robart's TRO, promised the City of Seattle that officers would not be using CS (tear) gas in a statement on Friday. Though Best said officers did not deploy CS (tear) gas, multiple bombs emanating green-ish and white gases were launched on Saturday afternoon. Many were OC gas, but many protestors allege some were CS gas.
As police dressed in both all-black and militant green uniforms pushed protestors further south on Pine, the group found themselves seeking refuge on Central's campus, before police deployed several OC blast ball grenades on the South Plaza.
Protestors, who were pushed down and pepper sprayed liberally in the face, struggled to get up from the ground as law enforcement continued to move forward towards Harvard and Pine. Rubber bullets and marking rounds were also deployed, the remnants of the crowd control weapons littering Pine, Broadway, residential streets, and Seattle Central's own campus.
As police secured part of Central's South Plaza, the college issued no emergency alert warning, nor announcement to students, staff, and faculty of the escalating situation in the area.
Weeks ago, Central had issued an emergency alert when police were arresting protestors on Pine, near its campus. However, now that OC blast ball grenades had been dropped on campus, flash bomb grenades marked the brick ground, and police obstructed movement on the South Plaza, no comment was publicized by the college nor its administration.
Central, which has only released a statement on Black Lives Matter in May, has yet to comment on the escalating civil activity on its campus.
As protestors ran away from the tense area, police chased the demonstrators down residential streets. Many yelled at residents to close their windows and doors, claiming that tear gas was being deployed. Many, unable to keep up, separated themselves from the group, or were arrested.
SPD, which made 47 arrests that night, even targeted legal observers according to the Seattle National Lawyers Guild. A video shows an officer directly pepper spraying a legal observer in the face.
Protestors, who by 7:00 p.m found themselves facing off with police and federal agents on 11th and Pine once more, begged for police to wear masks amid rising Covid-19 cases and a mandatory WA face covering order, pounding on garbage bins strewn across the street.
Seattle Police never issued an official dispersal order to the crowd, as directed by the crowd management section in SPD's manual. They still arrested protestors for "failure to disperse."
Without the permission of WA Governor Jay Inslee, nor Seattle Mayor Jenny Durkan, the U.S. Department of Homeland Security (DHS) had deployed federal agents ahead of Saturday to "protect federal property." Expecting significant destruction, a wall of cement roadblocks was organized around the Seattle Police Department's (SPD) West Precinct.
Despite this, no federal agent presence was confirmed near the confrontation between police and demonstrators. 
After a protest on Jul 19, where protestors encountered police at the West Precinct, resulting in some arrests and alleged officer injuries, Mike Solan, President of the Seattle Police Officer Guild (SPOG) told KING 5, that he would take "any help we can get to protect Seattle police officers and our community at large," including "any type of help from any government entity with protecting the facilities, with protecting our community."
Solan, who called for federal forces in Seattle after national controversy arose surrounding federal agents in Portland who have been kidnapping protestors in unmarked uniforms and vehicles, was addressed by Mayor Durkan in a press conference last Friday, Jul 24. She said that she had not spoken to Solan and declared that he didn't speak for SPD, but rather, Chief Best did.
"We haven't asked, and you know we haven't asked for anything," said Best during the press conference on Friday, "Mike Solan can ask for whatever he deems, he's another person out in the community to make that request, it's not an official request."
DHS Secretary Chad Wolf had told Durkan "he had no plans to surge federal agents to Seattle" and would give "reassurance that he would notify Chief Best and myself," it was after this that Durkan had learned that there were "limited agents on a standby basis."
During the press conference, Durkan also pleaded with protestors to not agitate federal agents, asking for demonstrations to remain "peaceful" amid recent property damage at protests that week.
Federal agents, after pressure from local and state government officials, have withdrawn from Seattle today, Jul 28.
Four protests this month, before Saturday, have focused on property damage, as demonstrators gather en masse with hidden identities in black clothing, balaclavas, and umbrellas to hide from cameras. Protests began property destruction on Jul 12, during a protest against Immigration and Customs Enforcement (ICE), using broken windows and tagging as a significant disruptive strategy, popularizing the phrase, "I don't know shit, I didn't see shit."
That Sunday, windows were smashed at the Seattle Municipal Court, and City Hall's entrance doors vandalized with spray paint and shoeprints after protestors attempted to break them open. Demonstrators then dispersed before any police responded to the protest.
The following week on Jul 19, protestors gathered to protest ICE once more. This time, organizers emphasized intersectional activism, chanting against the U.S. government, capitalism, and corporations like Amazon that have threatened the livelihood of minority groups.
Marching throughout Downtown, South Lake Union and Capitol Hill, hundreds of protestors left behind several buildings broken into, including the District Court, Municipal Court, over five Starbucks shops, two Amazon Go stores, a Walgreens and the East Precinct.
SPD followed the group with many police vehicles flashing bright red lights, but the group once more dispersed before police forces confronted the demonstrators.
Empowered by a lack of police response, a last-minute organized march on Jul 22 at Cal Anderson, preluding Saturday's large group, broke into Whole Foods, Starbucks, and Uncle Ike's, who demonstrator's claim have contributed to the gentrification of Seattle's diverse areas, like the Central District. Protestors also broke windows at KeyBank, and Chase Bank.
The group later disbanded, and police never responded.
The organization of protests has sharply diminished since Saturday, where many demonstrators experienced severe injuries due to crowd control weapons. During multiple confrontations on Saturday afternoon, police moved forward and aggressively pushed protestors, without warning nor a dispersal order.
Police were even spotted rummaging through boxes, trying to find more crowd control munitions, but failing to do so, before plenty more were attained.
Though located at the center of the clashing sides, Seattle Central College's community faces a lack of response from its college, and some wonder whether it's administration will address SPD's jurisdiction on campus after OC grenades were deployed on campus property. But students and staff also have faced danger and sacrifice as they protest on their own campus, though college administration falls silent on the matter.
As Seattle sees tensions increase between protests and law enforcement yet again, the city continues to tackle considerable violence towards property and police brutality. Eyes are on City Council, which is set to vote on defunding SPD by 50% on Aug 3, and the public has seemed to renew its critical watch over Durkan and Best after this past weekend. Demonstrators, who continue protesting daily in smaller groups, refuse to relinquish their voices, presence, nor efforts for any less than what they demand.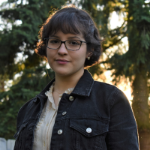 Alexa is an avid journalist seeking an A.A. with an emphasis on Global Studies at Seattle Central College. She's interested in pursuing investigative journalism to report on social struggles like immigration, civil rights, and access to education in South and North America. She is currently working to cover budget cut reforms at Central and civil rights movements in Seattle. Alexa is also a Youth Council Member at OneAmerica, advocating for greater access to quality education for immigrants and refugees in WA. She is a first-generation American who has travelled to 13 countries to explore world cultures and politics.