Welcome Week is the first week of each quarter at Seattle Central set aside to bring every student, new and old, back into the school workflow. New students may find aides donning appropriately labeled sweatshirts in the hallways assisting them through the layout of the school. They also often find themselves at Info Central, the school's Swiss Army knife of knowledge and troubleshooting. Welcome Week is also set aside as a time for tabling, where employees from anywhere from Sound Transit to University of Washington set up tables and walk through common questions students may have about the institutions they'll face on their way through the higher education system. It's a time for immersing yourself in the system, where people have been preparing to help you for weeks, maybe months, to make sure that goes smoothly.
But with COVID-19, where has the Welcome Week gone? To put it bluntly: it's not there. Not how it would be in a "normal" quarter, anyways. According to Director of Student Leadership Dennis Coy Denman, the student leaders are working on smoothing out any kinks with Zoom, the platform primarily used for class meetings nowadays, to attempt to host a few events next week such as Zoom Rooms, check-in sessions, movie nights/virtual watch parties, virtual study rooms, and more. "Clubs are also getting re-oriented to online life, so training on Zoom and how to host meetings is the priority this week," says Denman. Presumably, he also says, there would be on-campus activities and events when the campus does eventually open back up – although a big "welcome back" event is up for debate.
CAB has an online open house during the first week of school in order to check in with students and ask questions about the transition to online classes and upcoming events they would like to see. During this first week, ASC also has their first student government meeting, including a service and activities fee committee open forum. "Like many other student leadership boards, we still have to operate and still get business taken care of," says Denman.
But what do the students think of the Welcome Week and its disappearance? "I have no opinion on Welcome Week," states Mylo Kolterman, an SCC student who is finishing their last quarter before transfer. A now transferred SCC student, Elliot Grace Harvey, writes: "It felt like it wasn't there for me. I never had any advance notice, there were just a bunch of tables in the foyer one day. When I did finally hear about it from another student it was only ever up while I was in class, and I wasn't going to come to campus just for a tabling event." Whatever Welcome Week did or didn't do for you, it was surely at least a colorful visual in many student's daily lives. Even if you never approached anyone's desk or took a single free pen, it was like clockwork, a part of people's routines as they toil through their degrees. The lack of it is just one more strange emptiness in these rapidly changing times.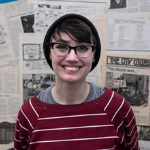 Danny Barber is the Managing Editor of the Seattle Collegian and an English student at Seattle Central college. She enjoys writing creatively, drawing, baking, video games, and going on long-winded random internet research sessions. After Seattle Central, she plans on getting her Master's in English and working on the editorial board of another paper someday.