Dr. Yoshiko Harden, Seattle Central College's vice president of Student Support & Services since 2016, has been appointed as the college's acting president.
This follows the announced selection of Dr. Sheila Edwards Lange, who became Central's president in 2015, as chancellor of the University of Washington Tacoma. Edwards Lange provided strong leadership to the college on efforts addressing diversity, equity, and access to education by advancing programs like Seattle Promise.
Seattle Colleges Chancellor Shouan Pan has named Harden as acting president through the end of the year as the search for an interim president begins.
Harden says she is looking forward to continuing the college's mission after what she described as great groundwork laid by Edwards Lange. Though Harden described some destabilization after the departure of school administrators like the president, she says she has "the utmost confidence in all of us to continue moving forward,"
Harden has spent 21 years in higher education in Washington state, previously working at Highline and Bellevue Colleges in diversity and multicultural services. She first worked at Central as an intern for the college's advising department while enrolled in Seattle University's student administration development program. She also completed a doctorate in higher education policy at Northeastern University.
Born in Seattle and also an alum of Garfield High School, Harden says she understands the history of the Central District and Capitol Hill neighborhoods. "I remember when the Central District and Capitol Hill and First Hill were largely a Black community, LGBTQ2I community, arts community, and we still have a lot of that flavor," said Harden about her excitement in her new role at Central and its urban location.
To continue achieving Central's mission, Harden believes partnerships will continue to be critical. She says she's started looking at different partnerships related to providing affordable housing and addressing other concerns of students.
Harden notes that a lot of her goals align with Edwards Lange's goals.
"I was involved in a lot of these conversations as an executive, but not as a driver," said Harden.
Leading Central as it transitions into more in-person instruction, Harden says the college is "turning up the dial." She says that so far, it has been exciting to see more students in the Broadway Edison building, in class, in the library, and accessing student services.
"We've all been through the same storm, but we haven't all been in the same boat. Even if we disagree, we have to care for each other," said Harden of students', faculty's, and staffs' experiences throughout the pandemic.
She notes that as the college brings back more people while following COVID-19 public health guidelines set by the state and additional protections, some difficulties include very quick responses to and processing of new information. Leading the college requires "staying ahead," and that may include contradictions to past communications from the school.
Harden still emphasizes a theme of togetherness and community of care. "The campus can expect authentic and servant leadership from me," said Harden. "I'm here to serve the college and our community."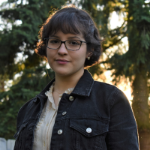 Alexa is an avid journalist seeking an A.A. with an emphasis on Global Studies at Seattle Central College. She's interested in pursuing investigative journalism to report on social struggles like immigration, civil rights, and access to education in South and North America. She is currently working to cover budget cut reforms at Central and civil rights movements in Seattle. Alexa is also a Youth Council Member at OneAmerica, advocating for greater access to quality education for immigrants and refugees in WA. She is a first-generation American who has travelled to 13 countries to explore world cultures and politics.