Today, it is a common struggle to find a virtual connection that is meaningful, helpful, and responsive. As COVID restrictions continue to impact college life, many remote students have found it hard to find and engage with the college community. Open discussions with classmates on Canvas and event announcements in email boxes are usually abandoned and forgotten. 
As a result, students and staff may feel over-extended trying to learn how to contribute and engage with the college community.  
Is there a unique platform where Seattle Central College (SCC) students and staff can find, ask, answer, and contribute to the community all together in the same place? There's already a platform for that: the Seattle Central College app.
The Seattle Central College app was first launched to help the SCC community stay in the loop regarding ongoing and future college events, campus clubs, learning about available scholarships, reading the daily news, and most importantly, keeping in touch with students and faculty staff.
As someone interested in web technology and user experience, I tested all of the valuable points of the app featured on the Student Leadership web page. I went through each point and tested them out to see whether or not I would recommend downloading and using the Seattle Central app. Let's begin!
#1. See what is happening around the campus using the events calendar

#2. Read news and updates about the college
On the main page of the Seattle Central app, you will find a selection of feature cards with a versatile array of school-related information. Are you looking for clubs and events at the college? Or do you want to find information on voter registration? All of this and more can be found by clicking the main page icon (second from the left).  
I find this page useful since you can find all the necessary information arranged in the same place. The calendar has a pleasant layout and logical navigation. There's also an additional page with detailed information about who will host the event and when it will occur by clicking on each occasion. I love the fact that the event calendar is routinely updated!
Going back to the advantages of the calendar feature, you can customize your calendar by switching to the personal account page. The events hosted by the college can be added and copied to your calendar. Thus, I am confident that the app provides essential updates and news from the SCC community.
#3. Converse with fellow students on the student feed channels
Since my first day at school, I have regularly used the Seattle Central app to meet and keep in touch with new college students. The app helps me get a prompt response to my questions, share news, and promote events I have organized and hosted.
To challenge the responsiveness of the Seattle Central app, I decided to conduct an experiment and ask a question on the student feed page. I submitted a simple question at 4:51 p.m. and received a response by 6:12 p.m. from another app member.
With this, from a potential student standpoint, the Seattle Central app creates an optimized environment where all users can help each other. Members can ask for help and receive more than an automated response like: "We will get back to you in three to five business days."
The Seattle Central app is my primary platform for receiving a quick response or suggestions from anyone from faculty staff to students. I can confirm that the app provides an environment for students to converse and have conversations on the student feed.
#4. Get information about student clubs and organizations
According to the Seattle Central website, the college administration helps students explore their learning outside the classes and transform their skills into a creative reality by utilizing student clubs. The Seattle College app provides everyone with a list of clubs and organizations. Users can follow any club or organization that matches their interests and lifestyle.
I follow a few clubs from the list, myself, and noticed that a few are abandoned and outdated. Administrators of the clubs rarely post club updates and do not promptly answer questions from students. If you are looking into finding a club of your interests, I suggest checking the website or emailing Student Leadership instead to learn what clubs are currently active.  

As a student at SCC, I overall find the Seattle Central App to be a valuable tool; I definitely won't be deleting it while studying on campus. I use it every day to check on various college updates, ask questions, and promote events.
I encourage everyone who downloads this app to turn on the notification settings in order to receive notifications from subscribed clubs, organizations, and college administrative messages.
Do not forget about your profile page — upload a profile photo and write a short bio about yourself or what you are interested in. You can find new friends and direct message via the message box. Feel free to share news you have heard or any upcoming opportunities that may be helpful to other students.
With all being said, I recommend uploading and using the app. Whether you use the app to join a club network, meet new people, get help, or ask questions, the Seattle Central app benefits students in an efficient manner.
See the detailed information on the register and app tutorial on the Seattle Central Student Leadership website, and start using the Seattle Central app today!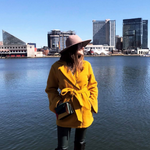 Veronika is a student from Seattle Central College, an International Student Ambassador, and a member of the Editorial Board of Seattle Collegian. She loves to cook Ukrainian dumplings, travel in the Pacific states, read E.Hemingway, listen to The Rolling Stones and Led Zeppelin. Veronika is pursuing her degree in web development. Her goal is to own her own business and financially contribute to Seattle Colleges Foundations to support low-income international students. While being a member of Seattle Collegian, Veronika is eager to share her own experience of living, visiting, working, and studying in foreign countries.