Gloomy skies poured over Seattle on Election Day, mirroring the uneasy atmosphere of what the day might bring. Volunteer students and staff from Seattle Central College organized support stations from 11 a.m. to 3 p.m. for last-minute voters needing to print their ballots or submit them at the ballot box located on campus. 
Despite rain and cold weather, an optimistic aura persisted among those looking to cheer on the right to vote. The "Election Day 2020 Extravaganza" was organized by Central's Voter Education/Census Committee and Associated Student Council (ASC).
The 2020 General Election has garnered considerable tension and heat across the country, turning out record-setting amounts of voters looking to help determine whether President Trump will remain in the White House or not.
The Trump Administration, which has catalyzed stark discussions about American democracy and government control, has become a historic experience for the world that has mobilized massive movements against Trump's re-election.
As pressure to vote mounts from businesses, schools, friends, and family, many face the worrying uncertainty that the Trump campaign may dispute results- Trump declared this week that "as soon as that election's over, we're going in with our lawyers" to challenge what he believes could be unfair results.
The General Election ballot doesn't just elect the president, though that is usually the focus. Voters will also determine the future of policy proposals, state representatives, senators, governors, Supreme Court justices, and attorney general among other positions.
As many rolled in to turn in their votes, Seattle Central's Patti Gorman, dressed as Lady Liberty, celebrated voters for their participatory efforts. Alongside her, volunteers consisting of students, faculty, and community members cheered for every ballot delivered.
Gorman, Central's Service Learning Coordinator, was excited to "make democracy fun" for voters today. She says she wants to see everybody engaged.
"I know there are people we serve at the college who have been shut out of voting in the past. I think that our primary and secondary schools are doing a very poor job at educating people about our democracy… so that's what I'm trying to do at this level," says Gorman of bringing civic engagement to higher education.
Levon Talor, who voted for Trump, says this election is important to him because of what he calls "the platinum deal," which he describes to be "Trump helping the black folks."
He says he's been a democrat his whole life, but only recently turned to Trump. He says that when he got older, there were some things that changed. Talor believes Trump would support his freedom, noting the personal significance of the second and first amendment.
"You can't say this, you can't say that, you can't do this, you can't do that," says Talor of liberalism. "I don't like that…before you know it we get Biden and suddenly we're gonna have chips."
Paul, another voter, says voting is just simply the right thing to do. Currently, he's hoping his ballot even gets counted.
"Anybody is better than Trump," says Paul.
Meg Thompson, who voted for Biden, says though she usually votes, it feels like her ballot counts this time around. She says though the best choice is not on either the Democratic or Republican party, not being involved would mean she wasn't standing up for people she cared about.
"It's nerve-wracking," says Thomspon. "I'd love to run away to the woods and just disappear right now."
Sara Bukair, Central's Executive of Legislative Affairs for ASC says it's important for people to feel like they have the power to vote. She believes this election could be a "wake up call for many voters". Bukair came up with the idea to host the event for the school's support booths.
"This election means a lot to a lot of people," says Bukair. "We know that King County is almost always blue, but especially with this election, people feel like there is something about this election that might be conflicting with their identity, or they don't feel represented by their government."
Central's President, Dr. Sheila Edwards Lange says she's proud of students and excited that students are engaged. She notes that Central is part of the Washington Campus Compact, a coalition of presidents that "support civic engagement."
"As an American citizen, I'm really afraid of what's at stake with our democracy- we're so polarized," says Dr. Edwards Lange. "But then I'm hopeful… our democracy is not perfect, but it is an idea that if we can actually live up to it, it gives everyone a voice, and everyone an opportunity to participate."
Inside the school, more volunteers organized to provide a ballot printing service for those who had destroyed or lost original ballots still wanting to vote.
Robert Selfe, Central's Executive of Student Success for ASC, who helped print ballots for those who needed them, says some people might not feel safe reaching out to government offices to order a new ballot, or even go to a ballot box.
He says alongside helping the community feel safe when voting, the support stations are also a way for people to get involved in the community, especially for those "craving" social interactions during Covid-19, which has forced many to stay inside for months.
"We are of the people, by the people, for the people," says Selfe. "We're here to serve our students and community."
Tracy Yorker, a security officer at Central, also believes it's important for people to get involved, including through voting.
"You have some input on what type of world you want to live in," says Yorker, "and you have to make that known."
While the country nervously awaits the final election results, many here in our community anxiously hope for their voices to be heard, and for democracy to prevail.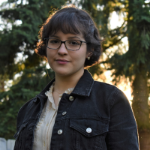 Alexa is an avid journalist seeking an A.A. with an emphasis on Global Studies at Seattle Central College. She's interested in pursuing investigative journalism to report on social struggles like immigration, civil rights, and access to education in South and North America. She is currently working to cover budget cut reforms at Central and civil rights movements in Seattle. Alexa is also a Youth Council Member at OneAmerica, advocating for greater access to quality education for immigrants and refugees in WA. She is a first-generation American who has travelled to 13 countries to explore world cultures and politics.