There are plenty of stories that need to be told, whether it be about Capitol Hill's most beloved cat, or the struggle of international students. But unfortunately, being a journalist involves more than just writing stories, and sometimes it's hard to know where to start. To get a sneak peek of what the industry's like, I spoke with Chase Burns, a Seattle-based journalist, who used to be an arts and culture editor for The Stranger and is currently the editor for The Ticket, a Seattle Times calendar website.


You don't have to take a journalism course
You don't have to be in a journalism program to be a journalist. In fact, some of the most prominent journalists didn't start out as one. For example, Johnny Harris, a journalist for Vox and a content creator on Youtube. He started as an international relations student. Harris spent his free time honing visual media skills until eventually getting on board with Vox to make videos about world borders.
Burns didn't start out as a journalist either. Before being a journalist, he was an actor for a repertory theater in Minneapolis. With his background in arts, he started writing about drag, parties, and general nightlife reviews, and from there, things took off. Now he is the editor for The Ticket.
Of course, taking a journalism course can have its perks, especially if you're trying to do more of the traditional path in media broadcasting. You'll learn things in a journalism course that you won't be able to get anywhere else. For example, the journalism Code of Ethics. It's also a good way to meet like-minded people, but ultimately, it's not a requirement.
Find your beat
What is a beat? A beat is something a journalist would regularly cover, like the weather, the Seattle music scene, homelessness, drag queen culture, opinion pieces, etc. You can write about just what you fancy, but that won't help you in the long run. You have to find your niche. Finding your niche is finding your voice as a storyteller, essentially building an identity, which gives a potential editor a better idea of who you are as a writer.
"Get involved with a traditional journalist program and become a beat reporter for city hall, or other beats." Burns explains on how to get started on getting your first step in the industry, "Find a really narrow beat that you can specialize in and become really helpful and knowledgeable and accurate about that beat. It will then allow you to get a role in a daily organization… Once you have your foot in that door, just keep beating that drum and then figuring out where you'd like to land."
Nailing down a beat makes it easier to find topics to write about, but it also establishes your expertise as a writer, which will greatly help you differentiate yourself from other journalists.
Building up your social media might be beneficial
Tying in with the establishment of the brand, during my conversation with Burns, a revelation I had is how your online presence can affect how some employers would consider you for employment. This rings true to my recent applications for some positions in the industry. Most of the outlets ask for social media accounts like Instagram, Twitter, or both. Some outlets try to attract people with a bit of a following to get more views on their page, "They [outlets] are looking for people who already speak to an audience," says Burns. 
But according to Burns, this has been changing. He explains, "Platforms aren't getting as much traffic from social media accounts as they were in 2016," and he further emphasized what is more important and what will eventually help you land a gig: "The more important thing is to focus on what you're interested in and become an expert on that thing."
Start building relationships
It's a daunting task, but you have to meet people to work with. Burns advised that a new writer should have at least three to four long standing relationships with different outlets, "If you're applying for a new position and you have six years of clips from one place versus you have clips from a lot of places, the clips from a lot of places in a way is more attractive, because it shows that more people are willing to take a chance on you." But more doesn't always mean good, what is important is you keep a good relationship with these outlets and being able to publish multiple times with them. "There are a lot of people who work for a place once… That's usually a red flag because that shows the editors didn't want to work with them again."


You'll be more than just a writer
You'll be more than just a writer. "The thing about a lot of media organizations is, they're failing. They're often downsizing their staff," said Burns, and as a student journalist, I can already attest to this. You'll be doing editing, video editing, social media management, it really depends on how big your team is. Burns explains why this might be the reality for the future journalists, "Unless you're working for a media outlet that miraculously has a lot of money and is constantly growing, which is not a lot of media companies, they are going to start to ask you to do a lot of things that you probably weren't thinking you were going to do when you started."
Don't forget to work on your own story

Utilize other passions like Burns; outside of being an editor, he hosts a monthly screening at Northwest Film Forum called "Unstreamable." Sometimes, at night, he transforms into his drag alter ego, Uh-oh. On the side, he is also currently taking videography classes. You can mold your life the way you want to.

There isn't another profession as fulfilling as being a journalist. But putting immense pressure on yourself while in the process can hurt your passion, so don't forget to have fun! What's great about being a journalist is that you can be more than just a writer. Do fun things. Use your knowledge about the world.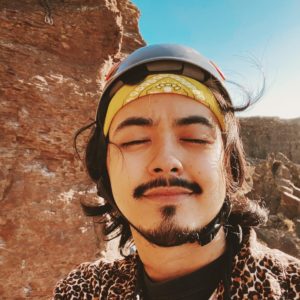 Juan Miguel Jocom, or Juanita Banana as his friends call him, is an Editorial Board member at the Seattle Collegian, where he focuses on writing about the experience of immigrant students at Seattle Central College. A documentarian, he hopes to create videos that will showcase the chaos and glory of humans.
As a Seattle local, he's an aspiring granola boy, who enjoys rock climbing and jumping off cliffs. His recent documentary, Welcome to the Neighborhood, was an official selected entry for the 2021 SCOOP film fest.