Earlier in May, students gathered in room BE1110 for a conversation with Dr. Bradley Lane, the Interim President of Seattle Central College (SCC). Dr. Lane was accompanied by Interim Vice President of Student Services Kao LéZheo and Dr. Wendy Rockhill, Interim Executive Vice President of Instruction and Planning. The three members of the president's cabinet answered questions from the audience, as well as clarified current and future plans for the college.
The first topic approached the creation of more study spaces, or the conversion of classroom spaces into study lounges, as an important investment, especially to those who are taking online classes and seeking a quiet and communal space to watch lectures. The president stated that before the COVID-19 pandemic, "We were only about 15 to 20% online classes, and now we're at least double that, 41 to 43% online classes, and I don't necessarily think that's gonna change so much." President Lane mentioned an ongoing analysis of necessary classroom spaces. "Once we have a good idea of those numbers in the Fall, we could very well convert these into study spaces," adding that some of the computer lab spaces on-campus aren't being used, and could potentially be converted into communal spaces.
Dr. Rockhill completed by announcing that the Science and Math Building (SAM) has an open area for studying and group meetings available, as well as quiet study areas on each floor.
Next, a student inquired about the elevators closest to the SAM Building which have been inoperable. The president explained that the process of fixing the elevators was started over a year ago. "We have the money to fix it, we have the project, we're waiting for parts, which sometimes takes months and months…But do know that it's not that we're not trying to fix it… we're just waiting for the parts to come in."
Moving to the topic of campus security, the president clarified that there is a Seattle Colleges policy that prohibits people from carrying firearms on-campus, which includes the security guard team. "There is a strong conversation about making sure people don't feel threatened by the security staff, with there being history of policing in the country where some students, especially students of color who sometimes have had traumatic relationships with police and security officers," stated Lane. "We care about situations where people are in distress, and we're trying to balance that too," he added when referring to the decision made a couple years ago of requiring security staff to have their ID cards to access the building. "When I started five years ago, we went through a racial equity process, and we asked the same question, and we landed on [the fact that] we are not ready to have security with weapons. If there is an alternative, we want to pursue the alternative," shared Vice President LéZheo.
In regards to the cafeteria in the atrium, which has been closed for years, a student asked about chances of reopening it and providing affordable, healthy meal options on-campus. The president answered yes. "The cafeteria, when it was here before, lost money, and it cost the college to operate, so we want to make sure when we bring it back, to do it in a way that is sustainable." The president also added that North Seattle College recently opened a hub where students are able to get hot food everyday, quickly and affordably, an idea that is being explored to put in place at Central. He highlighted that the team is in the process of touring colleges in the area to investigate the best options, emphasizing the importance of healthy, good quality food, as well as affordability. "We are going to bring it back, for sure," said President Lane.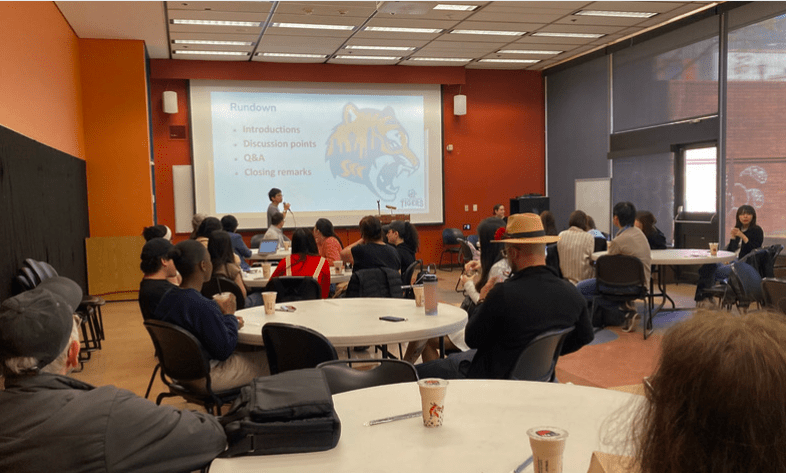 As we moved on to the topic of finances and budgetary issues, the president was asked about Seattle Central's deficit. "This year, the college will not be in a deficit…Enrollment is up, which helps, and we've managed to keep expenses pretty steady. Overall, we have increased the amount of revenue we have," explained Lane, "There were stories in the news last year about the college and the budget situation [that said] 'there is a $17 million budget problem,' and it really turns out that there was never a $17 million budget problem to begin with." The president stated that the recent move of the Seattle Colleges District to a different information system created confusion around the budget system, "You would find sometimes that you might accidentally budget something twice and not know it," said Lane, explaining that the deficit was always much smaller than the information that appeared on the news last year.
At Seattle Central, there was approximately a $3 million deficit between the expenses and revenue. Dr. Lane explained that he and his team have been working towards decreasing the difference between expenses and revenue, "We actually feel very safe and secure about where we are financially," completed the president.
Speaking of finances, Dr. Lane was asked about the progress made regarding faculty salary negotiations, as relating to the recent faculty walk-out across the state. "Because we're a public college, [the greatest] portion of our funding comes from the state," answered the president. "For faculty, legislators authorized an increase in salary of 8.9% next year, and another 4% the year after that." In addition to the action of the state, faculty also negotiated with administrators inside the Seattle Colleges District for additional raises, "That work is ongoing, and I hope by the end of the year that negotiation is able to be settled," said Dr. Lane. Regarding staff salary, the president stated that there will be an increase of 7% over the next two years, with a 4% increase for next year and another 3% the following year. "Everybody is getting something," Lane said, also acknowledging that the cost of living is increasing more than the increase in salary, "It's the best we can do right now, but we are trying to respond to that."
Still on the budgetary topic, a student raised a question regarding the Wood Technology Center, which is currently in deficit. "We're not in a place where we're looking to close any programs," said Lane, referring to the four programs that were being considered for closing last year – Wood Technology Center, Maritime Academy, Seattle Culinary Academy, and Apparel Design and Development. "We've worked really hard all year long…We got donations, and each of those programs developed a multi-year plan. Wood Technology has a plan, it is not closing," Dr. Lane elaborated, explaining that the program has made partnerships with Seattle Public Schools in order to host a skill center in construction for high school students, as well as hiring recruiter navigator positions that will better support students and help them graduate.
Dr. Rockhill added that each program has come up with business plans for the next five years. "One of the things that we've learned during the process of suggesting to possibly close these programs are the challenges students are facing when they're in these programs. Students are committed to the programs, they want to do them, but are required to attend full-time while holding two or three jobs outside at the same time, which is really hard." Rockhill explained that the college is studying means to help students complete the programs, such as connections to industry, and hiring recruiters and navigators to assist students. The Maritime Academy program will partner with Washington State Ferries, which is currently facing staff-shortage, to train students while working on the ferries. This way, students can be on the water but also hold a job from which they can "come home at night instead of being out to sea for three to six months," explained Dr. Rockhill.
Moving to the topic of student hardships within other programs, the committee was asked if there was a plan to reduce or remove parking fees for students at the Health Education Center who have to attend a hospital for their program. President Lane responded that, in particular to Harborview Medical Center, faculty have been working to obtain parking passes for students, but regarding other hospitals, Lane asks that students bring up specific locations so that the college may negotiate with them individually.
Moving away from pre-meditated questions, the committee opened for spontaneous questions from the audience. A Wood Technology Center student representative inquired about bringing back the cabinet program, stating that she had been told there was not enough enrollment to sustain the program. President Lane explained that a way of resolving the issue around the program is by bringing the skills taught in cabinet-making into existing programs such as carpentry, or to offer cabinet-making courses to the community while meditating whether to bring a certificate-program to the course. "I think [offering] cabinet-making classes to the community is a great idea," said Dr. Lane. "When talking to our industry partners about the program, what was often so valuable about the program was not how to make cabinets, but that [the students] had the finishing skills… If there are these skills that are really important, we want to make sure that we are teaching them."
The student representative of Wood Technology then responded to the committee, clarifying that the cabinet program refers to all furniture-making, not only cabinets: "Tables, chairs, and cabinets, but also just furniture…We actually built the building that we're in, and then the cabinet program would build the things that we're sitting on, the furniture inside, and so a lot of that is finishing work…That's why there's such a big deal with the difference of the [cabinet Program]."
President Lane responded, "We want you and your colleagues to have the skills that you need, and if we need to bring classes back, we're open to that. We want to make sure that if we're bringing back classes or a certificate program, that industry wants you to have that certificate as opposed to a different certificate. If they want a different certificate, let's design that."
Next, a student raised a question regarding the possibility of relocating space for student-based affinity groups. President Lane stated that there are reflection spaces available on-campus which are not identity-specific. "I know we have spaces for veteran students…and we're working currently with the Queer-Trans Cooperative… so I see some of those [identity-based] spaces starting."
Lastly, an international student raised awareness to the English language requirements for international students. "When I was in level five [of ESL], which is the last level, my teacher told me that they were adding our GPA from the past levels to our college GPA, which influences our opportunities to apply for scholarships and schools, decreasing our opportunities."
"I believe you're talking about the percentage to GPA change… our Curriculum Coordinating Council took a really careful look at how we do grades," responded Dr. Rockhill. "There is an opportunity for some conversations with the ESL English instructors about how this is, because it shouldn't impact your grades as much…We probably need to evaluate what they're doing in that program," explaining that there were consistency issues with grading systems.
"The grades that you get in your intensive English classes shouldn't actually impact your college GPA or when you go on to transfer," concluded President Lane. The international student also shared that, "My first quarter of Seattle College, I was in Taiwan, my country, and I was taking classes at midnight, so I failed the class. That hugely influenced my GPA…International students don't have that much opportunity to apply to scholarships or TRio, and a lot of things have an impact on our GPA."
"You should not have to include [those grades] in your GPA, and the other piece is that there are scholarships that international students may not be eligible for, but there are other [scholarships] that you may be eligible for," answered President Lane, who then announced the end of the event, offering tiramisu and boba tea for the audience as they prepared to leave.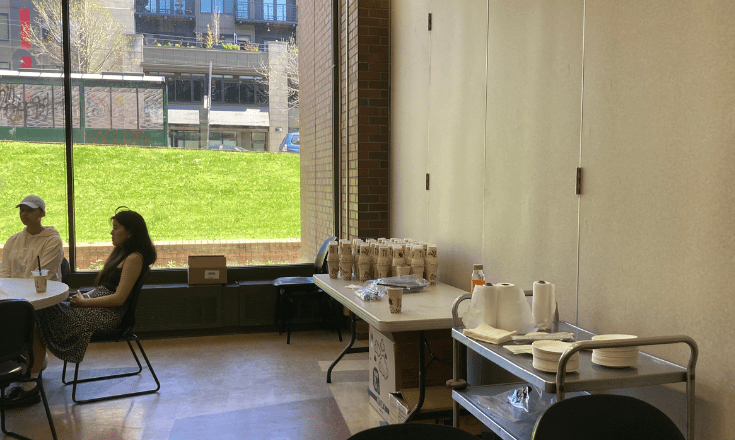 For students, the event was a great opportunity to connect with those who lead Seattle Central and understand the reason behind certain issues. Likewise, it was an opportunity for the committee to hear from the student body and understand our needs. In summary, the event served as a platform to foster communication and collaboration between college leadership and the student body to work towards shared goals and further understand each other's positions. I believe events like these, especially when hosted in-person, provide a reminder that all parties of an institution are human, and function likewise. While a reminder of community, collaboration, empathy, and patience, it is important to hold leaders accountable and expect from them the ability to provide what the target population truly needs. That population may be a student body in a public college, or it may be the population of a city, state, or country when calling for democracy. Democracy starts with conversation, and conversation starts with a willingness to hear and to change, which were displayed by both the presidential committee and the student body during the May 3 event.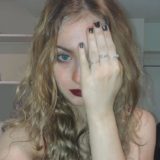 Sophia is an internationally published author with her book Primeira Pessoa, as well as a young classical singer. Born and raised in Brazil, music, writing, and Astronomy are her greatest passions. She believes the greatest role of a writer is to bring forth the truth, the honesty, and the humanity that echoes within each one of us. Journalism, while Art, is for her a portrait of the fraternity of the Earth. At the moment, she works for both The Seattle Collegian and the M. Rosetta Hunter Art Gallery, while completing her AA degree with a focus on Anthropology & English.