Capitol Hill has become a hotspot for protests as many meet every day outside Seattle Police Department's East Precinct by 11th and Pine. Some have taken the tense energy of the crowd as an opportunity to vandalize and damage Seattle Central's campus, alongside other businesses in the area.
Earlier this week, Seattle Central's Mitchell Activity Center (MAC) experienced severe damage to the back of the building, along Nagle Place.
According to Tracy Yorker, SCC's Security Lieutenant, the incident occurred sometime in the early morning hours on June 4th. The building saw broken windows, at least 3 walls graffitied inside the building, hinges ripped from a double door set, and beer cans scattered within storage.
"This has been a major hub of activity," says Yorker, "seeing thousands of people on some nights."
The culprits, unknown, have not been caught recorded on any cameras. According to Yorker, there is no recording equipment along Nagle Place that would apply to the back side of the campus.
The MAC building is not the only property on Seattle Central's campus that has seen damage. A number of areas have been vandalized, including the bookstore. The bookstore also experienced bashed windows earlier this week, suspected between Monday and Tuesday, which were the most violent nights that the area has seen since the protests began.
The window glass broken into on the MAC is estimated to cost over $15,000. This worries Yorker, as the costs to cover up graffiti and repair the double door set are additional costs yet to be determined. With Central seeing declining budget numbers in the last year, and currently modeling with 17% budget cuts for the next fiscal year due to COVID-19, Yorker says the level of damage is saddening.
"There's new tagging every night too, this is kind of the big thing though. This is a burglary, actually," says Yorker, about the MAC break-in.
With heightened tensions in the community, across the nation, and around the globe, many are angered and fed-up with militarization, police brutality, racism, and their own personal issues during a time of quarantine and loneliness.
"People have good reason to be righteously angry, I am in full support and empathize that you have every justification to be angry," continues Yorker, "but we must focus and hone in on that anger to maximize its effect."
She believes this is the opportunity to demand progressive changes, in order to create a better world for everyone. The Seattle Central campus is significant, providing education to thousands of multicultural students from diverse socioeconomic backgrounds trying to better their lives and education, but damages put budgets and the environment at risk.
"As a security person, people need to be safe and feel that they can get the help they need," says Yorker. "People want a safe environment."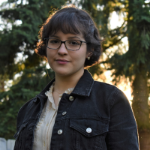 Alexa is an avid journalist seeking an A.A. with an emphasis on Global Studies at Seattle Central College. She's interested in pursuing investigative journalism to report on social struggles like immigration, civil rights, and access to education in South and North America. She is currently working to cover budget cut reforms at Central and civil rights movements in Seattle. Alexa is also a Youth Council Member at OneAmerica, advocating for greater access to quality education for immigrants and refugees in WA. She is a first-generation American who has travelled to 13 countries to explore world cultures and politics.