Though Seattle Colleges has been experiencing budget deficits for years, the district and its colleges today face unprecedented revenue and expenditure shortfalls. But amid efforts from college and district administrations to provide greater financial transparency, ethical questions surrounding budget cuts endure.
At Seattle Central College, seven different programs have been under review for reductions and closures. Central's Parent Education and Early Childhood Education programs will end in 2021. The college's IT Networking Bachelor of Applied Science will pause enrollment while offerings are reduced and duplicated with North Seattle College's IT and Business Technology Management courses.
Central hasn't reached a decision on the future of the Cabinetmaking and Apparel Design programs, alongside the Seattle Culinary Academy. The school's Physical Education program is paused this year and the college says it will return in 2022, if the budget improves.
Though demand is high, Seattle Culinary Academy faces uncertain realities as a high-cost program
Central's award-winning Seattle Culinary Academy is fully accredited by the American Culinary Federation (ACF)- the academy is only one of three schools in Washington state to receive exemplary status by the ACF.
In 2005, the Seattle Culinary Academy was the first culinary program in the Northwest to provide sustainability courses. It was one of the first culinary programs in the nation to provide coursework on sustainability food systems.
It's also a high demand program, this year 15 Seattle Promise students are waitlisted, among others.
Kären Jurgensen, an instructor and the founder of the academy's sustainability courses, says it was shocking to find it was under review for reductions.
But Bradley Lane, Central's Executive Vice President of Instruction, Finance and Planning says the academy has duplications with South Seattle, which also offers culinary programs. He says because it's not a requirement for culinary workers to have a culinary degree or certificate "these days", the lack of value of the academy's credentials contributes to the decision to place the academy under review- this conclusion suggests that the credentials don't have enough value to save the academy from cuts.
But the academy has a 97% job placement rate, and provides opportunities at three student-run restaurants. Discussions have surfaced about the possibility that South's and Central's programs could combine.
"I agree that the Culinary program is both very popular and of high quality," says Lane, "but as the district has limited resources, it will have to make difficult decisions that lead us to close or reduce programs."
Jurgensen admits it's an expensive program, but she says "sometimes we don't consider our student as the customer like we should." Student's at the Culinary Academy make long trips to get to the academy, which is teaching in-person right now.
"We did a lot of trimming," says Jurgensen, "but they're not looking for horizontal cuts, they're looking for vertical cuts."
As senior faculty, she says the information she's getting through the dean, who did not respond to several requests for comment from the Collegian, indicates that duplication might not work out.
Senior faculty at Central's Seattle Culinary Academy are looking at options for the continued survival of the program, according to Jurgensen, and will bring it to the rest of the team so all faculty can begin working together on decisions.
Sayumi Irey, South Seattle's Vice President of Instruction says she doesn't know what class offerings would look like if a decision is made to combine the programs at South and Central, but says that South isn't planning for closure of its culinary programs.
Whether classes would be available at the South campus, Central campus, or both, hasn't been determined. In 2010, Central's Edison building received a nearly $14 million renovation, including major improvements to the culinary spaces, like the student-run restaurants.
Irey believes layoffs and reductions in staff are possible for any program reduction, saying "this would not be unique to the culinary arts."
Lane says he's meeting with Culinary staff quarterly, and expects remaining decisions on the program to be made by the end of the academic year. At each meeting with programs, he says the faculty collective bargaining union is involved.
But Annette Stofer, AFT Local 1789's President, says she hasn't been invited to any follow-ups, where the possibility to close one of the programs seems to have grown. Stofer and Chris Conley, Central's Faculty Senate President for AFT Local 1789, who hasn't been invited to any follow-up meetings either, are the main AFT contacts in the discussion surrounding the Culinary Academy.
With few of these quarterly meetings left to determine the program's future, follow-up conversations between the academy's dean, Katherine Kehrli, and administrators could turn the tide of discussions without valuable input from all stakeholders who are part of the academy.
If decisions are being discussed outside of the arranged quarterly meetings, faculty, students, and the union could be crucial perspectives left out of the agenda that guides the largest collective meetings- those conducted quarterly.
Lane has been hosting budget forums across the college to provide some insight into college-wide budget cuts. He wasn't available to meet with the Collegian at the first request for comment, and redirected the Collegian to Central's Director of Communications after the second request for comment.
"Bradley hasn't said that to me directly," said Jurgensen of the possibility that one of the program's could be shut down, "but that's the information I am getting through my dean from Bradley. When we have the conversation with South, they don't seem to know or think that the blending thing could work."
She says she doesn't know if the decision to combine the programs was stopped, or hasn't been developed enough yet.
Senior faculty like Jurgensen get regular updates from Kerhli throughout the quarter, but haven't met with Lane specifically. But Conley, who was last invited to an August meeting, says he's under the impression that closures aren't being considered.
As of the beginning of October, according to them, the last time AFT representatives Stofer and Conley were invited to meet with Lane was in August.
Central's IT Networking Bachelor's of Applied Science (BAS) confronts a sudden decision, made right before Fall quarter began
Central also paused enrollment in the Bachelor's of Applied Science in IT Networking program which appears to project additional, muddled communication amongst crucial people impacted by budget cuts and program reductions.
Ava Meredith, a faculty member and program coordinator for STEM-B IT programs, says there was only one meeting with her dean before the decision came to pause enrollment for the IT Networking BAS in another meeting with Lane in August, just a month before the quarter started.
"Faculty were in the meetings," said Meredith, "but not necessarily through the point of view of advising the matter."
Neither Meredith, or Wendy Rockhill, the STEM and Business Department's Dean are sure on when the program will resume enrollment.
For Leah Heilprin, a student who was about to enroll in the 300-level courses that introduce students from the associates to the bachelor's level of the program, this means she won't be returning to school next quarter.
She says she can only receive financial aid for classes on her degree audit for the program, and she just took the two classes this quarter. But because she can't enroll into any 300-level courses, there aren't any other classes she can take from her degree audit.
"The rug was pulled out from under me," says Heilprin, who is part of the government's Training Benefits program that provides unemployed individuals the opportunity to "train for careers in high-demand fields" in hopes of getting a better job. She must be enrolled full-time to keep her unemployment benefits, which she receives as a part of the program.
She tried enrolling in Bellevue College, only to find out some of her credits wouldn't transfer, meaning she would have to take more loans out to afford her education.
Though the program encourages those who are unemployed to pursue higher education, it offers no protection for Heilprin or others like her from budget cuts.
Rockhill says she's "very sorry" to students who were hoping to enroll in the IT Network BAS. She adds that there is a student support specialist available to help students, and that there are other programs out there.
But Heilprin claims she's already tried reaching out to Rebecca Von Groote, the student support specialist, who hasn't responded to several emails.
This is amid many students failing in many attempts to contact student support services – most notably, financial aid – since operations became remote.
Faculty, staff, and students advise decisions, but don't make them
Whether administrators feel that they are or are not giving the opportunity for faculty, students, and staff to hold substantial power in decision-making around program reviews and cuts, many of these stakeholders are still feeling out-of-the-loop and confused, an indicator that administrators aren't providing enough clarity and communication with the community.
Faculty and staff who have been organizing against budget cuts and "austerity" have been demanding worker-led decisions. Indications that workers and students are not involved in considerably impactful decisions aren't hard to find.
Lane says he meets regularly with the College Council to receive feedback. But it appears to be just that. Adria Harris, the new chair of the College Council says "we don't have any decision making ability, we're just sharing the information to our constituents and then back to the President's Cabinet."
The Board of Trustees, who approve the budget for the district, is also appointed by the Washington state governor, serving five-year terms. The board also hires the Chancellor.
The now inactive Strategic Budget Reductions and Future Planning district taskforce, which served as an advisory body to the Chancellor, only included four faculty members of it's 16. Despite that, it hadn't recommended furloughs or layoffs as the best budget reduction strategies though the savings were estimated to be high, but those were the first budget reduction strategies rolled out this summer. To some community members, this indicates that administration isn't willing to attend to the demands and experiences of those directly engaging with students daily.
Choi Halladay, the district's Vice Chancellor of Finance and Operations, points out that full-time students pay less per credit than part-time students. He says, "revenue calculations would favor keeping programs that have more part-time students."
Roberto Bonaccorso, Central's Director of Communications, assures that the college isn't considering this in the school's program reviews.
Halladay also says, in reference to claims that cuts to instruction are greater than those at the district office, that "the cuts at the district office are greater than the cuts at the colleges," but couldn't provide those percentages when asked.
Halladay didn't respond to follow up requests for that data.
But according to information provided at a district budget forum hosted by Halladay, tables of financial data only show that instruction expenditures will be decreased by 27.6% this year. Information on the financial hit that the district office took isn't available in this year's preliminary budget presentation.
But the operating funds actuals and budget expense tables from last year's operating budget review show that district cost transfer from colleges was $23,584,715 last year, decreasing to just $21,414,415 in this year's budget proposal- a 9.2% decrease, which is three times less than the hit instruction might take.
"There was vocal demand for more financial information to inform the task force's recommendations," says Cody Hiatt, who was a member of the Chancellor's taskforce, and is President of AFT-SPS Local 6550. "No detailed financial information beyond what is already publicly available was provided to the taskforce."
He adds that "professional staff have echoed faculty's call for the administration to 'show their receipts' which quantify any savings from the restricting efforts over the past year."
At Central, instructional programs will be reduced by about $2.5 million this year. Lane believes the college will probably take a similar hit next year.
Central's budget shortfall is a result of state allocation and tuition revenue decreases amidst the economic consequences of the Covid-19 pandemic and a hostile national stance on immigration.
Over the summer, the federal government attempted to displace thousands of international students living in the U.S. who were enrolled in fully online coursework at an American college.
At district-wide forum, administrators showcase a lack of financial consistency
At a district budget forum Halladay said national policies and "social issues" were part of the reason international students might not return. Lane says international student enrollment is down 40%-50% from last year.
According to revenue projections from the budget forum, overall state funding has decreased by 1.2%, Running Start local funds will decrease by 13.1%, and international program local funds will decrease by 48%.
Without government emergency funds like the Governor's Emergency Education Relief fund, state funds would have decreased by 6.4%. But whether more emergency state funds will be provided by the state legislature, which won't convene until January, is a question many hope the answer to is yes.
But the information the district provides to offer the transparency many are demanding isn't complete.
Most of the tables presented during the budget forum, which garnered hundreds of viewers between it's two presentations on Oct. 22 and 23, show that the colleges aren't consistently reporting information in the same way. Many cells are missing data.
"Each of the colleges has different philosophical ways to handle how to account for furlough savings and other kinds of revenue sources," said Halladay. "It's just a difference in philosophies on how those colleges look at their internal budgets."
A question asked by an attendee at the forum was, "How can the Seattle Colleges community evaluate these numbers for themselves when many of these slots are empty, and that information is under different categories which are not distinguished, like travel and grants to students/client services?"
In response, Halladay said that is one of the challenges the board has asked the district to address and "to make sure as we move forward, the categorization and the reporting is unified…that is a direct task for this year that the colleges and district office will work on."
"Next year when we do the presentation, hopefully it's going to be very different," added Pan. "There [are so many] things going on- we tackled integration of IT, international foundation. [We] just didn't want to take on too much."
State organization directors emphasize hopes for higher education amid budget crisis
But whether Seattle Colleges will or will not rework its budget proposal, or if Central will reconsider its list of programs under review, there will remain failures to save higher education at a state and federal level. A crucial question remains: is it viable to avoid cutting instruction with the district's history of what it calls "structural deficit" and unprecedented shortfalls during the pandemic, especially when state funding continues to decrease?
Cherie Berthon, the State Board of Community and Technical Colleges' (SBCTC) Operation Budget Director, says the focus of the agency's recent budget request to the legislature is to not cut the Workforce Education Investment Act that passed in 2019.
SBCTC allocates funds to the colleges through its allocation model, based on enrollment targets, which Seattle Colleges has not met in years.
The report says, "budget cuts to these investments, or to our base budgets, would harm people who were struggling to make ends meet even before the pandemic."
The 2021-2023 operation budget request also asks for investments to address the digital divide, anti-racist curriculum review, and workforce development by increasing the Worker Retraining Program's capacity, enhancing the Job Skills training Program, and building "colleges' capacity to offer high-demand programs" like information technology, which Central is cracking down on.
Recently, the state updated its revenue forecast to undertake a $4.3 billion shortfall instead of the previous $8.8 billion expected through 2023.
"If the legislature were to provide more funding," says Berthon, "we could definitely allocate it as it comes in."
Laura McDowell, SBCTC's Director of Communications says "we are trying to really convey very clearly to the legislature that our colleges are vital to our state's economic recovery."
She says SBCTC has also been sending letters to Congress to encourage another relief package that will help higher education institutions.
A report from the Washington Student Achievement Council (WSAC) says "funding higher education institutions to ensure they can handle the impending enrollment surge will help create opportunities for those who have been most affected by labor market upheaval, especially people of color."
The report notes that during the last recession, enrollment in Washington higher education institutions grew- the rate grew at a higher rate among 2-year institutions than it did at 4-year institutions.
Don Bennett, Deputy Director at the Washington Student Achievement Council, says he encourages students to "go forward, keep moving, we never get to stand still. We're either going backwards or we're moving forwards."
"We know higher education leads to higher earnings and lower unemployment and we know that people of color have been more dramatically affected by Covid," says Bennett. "They're the very population that also haven't been able to participate and have been underrepresented in higher education already, pre-pandemic. We need to know this is one of the biggest levers we have as a state and nation to close equity gaps."
The budget task force evaluated in its recommendation report during July that closing or reducing high-cost programs, like the Seattle Culinary Academy, would have medium potential for inequitable impact. The taskforce said it needed data on program enrollments and outcomes, but due to its "dormant" status, it never released another report with updated recommendations. Furloughs and layoffs are noted to have high potential for inequitable impact.
With inevitable budget cuts to be made at community and technical colleges across the state, both the federal and state government are forced to face how they value higher education as a key to economic recovery. Meanwhile, colleges like Central are forced to face the ethics and withering effects of its cuts.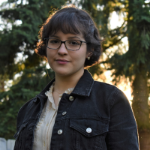 Alexa is an avid journalist seeking an A.A. with an emphasis on Global Studies at Seattle Central College. She's interested in pursuing investigative journalism to report on social struggles like immigration, civil rights, and access to education in South and North America. She is currently working to cover budget cut reforms at Central and civil rights movements in Seattle. Alexa is also a Youth Council Member at OneAmerica, advocating for greater access to quality education for immigrants and refugees in WA. She is a first-generation American who has travelled to 13 countries to explore world cultures and politics.