(★★★1/2☆)
Have you ever sat down with a stoner friend while they were high, and they started conceptualizing things that didn't completely make sense because you were sober, but you just let them talk anyway because it was entertaining? I feel like Jimmy Warden was that stoner friend while writing the screenplay for "Cocaine Bear," a totally outlandish, incredibly campy, and surprisingly fun horror-comedy film.
Based on the true story of a drug smuggler, Andrew C. Thornton II, "Cocaine Bear" is centered around suburban mom Sari (Kerri Russel) who goes on a search for her daughter Dee Dee (Brooklyn Prince) and her friend Henry, (Christian Convery) who skipped school to paint in the Chattahoochee-Oconee National Forest. Meanwhile, Bob (Isiah Whitloc Jr. ), a police officer, chases after drug fixers Daveed (O'Shea Jackson Jr.) and Eddie (Alden Ehrenreich). Everything quickly goes out of hand when the group stumbles upon a deranged black bear.

This '90s inspired film was directed by Elizabeth Banks, who brought us the disappointingly bad Charlie's Angels reboot in 2019. There weren't any noteworthy acting chops here, except for Margo Martindale's performance as the forest ranger. You know she can give the campy energy that a movie like this would ask for. The dialogue between the two kids can seem very forced and unnatural, with some jokes landing flat. There were also some very questionable editing choices that made the flow of the movie sloppy. If it weren't for the highly entertaining premise, I would have left the movie theater.

The opening scene was nothing less than golden, but that lasted for only about two minutes. The movie took too much time setting up characters and storylines in a poor attempt to make us care about them. I appreciate that it tried to make us sympathetic to the characters, but I wish it just embraced its premise of insanity right off the bat. Additionally, the insertion of another villain in the third act was really random and unnecessary.
"Cocaine Bear" reminds me of the extravagant monster films made around the late '70s and '90s like "Jaws" (1975), "Jurassic Park" (1993), "Lake Placid" (1999), and "Anaconda" (1999) where the focus is not really on moving you philosophically, but rather on the spectacle and intensity of the plot. With the gatling gun phase of overly-produced and unoriginal remakes from Disney and other major production companies, the value of movies like "Cocaine Bear" is raised.
The movie has gore, and maybe a little too much for some people, but that's to be expected with these kinds of monster films. As a frequent movie-goer, I want more films like "Cocaine Bear." My hatred for franchise films is slowly growing day by day, and seeing original concepts like these gives me hope. If you're looking to watch a movie, where the only requirement is for you wanting a good time (whether sober or not), then go ahead and watch this film. If you're looking for something with a multi-layered plot and a moving script, however, it'd be better to check out something else.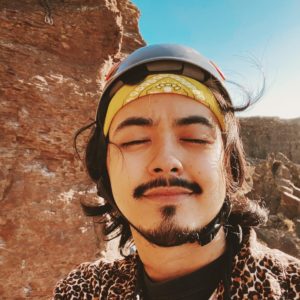 Juan Miguel Jocom, or Juanita Banana as his friends call him, is an Editorial Board member at the Seattle Collegian, where he focuses on writing about the experience of immigrant students at Seattle Central College. A documentarian, he hopes to create videos that will showcase the chaos and glory of humans.
As a Seattle local, he's an aspiring granola boy, who enjoys rock climbing and jumping off cliffs. His recent documentary, Welcome to the Neighborhood, was an official selected entry for the 2021 SCOOP film fest.