Last week's  COSI (Conversation on Social Issues) session hosted by the Seattle Central Library on October 28 via Zoom focused on the intersections of policing and healthcare.  
Moderated by Reference and Instruction Librarian Kimberly Tate-Malone, the session highlighted the bitter reality of inaccessibility and the poor quality of healthcare experienced by those in prisons and hospitals.
Dr. Adeyinka Adedipe, the Director of Emergency Ultrasound at the University of Washington (UW), reflected on a past patient's story during the nationwide protests following the murder of George Floyd in June 2020. The patient had been brought to Adedipe's clinic at the University of Washington Medical Center (UWMC) by the police after being chased and bit by a K9 unit, resulting in a foot-long gash on his back. The police handcuffed the patient to a stretcher, where Adedipe described it as "almost impossible" to treat the patient because of the restraint. 
During the forum, he argued that there should be a better way for law enforcement to handle situations where restraining patients could result in further harm.
"My duty is to the health and wellbeing of my patients," Adedipe said. "So how do I navigate this situation in which the police are directly responsible for injuring my patient, and they have him handcuffed to the gurney, and I need to provide care to him, but I can't even see his wound because he's handcuffed?"
Adedipe also took time to explain the history of policing and its origins related to upholding the institution of slavery in the United States. How the police were used to not only punish Black people — but also to instill fear in them. 
This is where Adepide believes our current criminal justice system evolved from.
He also cited how the War on Drugs, beginning with the Nixon administration in the '70s, increased mass incarceration and harsher sentences which have disproportionately affected people of color. In addition, he also discussed the Violent Crime Control and Law Enforcement Act of 1994, and how it "further shifts our society's priorities towards mass incarceration."
Experts have argued that there are major issues with law enforcement in the United States: Over-policing is hurting the people instead of protecting them.
The healthcare concerns that incarcerated individuals face within a system where they are dehumanized create another layer of problems. Adedipe highlighted the Health Insurance Portability and Accountability Act (HIPAA), which created national standards preventing the disclosure of personal health records without consent. However, this does not apply to law enforcement agencies, among others, as medical records may be disclosed to police without permission. 
Adedipe further questioned the logic of police needing to have a constant line of sight, and how this creates an issue with maintaining the privacy of the patient. Overall, Adedipe stressed the rights incarcerated individuals should have when receiving medical care.
An attendee of the event, Daveen Rogers, shared her experiences with police and the mishandling of her case. Rogers said when she had a mental health emergency, police detained and cuffed her to a bed to be "evaluated," rather than provide proper help. She opened up about how damaging this was to her, especially when her children were taken away during her battle with mental health.
Rogers said this changed the way she and her children view the police. Since then, she has found it hard to trust police officers and now questions their actual role in our society. The disproportionate death rates of BIPOC at the hands of law enforcement across the country reveal a dangerous reality for those like Rogers, who increasingly distrust law enforcement.
Adedipe finished his presentation by explaining how the people who need help are often villainized and misunderstood instead of being provided with the proper care that they need.
He further suggested there should be a shift from a community to a security response to sensitive situations like those involving mental health factors. He also pointed to the importance of mentoring medical professionals and students along with providing an equitable curriculum, "There's so much opportunity and so much to explore," he concluded.
For more information and updates on future COSI's, visit the Seattle Central College Library website. Sessions are held most Thursdays via Zoom for free, with recordings and presenter slides available within a few days of each live event.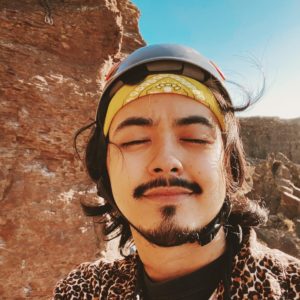 Juan Miguel Jocom, or Juanita Banana as his friends call him, is an Editorial Board member at the Seattle Collegian, where he focuses on writing about the experience of immigrant students at Seattle Central College. A documentarian, he hopes to create videos that will showcase the chaos and glory of humans.
As a Seattle local, he's an aspiring granola boy, who enjoys rock climbing and jumping off cliffs. His recent documentary, Welcome to the Neighborhood, was an official selected entry for the 2021 SCOOP film fest.