In this year's legislative session, Washington State's legislature successfully passed Senate Bill 5038, a law that bans open-carry of any firearm, explosive, or weapon that could cause death at the State Capitol or at any permitted demonstration.
In the wake of protests and riots sparked last year over the murder of George Floyd by Minneapolis police officers, the threat of gun violence has become a grave concern in cities across America.
In Seattle, demonstrations witnessed several instances of gun violence. On June 7th of last year, a Seattle protest advocating for Black Lives Matter and against police brutality, a car drove into the crowd, the driver of which shot a protestor when he attempted to take the driver's gun away. Later that month, when demonstrators established an autonomous zone as an organized protest, gun violence escalated along the perimeters.
In an executive order that enabled police to clear the zone, Mayor Jenny Durkan claimed the organized protest zone was at fault for a 525% increase in person-related crime. But according to the Seattle Times, the police made no evidence public that protestors were involved in one of the five shootings referenced by the city in relation to the organized protest. Details about two other shootings reveal victims were shot outside of the autonomous zone.
Starting in the summer of 2020, anti-fascist style demonstrators began showing up at protests against police brutality and U.S. Immigration and Customs Enforcement (ICE) with guns of their own. The same group of protestors also prepared explosives and used bats in clashes with police and far-right extremists.
One group that calls itself a "defense organization committed to accountability and community-led defense", the Puget Sound John Brown Gun Club (PSJBGC), attended some demonstrations heavily armed. In response to the open-carry bill proposal, the club released a statement claiming it was "vaguely worded" and would "impact marginalized groups acting in defense of their communities."
The club says that because of the bill's general language, enforcement would be left up to the discretion of police, which could enable police bias. Blacks and Hispanics are the most susceptible to the threat of police use of force, according to a 2018 Bureau of Justice Statistics Report. The club's statement also likens the bill's restrictions to those gun control measures passed to limit the Black Panther's legal public display and possession of firearms in the 70's.
The John Brown Gun Club was also present in Olympia when far-right protesters supporting Donald Trump and law enforcement, and against what they called a stolen general election, clashed with opposing anti-fascist-style demonstrators and government.
For years, the increase of far-right extremism and domestic terrorism (which is statistically increasing according to the U.S. Department of Homeland Security) has sparked a political and social divide that has riddled many demonstrations with threats of violence and fatalities.
In a document obtained by The Guardian, the National Explosives Task Force (part of the Bureau of Alcohol, Tobacco, Firearms and Explosives) rated the threat of explosive use at demonstrations ahead of the 2021 inauguration as "substantial". The task force also posited far-right extremist groups like the Proud Boys would be an "enduring threat".
The Proud Boys and like-minded individuals showed up in Olympia in December clashed with anti-fascist-style protesters, resulting in the shooting of a young Black man. On January 6, the same day as the Washington D.C. insurrection, some far-right demonstrators broke into the grounds of WA Governor Inslee's mansion, armed with guns.
While it is uncertain whether any demonstrations described so far had permits approved by the City of Olympia or Seattle, Senate Bill 5038 will only apply to permitted demonstrations. Gatherings that are not permitted may be declared so by city officials like chiefs of police.
The bill also specifies that the open-carry of weapons like explosives and firearms is banned within 250 feet of a demonstration. Even more specifically, the bill notes that it becomes unlawful to possess such weaponry within that distance after law enforcement directs the armed individuals to leave. Open-carry on private property is excluded in the bill.
The bill doesn't only prohibit firearms, explosives, and any weapon that could cause death from permitted demonstrations and the Capitol. It also bans the possession of these weapons in restricted access areas like jails, law enforcement facilities, mental health facilities, and areas in any building used in connection with court proceedings. Law enforcement at all levels of government are exempted.
This policy around gun control and demonstrations is already making an impact in some marginalized communities that have faced violence for centuries, but in recent decades have become subject to gun violence. The LGBTQ+ community has been one of the numerous to face gun violence disproportionately.
Seattle's Capitol Hill Pride Festival, a permitted demonstration, has been concerned about open carry for years after an LGBTQ+ open-carry advocacy group continued showing up to demonstrate at the festival without applying for permission from the festival's leaders.
Charlotte LeFevre, one of the directors organizing the event, says the open-carry group has also made vendors at the festival uncomfortable. In a 2017 blog post to the Seattle Post-Intelligencer, LeFevre reveals that the festival had been requesting that the city not allow open carry rifles within the event areas.
"It didn't serve any purpose asserting that open-carry right, other than to be a visual assault, if you will," said LeFevre. "It was an excuse to be a visual assault onto the LGBT community."
In 2015, when LeFevre reported the LGBTQ+ open-carry group to the police for the dangers and concerns she believed they posed to the Capitol Hill Pride Festival and community, she claims police trivialized the situation, offering to discuss the issue over a beer. Later, a picture surfaced on the internet of police officers posing with the open-carry group.
Kevin Finger, one of the LGBTQ+ open-carry advocates from the group, told The Blaze that he and his friends had been unexpectedly welcomed at the event. He adds that despite receiving some "uneasy looks," many turned into curiosity when the group was seen socializing with people at the event. 
"What was particularly disturbing," says LeFevre, "is that they would pick such a Pride event where people have been advocating for equality and there has been such a history of assaults."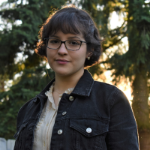 Alexa is an avid journalist seeking an A.A. with an emphasis on Global Studies at Seattle Central College. She's interested in pursuing investigative journalism to report on social struggles like immigration, civil rights, and access to education in South and North America. She is currently working to cover budget cut reforms at Central and civil rights movements in Seattle. Alexa is also a Youth Council Member at OneAmerica, advocating for greater access to quality education for immigrants and refugees in WA. She is a first-generation American who has travelled to 13 countries to explore world cultures and politics.