After my second reading of Seattle-based artist and educator Chelsey Richardson's book, All Water Has Perfect Memory, the conscious act of parsing her words had become an unconsciously raw, bitter, eerily lucid emotional transcendence. These passages would not have existed without Richardson's personal experience, which offshoots from the ever-pervasive, harsh realities in which we all live; where time and space know no bounds; where, although it needn't be the case, earth serves as a fully furnished prison, brimming with repressive masks, suppressive illusions and implicitly racist facades.
"I want to know what it was like for you to be alive."
– From the passage, And the Goddess is Pissed
Richardson takes us on a tender, hellacious journey throughout these 17 passages, from childhood to motherhood, to our earthly makeup, to the implications of our ecological injustices. At first glance, societally infused logic would deceive us into thinking her stories were separate from our own; that our daily doings, our moment-to-moment affairs exude no propagating energy toward the events and outcomes that unfold in our communities, both near and far. This of course, is far from true.
"I learned how to inch a little out of my body just, so that I could feel a little or feel a little less."
– From the passage, A Requiem for Cornell my Childhood Bully
In her first passage, Isle 12, we are taken to a seemingly casual day-in-the-life moment, where the most commonly frequented public spaces serve as whirlpools of triggers and grief; where all that can be found is but temporary relief from the visceral realities that necessitate the very need for relief. Richardson's harmonious flow of soft, nostalgic notes stemming from pastimes, as well as familiar, binding earthly possessions, is constant, unrestrained and utterly fitting.
"Even in her frailest moments, chemo attacking her body like a small army, she always imagined another side of the sun where we were rich, our refrigerator was stuffed full and our minds weren't on bills."
– From the passage, St. George
There is a unifying nature in this book, and Richardson conveys her story from a rare lens that most of us are taught to conceal or suppress. We are united through intergenerational trauma, and our oldest relatives are both the gatekeepers of knowledge and evidence of an overarching recurring cycle of prejudice. If we are fortunate enough to access knowledge from our elders, we come to find that our entrapment was inevitable. Yet we are also taught how to survive, and how to set a precedent for those we both love and admonish.
"Make this skin we are shedding cast incantation over our dread."
– From the passage, For You
All Water Has Perfect Memory is a call to remember and reflect; to permit these seething moments of warmth cloaked in chaos to find a release, a reprieve – a purpose. If we are to honor these events that sculpt us, it is our responsibility to break through these inevitably reinforced feedback loops that have left us guarded and alone.
"We ARE just suffering the aftermath of broken promises."
– From the passage, Maggie
Ricardson writes in a highly charged, unprecedented time where being a Black woman, a Black mother, is to endure in a constantly evolving set of rules based upon the same institutions that implicitly and coercively stir this melting pot of trauma. This book is from a survivor to all other survivors; to mothers of survivors, to daughters of survivors; to wear their marks proudly and with beleaguered, electrifying grace. The fight continues, and giving up has never been an option.
"I have learned to talk myself out of not loving these numb and kissed scars."
– From the passage, A Kiss for the Culture
I highly recommend this book, as it stands to benefit anyone who chooses to come face-to-face with the intensely deep wounds not only of the author, but of themselves as well. It's an experience that compels us to explore the ramifications of our very existence and to contemplate the solutions that transcend what needs to be let go.
For more information and to purchase Chelsey Richardson's book, All Water Has Perfect Memory please visit: http://chelseyrichardson.org/
More about the author:
Taken from author's website:
"Chelsey Richardson's writing is the electrical current that flows between words and the spiritual world. She grounds her work in the notion that her role as an artist is to tell the bittersweet truth. She is a mother, teacher, and poet. In October 2007 she had the honor of winning The Gwendolyn Brooks poetry Slam at Chicago State University. In 2007 and 2011 and 2016 she earned a spot on the First Women's National Poetry Slam team stage to compete against some of Seattle's greatest female poets. She was nominated by the CD Forum as a Seattle Poet Populist candidate in 2008; they said this about her work, "Her writing requires you to think critically and examine the world in which we live. She is a writer that truly represents independent poetic expression. There is a cleverness and creativity in her prose that draws the reader or listener in. She is an amazing teaching artist and mentor in Seattle who is poised for a dynamic career." – CD Forum for Arts and Ideas. In 2019-2020 she was awarded the role of "Master Poet" by The Center for Washington Cultural Traditions. You may have seen or heard her work in Poetry on the Bus, Intersections an Interdisciplinary Journal, and performing with The Griot Party founded by Logic Amen, or Alchemy Poetry Series, created by Ebo Barton and Ben Yisreal. She holds a BA in Creative Writing from the University of Washington and Master's in Teaching English Education. She currently works as an educator at Nova Alternative High School in Seattle, WA."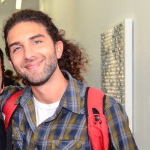 Jordan Somers is currently in his second year of Visual Media at Seattle Central College. He specializes in photojournalism and documentary work, with a particular emphasis on social movements happening throughout the city. His 2020 documentary, Hope is Not Cancelled, was an official selection at the Local Sightings Film Festival, and won an award for best editing at the Oregon Documentary Film Festival. Jordan is an avid traveler when granted the opportunity, and has a keen interest in psychology and existential philosophy.