The M. Rosetta Hunter Art Gallery is currently featuring the work of students from the Seattle Central Woodworking program. The show, organized by filmmaker, photographer, and Seattle Central Carpentry student, Shann Thomas (they/them), includes wood creations accompanied by poetry. The exhibit will run until Jan. 26.
The featured artists belong to the Youthbuild program by Youthcare, a program that aims to provide students of South Seattle College's Georgetown campus an opportunity to have a state-certified, pre-apprenticeship while being able to work on their general education.
After being awarded a grant by the City of Seattle Office of Arts and Culture, Thomas decided to create this exhibit. "I had previous experience working with Youthcare," they said, "and had a very positive experience working with the young folks there."
The art show was selected by Seattle Central's art curator Megan Trainor, who said, "Initially to me, it was just a photography show, but the show really grew over time, and I think the multiple aspects of the show have turned out to be a perfect example of what we're trying to do with this art gallery."
The gallery is open from Monday to Wednesday, 10 a.m. to 3 p.m. and Thursday from 10 a.m. to 6 p.m. The exhibit is free for all.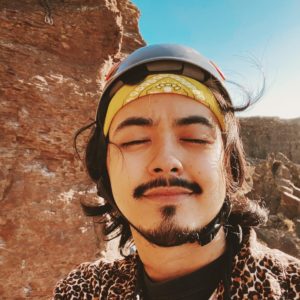 Juan Miguel Jocom, or Juanita Banana as his friends call him, is an Editorial Board member at the Seattle Collegian, where he focuses on writing about the experience of immigrant students at Seattle Central College. A documentarian, he hopes to create videos that will showcase the chaos and glory of humans.
As a Seattle local, he's an aspiring granola boy, who enjoys rock climbing and jumping off cliffs. His recent documentary, Welcome to the Neighborhood, was an official selected entry for the 2021 SCOOP film fest.