Check out our campaign video for Rossa for Mascot!
Vote for Rossa. Email mascot.central@seattlecolleges.edu by Friday, February 14th, using "Rossa for Mascot" as the subject line.
Also, check out our article about Rossa, here.
While you're there, check out the rest of our YouTube channel, and don't forget to like and subscribe!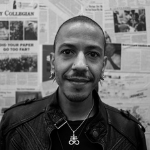 Astro (they/them) is the Editor-in-Chief of the Seattle Collegian, the President of Seattle Central's Queer Cooperative club, a fully-professed Guard with the Sisters of the Mother House of Washington, a social worker and behavioral scientist, founder of Transgender Day of Remembrance at Seattle Central (TDoR), Board Member-At-Large with Diversity Alliance of Puget Sound (DAPS), and a self-identified Queer-Alien-Person-Of-Color. They have won awards for their journalism and community service work as well as for innovation in leadership and academic excellence, and are an active and outspoken advocate and activist for both the LGBTQ+ and recovery communities. They speak regularly at events relevant to these causes, and work closely with their fellows to support these communities. Social justice, diversity, equity and inclusion are their banners, and their belief in the gifts, strengths, and resilience of all minoritized communities is the driving motivation behind their work and their mission: using the powers of journalism, self-expression, creativity, conversation and connection to uplift and foster acceptance for all peoples.