"Two roads diverged in a wood, and I – I took the one less traveled by, and that has made all the difference." – Robert Frost
When I first spoke to Carlos Hernandez, I knew little of his contributions to the school.  What I did know is that he had recently retired, and that a mural was painted in the Charles H. Mitchell Activity Center (MAC) to honor his time and contributions to Seattle Central College (SCC).  Beyond that, I knew that he had worked with the school since 1982 – 39 years which, in and of itself, is a remarkable achievement.  Not particularly for longevity's sake, but more so the rare, longstanding ideals – often overlooked and underappreciated by the school administration – that Hernandez brought to the SCC table.  Carlos Hernandez, now former recreation supervisor at the MAC, left a rare essence; an impression and lasting impact on the people he cared for most – the students.
Hernandez, born and raised in Harlem, New York, arrived in Seattle in 1979, after his friend convinced him to relocate on the West Coast. "He bought me a roundtrip Greyhound ticket because he wanted me to see the country," says Hernandez. After spending several months in Portland, they took a trip up north to visit Seattle. "After he took me to Seattle, I decided this is where I wanted to call home and shortly after moved to a place on 13th and Olive, which was about $120 a month with a view of downtown and the mountains." Hernandez continues, "I tell people I grew up here, the New York life was a thing of the past. This was a rebirth for me."
Hernandez began his career with Seattle Central in 1981 after receiving an AA degree in recreation. "While I was a student, I did work study for the recreation department under the coordinator Lloyd Gittens, who hired me part-time to run the weight room," says Hernandez. "And I was very good with kids, and was mentoring a lot of them in sports, which is how it all started." Upon graduating, Hernandez was given a full-time position at the recreation center, which was in glaring need of renovation and expansion.
"Our budget was a measly $36-40,000 a year, to cover part-time students, employees. I was the only full-time guy," says Hernandez. "It was a challenge every year here to try to battle the student government for money since we were on their budget." The student board adopted an election-based system at the time, where students would routinely campaign for their seats. "They were known as," Hernandez laughs, "the board of control!" Hernandez and co-worker Mike Ryan began to strategize ways to increase student participation and, in turn, their budget.
"We built the recreation program from the ground up with nothing – borrowed weights and equipment, because we had no money, we couldn't buy anything," says Hernandez.  "We had a rec center on Nagel and a weight room on Harvard, which was in a one-room portable that had one shower for men only."  Hernandez's first boss, Peter Koshi, became a quick ally in Hernandez' efforts to expand student involvement.
"[Peter Koshi] was a very decent man; unselfish, kind. He backed me up for everything," says Hernandez. "And it was a given that the more students you have participating, the more money you're going to get, so we established a student sign-in sheet to track the students who use the weight room and rec room." In the midst of tracking use of the facilities, Hernandez sought to further expand the rec center and create intramural sports.
"I hired aerobics instructors after they built us another space for dance in a portable," says Hernandez. "And back in 1981 I got my black belt in Budokan karate, which is what led me to start teaching karate classes here." Hernandez would go on to teach karate for 13 straight years here as an extra activity for the recreation department. "I was the basketball coach, the soccer coach, and I didn't even know much about soccer!" Hernandez was also the first at the school to start a boxing program in 1988. "We were the first to have a team that competed, and they would compete locally on the amateur level," says Hernandez. "I paid for equipment out of my own pocket – I bought the best head guards and gloves, safety gloves, mouthpieces, and I refereed."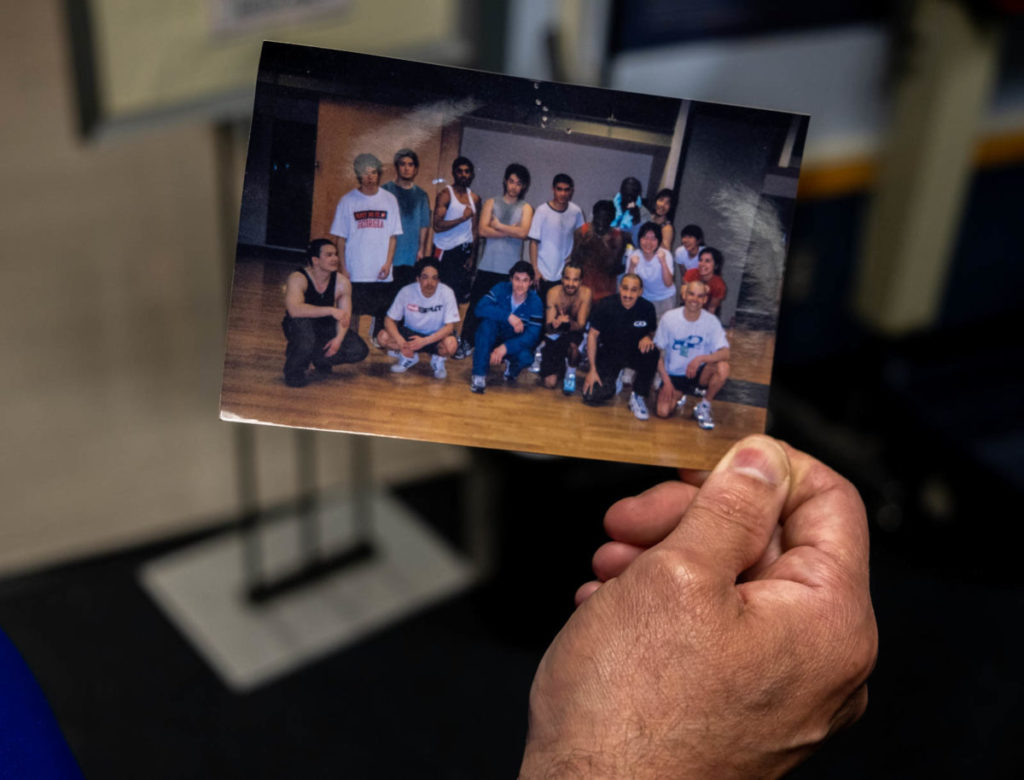 The boxing program grew by reputation into the 1990's, and eventually a second class was added due to its growing demand and popularity. "It was a very popular non-credit class," says Hernandez. "I had about 45 people at one point and had to start turning them away." The class eventually stopped amid growing liability concerns over the perceived violent nature of the sport, yet Hernandez says he was vigilant when it came to the safety of the students. "I made sure no one went crazy on anybody. No one ever had concussions, no one was ever knocked out, no one complained."
In 1995, at the onset of the construction of the Mitchell Activity Center, a media day was held to celebrate its arrival. When it came time for the photo op, Hernandez had not been included in the photos nor recognized as a key contributor to the conception of the MAC. "Everybody was pissed," says Hernandez. "My boss at the time said, 'the sad part is they didn't have you involved with that shovel and you're the one who did all the work for recreation to get this building going.'" Hernandez continues, "All of the people who supported me felt it was a stab in the back, but I kept moving on; I still loved my job, I still loved my students, I gave them all I had."
Since the opening of the MAC, Hernandez had not once been considered for the Director role for the MAC. "I went back to SPU to get my degree in recreation physical ed in 1995, but every time I received more education, do what I have to do, it seemed like they kept raising the bar for me to be eligible to have the director's job," says Hernandez, who felt his personality type didn't fit the mold of what Seattle Central sought for higher management roles. "I didn't kiss up to anybody, it's not my style, I didn't grow up like that, and just stuck to my guns."
Although Hernandez was never considered for a director's role, he was promoted to recreation supervisor in 2007. This role was created for Hernandez after a troubling revelation that his application materials for the director position were tossed to the side and not considered in the applicant pool. "One of my coworkers on the committee saw that my application wasn't in the pile and told me, and I went to human resources and said it wasn't right, that it was unfair," says Hernandez. "I went to the dean who I know didn't like me, and told her I was going to sue, and they promoted me right after that. Like the same day."
Having felt disenfranchised with the school administration, Hernandez reiterated with conviction his love and dedication for his students over the years. "I was a big influence on many lives here; I took the time to give students my time, even when it was personal, I helped them as much as I could to be a mentor and father figure; someone who they came to trust," Hernandez says. "Students who graduated would visit over the years and say, 'thank you.' He continues, "I liked being in the background, but a lot of the students thought I should have been at the front."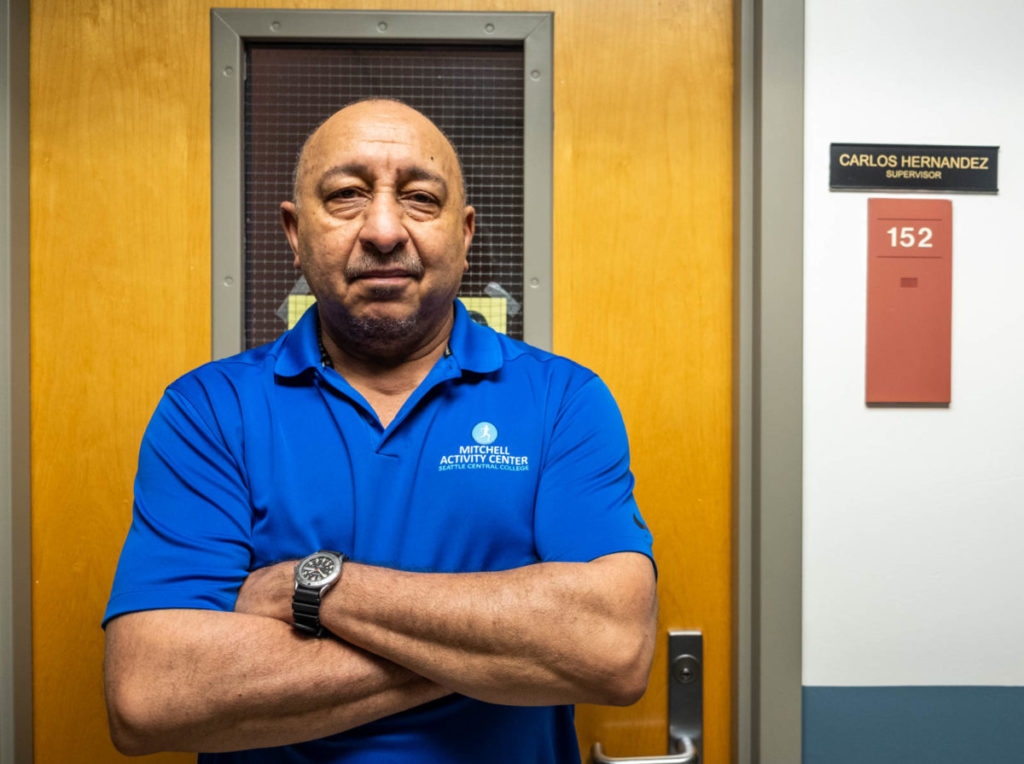 Before retirement, Hernandez was also a proponent for the hiring of Jared Blitz, the MAC's current director, who he and MAC staff hold in particularly high regard.  "He's a real leader.  A guy like him you never get in a million years," says Hernandez.  "He goes out and tries to empower other people to show their talent, and he's done a great job so far."
Blitz, who was notably disheartened to see Hernandez retire, observed him as a vital piece of the students' successes. "We'll miss his presence and impact at the MAC. People were often afraid of him because he's usually serious in nature and doesn't have patience with those he believes are wasting time, but he always cared deeply about our student employees," says Blitz. "He looked after them like they were his kids. For almost 4 decades many students, especially students of color, were given opportunities and support at the MAC from Hernandez when they felt they weren't receiving that in other areas of the college." Blitz continues, "That was a major retention piece to keep kids feeling connected to the school and pushed them to leave with a degree in hand. That's a testament to the kind of impact he had at the college without ever making a big deal about it."
In March of 2020, just as SCC was closing its doors amid the initial outbreak of the pandemic, Blitz and the MAC staff oversaw the completion of two commissioned murals that were painted by prolific Seattle-based artist Myron Curry.  As a token of the MAC's appreciation, Blitz worked with artist Curry to include Hernandez' image on one of the murals, acknowledging him as the pivotal figure who laid the foundational success of the MAC.  "I couldn't believe it, it looked so real I thought it was a photo! And it helps me retire easier knowing that that's here," says Hernandez.  "When people come back looking for me, they'll see me on the wall."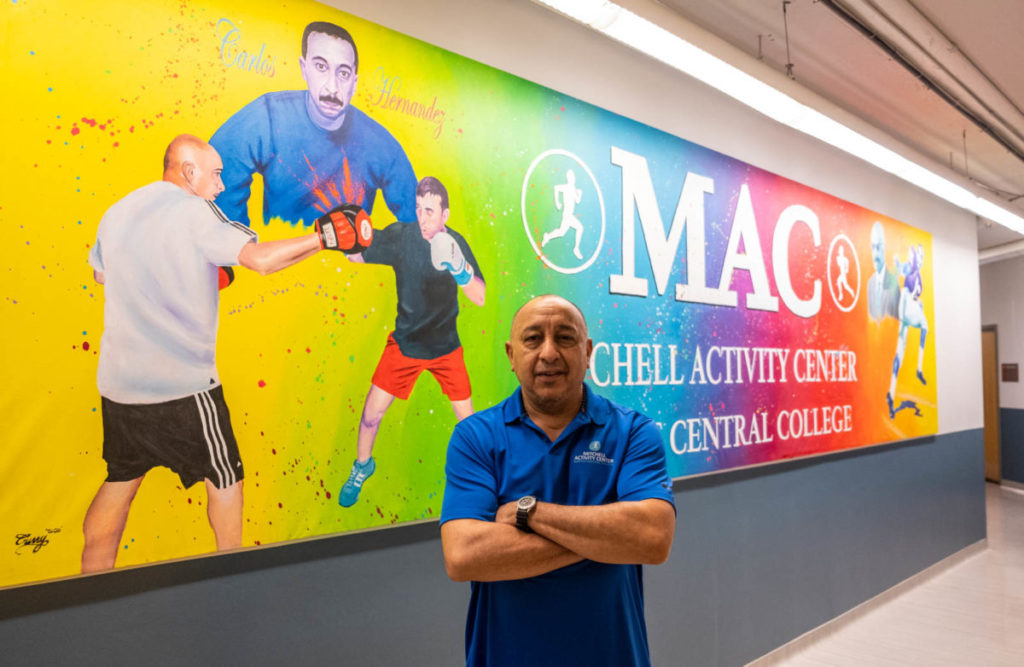 Hernandez' legacy with school, his myriad contributions pre- and present-day MAC, will continue to be felt by staff and students. "If I had to do it over again, I wouldn't change it; I was working for the students, not the administration, " says Hernandez. And as long as I was here for them, that was more important to me than any title or being passed over- because I was passed over a lot! I would do it again because I touched so many students' hearts, and I'm really proud of that."
After getting to know Hernandez just a bit over the last month, I was saddened that we hadn't crossed paths earlier during my education. Someone like him does not come around too often. So, as a student, and as an individual who constantly aspires to be authentic, intentional, and selfless, I want to thank you, Carlos Hernandez, on behalf of the school and the community; thank you for your rare, unique and profound contributions to the students of the Mitchell Activity Center and, in turn, Seattle Central College over the last four decades. As is the case for many of those in the world who speak their truth, the road is often coercive, discriminatory and not made easy, so we thank you for continuing to go down that road nonetheless, not deviating from your heart's calling, no matter the opposition. And I hope that the mere recognition and knowledge of all your students' successes leads to a veritable solace that you take into retirement.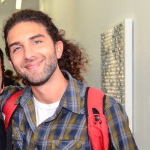 Jordan Somers is currently in his second year of Visual Media at Seattle Central College. He specializes in photojournalism and documentary work, with a particular emphasis on social movements happening throughout the city. His 2020 documentary, Hope is Not Cancelled, was an official selection at the Local Sightings Film Festival, and won an award for best editing at the Oregon Documentary Film Festival. Jordan is an avid traveler when granted the opportunity, and has a keen interest in psychology and existential philosophy.