Since 2014, Thai people have been forced to live under the Junta government's control (military dictatorship). For months, protests in Thailand, led by new generation students, are rebelling against the military-backed government. They are calling for democratic changes for the country and their right to freedom of speech.
In the past, Thais would elect populist leaders for years, only to see them removed through military coups or judicial maneuvers endorsed by the palace. The country's old political guard argued that the elected prime ministers were corrupt and skilled at milking the system, charming the masses with promises of cheap healthcare and subsidies for crops.
However, brave activists and students calling for the resignation of Prime Minister Prayuth Chan-Ocha, a former army chief, have faced dire consequences. Some were threatened, some were physically attacked, and some were forced to disappear.
According to The New York Times, in September, demonstrators formed a large group. They performed the three-finger salute stating, "At this place, the people have expressed their will that this country belongs to the people and is not the property of the monarchy, as they have deceived us."
Some activists were later arrested at mid-October protests and could face harsh penalties in the future. The Thai authorities tried to criminalize the movement by announcing an emergency decree prohibiting gatherings of any kind, which was issued by the Junta government and disallowed the media from disseminating "false" information.
The Bangkok Post reported the police brutality against the protesters on November 8. The police used water cannons containing toxic chemicals, preventing them from entering the Royal Household Bureau at the Grand Palace. However, this angered the demonstrators and made them gather in larger groups.
An international reporter asked King Vajiralongkorn Bodindradebayavarangkun, "Is there any room for compromise, sir?" King Bodindradebayavarangkun answered, "Thailand is the land of compromise". According to social media, what the police are doing towards the young protesters are acts of brutal force and cruel power.
King Bodindradebayavarangkun's initiative appears to bring the country closer to absolute monarchy, which has ignited unprecedented opposition from the country's youth. He and his wife and heir apparent reside mainly in Germany. King Bodindradebayavarangkun has extended his influence over the finances of the Crown and military units. Protesters are not calling for the monarchy to be abolished but for it to be modernized.
The new generation is fighting, they're young, they're angry, and they're calling for change. Young protesters will continue protesting if their main demands are not met: for the constitution to be re-written and for authorities to stop using violence against Thai people.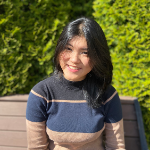 A young STEM student aspired for Mechanical Engineering and a staff writer at the Collegian. She's interested in design, machines, and the advancement of technology. Her dream is to use her design and technology skills to achieve a significant role in a dominantly male field. She enjoys playing video games, cooking, and mostly spending her time studying.