Since the dismantlement of Capitol Hill's Organized Protest zone on Jul 1, an encampment has occupied Seattle Central's South Plaza. Central's President Dr. Sheila Edwards-Lange had addressed the Central community in a statement last week, alleging the site was "taking on an aggressive and intimidating posture."
Dr. Edwards-Lange says the college has been receiving complaints daily from residents in the area, faculty and students feeling unsafe due to the unregulated presence of campers. She, alongside multiple security officers, have described unsanitary conditions due to the accumulation of human waste by the encampment, including feces and litter.
Multiple witnesses in the area have testified to observing the threatening use of firearms during conflicts in the site as well. The possession of firearms on campus is illegal, even for those with a permit for a concealed weapon with the exception that the individual with a valid concealed weapons permit "may store a pistol in his or her vehicle parked on campus, provided the vehicle is locked and the weapon is concealed from view," and commissioned law enforcement personnel while "in performance of their duties."
The state's Washington Administrative Code also outlines illegal camping on college facilities or grounds between the hours of 10:00 p.m. and 6:00 a.m., specifying prohibited "safety hazards" or "safety risks" as a result of activity on campus.
Tuesday morning, the City of Seattle and the Seattle Police Department moved in to sweep the area, after "exhausting every other avenue to get the campers to voluntarily leave the site", according to Dr. Edwards-Lange.
The area, which is now fenced off to the public, encloses yellowed grass, furniture, and other supplies campers had set up during the past month on the South Plaza.
The Campus Security Department declined to comment on the process of sweeping the site this morning.
Dr. Edwards-Lange declared in an interview last week that despite the Seattle Navigation Team's efforts to provide "resources" to relocate campers, "at some point, I will be forced to sweep or remove people just because of the complaints," foreshadowing the unwillingness for the encampment to disperse.
Contradictory to this, Dr. Edwards-Lange noted in an official statement issued Jul 15, that "police sweeps, and the criminalization of homelessness are not consistent with our values as a campus."
However, Dr. Edwards-Lange says she has to "balance" calling upon the city's help with the community's safety and concerns. In her statement to the community issued through an email this morning, she added "action" was needed "because the encampment had become a safety and health hazard."
The college's Campus Security Department had been confronting serious threats from the encampment (such as the illegal possession of firearms on campus), while being short-staffed and mandatorily furloughed one day per week during the month of July. Officers say they have not been getting enough support from administrators, citing a concerning lack of communication and over a decade-old mice infestation in their offices.
Despite the difficult odds Central's security team faces, they specify they "don't want to be police" and "don't want to be armed", feeling conflicted by the one baton on their hip and a lack of support from college administrators even before the civil unrest that arose from George Floyd's death in May.
With diminishing resources as two officers recently notified the department of their resignation, Campus Security and Central administration now face what appears to be insufficient resources in sustaining safety for the community and the creation of a critically dangerous environment for security personnel.
One of the officers even detailed a coworker resigning after only a week on the job, allegedly overwhelmed by the poorly supported needs of the department.
Recently, conversations from students have risen to eliminate the Seattle Police Department's jurisdiction on all Seattle College's property. For security officers at Central, emergency response to reported crimes on campus is not even guaranteed, despite policy and the East Precinct stationed just two blocks away.
One of the officers says campus security is not safe, noting that "there's no police to patrol in the area."
This isn't the first time that Central's security department, which is ordered to forward "all crimes, arrests, or reportable incidents" to a sworn police officer with SPD, has experienced negligent response from Seattle Police.
Multiple officers have complained that SPD's response to reports often takes up to an hour, concerned that even occupiers on the South Plaza with weaponry "know SPD is not going to respond," causing the area to be even more dangerous.
Seattle Police Department, now under the sharp eyes of the public, will soon endure reform to address its poor policing strategy as communities experience unsatisfactory response to safety threats and the reportedly unwarranted brutalization of marginalized communities and peaceful protestors in Seattle.
Meanwhile, Seattle Central College, in the midst of a changing city and mobilizing civil activity, confronts increasing civil tensions while failing to address it's short staffed, essential but furloughed, and poorly equipped security department.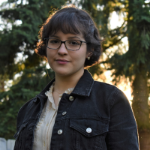 Alexa is an avid journalist seeking an A.A. with an emphasis on Global Studies at Seattle Central College. She's interested in pursuing investigative journalism to report on social struggles like immigration, civil rights, and access to education in South and North America. She is currently working to cover budget cut reforms at Central and civil rights movements in Seattle. Alexa is also a Youth Council Member at OneAmerica, advocating for greater access to quality education for immigrants and refugees in WA. She is a first-generation American who has travelled to 13 countries to explore world cultures and politics.