WA Gov. Jay Inslee held a press conference last Feb. 17, announcing that by Mar. 21, the state of WA is lifting its indoor mask mandate. The governor laid out his plans "in to regaining what we consider a much more normal life."
Inslee displayed a graph showing the cases of Covid-19 in the state; the graph shows the continuous decline of recorded cases in WA He also used another graph to reflect the projections that were done by epidemiologists about hospitalizations, showing the worst and best case scenarios of hospitalizations they are expecting.
Based on the data he presented, Inslee said he is "confident" in taking these steps forward. He said starting Monday, Mar. 21 schools and other public establishments are no longer required to wear masks. This lift doesn't encompass everything. Gov. Inslee said the mandate will still be effective in healthcare settings. He also made it clear that this lift only covers the state. There is still the federal mask mandate that requires spaces like public transportation to still practice mask wearing.
The governor has stated that private businesses and local governments that want to continue to enforce the mask mandate are free to do so and should be respected. The Collegian contacted the Associate Vice Chancellor of Communications and Strategic Initiatives Earnest Phillips II, through an e-mail he replied "Our presidents have a WACTC meeting this afternoon[Feb. 18], We will communicate to our students and faculty after this meeting, and we've had a chance to digest all this information." As of the day of publishing this article, Seattle Central College has yet to make any announcement regarding this announcement.
When asked about the announcement, some students at Seattle Central voiced their opinions. Claire, a fashion student said, "it depends on how the cases are looking like – I'm not too sure if that is a good idea." When asked if they will follow the lifting of the mandate a freshman business student said, "if people feel safer. It depends on the people." Staff at the college also expressed their opinions, one of the custodians said, "it doesn't really bother me one way or another."
The governor ensured that students and teachers will still have their individual choices as to whether they decide to wear a mask or not after the mandate is lifted, saying "we are not gonna allow them to be bullied," putting his faith into schools adding, "we will protect that right."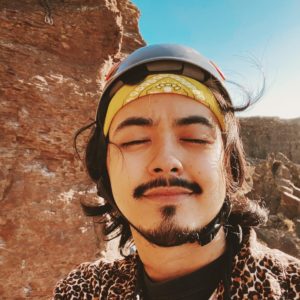 Juan Miguel Jocom, or Juanita Banana as his friends call him, is an Editorial Board member at the Seattle Collegian, where he focuses on writing about the experience of immigrant students at Seattle Central College. A documentarian, he hopes to create videos that will showcase the chaos and glory of humans.
As a Seattle local, he's an aspiring granola boy, who enjoys rock climbing and jumping off cliffs. His recent documentary, Welcome to the Neighborhood, was an official selected entry for the 2021 SCOOP film fest.