Full-time international student and Seattle Collegian staff writer, Alex Su, met an unwelcome fate when she arrived in the United States to begin classes at Seattle Central College in the winter of 2020. Two of her classes had been cut, endangering her F-1 visa status. "It was frustrating," says Su. "I went to apply for my student ID card, but when I arrived, the office told me that I could not get a student ID since I didn't have enough credits to be an eligible student."
That she had to register for classes a month before she left home, while the school didn't tell her that her classes had been cut until the day before the quarter began, compounded her frustration and fear, Su says. Afraid that she might be sent home because she didn't have enough classes and not sure what to do, she went to see an advisor in the International Programs office. "I had to do drop-in advising since it was already late and my advisor had left campus already," explains Su. "Before the day's classes started, the office was compact with students waiting for their advisors, so it took me almost 2 hours to talk to someone." By the time Su registered for new classes, she was waitlisted for one, a situation she describes as "infuriating."
To limit such frustrating experiences among students who have already registered for Winter quarter 2021, Dr. Jaime Cárdenas, Dean of Arts, Humanities and Social Sciences (AHSS), began cutting some winter quarter classes that fell below 65% of full enrollment on December 8, a full month before the beginning of Winter quarter. "By cancelling some classes about a month before winter 2021 begins, " Dr. Cárdenas wrote in a November 30 email to faculty, "I hope to give students, faculty members, and staff members some time to reassess their plans and reschedule if necessary."
Dr. Cárdenas also mentioned other factors that he would consider before cutting classes, including, whether programs such as running start would be affected; the likelihood of more students enrolling in the course; how similar classes fared last winter in terms of enrollment; how fall 2020 class enrollments might impact winter quarter; and, how many other courses each discipline is offering during winter 2021. In an effort to hear faculty concerns regarding class cancellations for winter, Cárdenas also held a drop-in "listening" session via Zoom on Friday, December 4. "I know that for some of you this is a stressful point in the quarter" Dr. Cárdenas wrote to faculty, referencing the insecurity that many Central teachers currently face. "I am sorry you're going through this."
Though the coronavirus pandemic has greatly magnified the problem of low enrollment, full-time English instructor, Helena Ribiero, says when and how low-enrolled classes get cut "has been an ongoing problem for several years." Because she's tenured, Ribiero knows she'll have classes to teach next quarter; however, if her current classes get cut, she may not know until the beginning of winter which classes she'll teach. "For me," she says, "it makes it very difficult to plan for next quarter — I don't want to order books until I'm certain my courses will run, so students don't end up buying books they won't need. It's also tough to set up Canvas, especially if you're planning on combining multiple sections of a class into a single Canvas shell."
Part-time instructors face more challenging problems, including the prospect of losing their jobs. "For example," Ribeiro explained, "being a full-time instructor, if my classes get canceled for low enrollment, I might instead be assigned to a part-timer's class, and they will lose that class — and that means losing a source of income. Also, if a part-timer's class is canceled due to low enrollment, they will probably not get a replacement class, and, again, lose income in the next quarter."
Part-time instructor Michael Reagan says that in the past he's had classes cut a few days before the quarter is set to start due to low enrollment. "I mainly teach in the history department," Reagan explains, "but I'm an adjunct at SCC, which means that I'm hired on a part-time basis for classes as the college needs them. While this is a lot of flexibility for the college, it is very hard as a teacher to make ends meet."
Reagan says that while his classes for winter haven't been cut, he's hearing about colleagues and whole programs that face massive cuts and closures due to the ongoing coronavirus pandemic. "Right now," he continues, "many faculty are overwhelmed with trying to teach during the COVID pandemic, making their classes as best they can online under challenging circumstances and trying to be there for all of their students. Having to worry about program closures and job losses takes a big toll on teachers already sacrificing a lot."
Reagan and Ribiero describe faculty being overwhelmed by handling classes online and other challenging circumstances during the pandemic. They've already sacrificed plenty for their students. Angst about program closures and job losses due to class cuts just adds more stress.
"Winter break is terrifying while we wait to know which classes stay and which disappear," states Tracey Lai, a full-time instructor, and an Associated Federation of Teachers (AFT) Action Team Leader. "Students are demoralized by the ongoing absence of classes and particular teachers," claims Lai, "and students may feel less inspired to proceed their studies."
Lai, who's been anxiously monitoring her "under-enrolled" winter classes, would like to see more budget transparency at the college's district level. She also believes that faculty participation in decision making regarding budgets would likely result in different decisions, referencing "participatory budgeting." The Participatory Budgeting Project describes their procedure as "a democratic process in which community members decide how to spend part of a public budget." Lai says this could restructure the budget process, making it easier for part-time teachers to make ends meet.
In addition to fueling insecurity among part-time faculty, cutting classes sometimes just causes them unnecessary confusion. "Another big problem is that classes will get canceled," Ribiero says, "but then additional sections will be added at the last minute, especially if there are waitlists for particular classes. Faculty needs to scramble at the last minute to plan and set up classes."
More administrative flexibility might help faculty to better schedule and organize classes. "I believe the District needs to fully invest in instruction and Student Services," says Ribiero, who wants to see a situation where "students would be able to complete their education at Central with fewer barriers."
"Cancelling courses for low enrollment seems to me to be a nickel-and-dime way of 'saving' money, rather than investing in the things that would enable students to complete their education at Central seamlessly," Ribiero clarifies, "like full-time, well-paid advisors, a fully-staffed financial aid office, and uninterrupted enrollment." Speaking to the uncertainty faced by many Central students at present, she asks, "Wouldn't keeping students enrolled make for better retention and completion rates, rather than messing around with students' schedules, canceling their courses, and dropping them for late tuition payments, especially when Financial Aid is so challenging to get a hold of right now?"
Ribiero also makes clear that the college doesn't use tuition dollars to pay instructor salaries. "I'm not an accountant, she says, "but I don't completely understand how canceling courses saves the college money."
For more information on how administrators choose which classes to cut we turned to the Dean of STEM, Wendy Rockhill, who's acting as Administrator in Charge in the place of Vice President of Instruction and Finance, Dr. Bradley Lane, who's out of the office until the beginning of winter quarter. Rockhill explains that Lane "works with the instructional deans to plan for spending and courses to offer, among other things."
"Decisions to cancel a course are based on many factors," she says, carefully listing several questions administrators ask.
"Is the course part of a lockstep program, where students are in a cohort and need a set of courses to complete their certificate or degree?
Are there other course options for students?
Is this the third quarter of a sequence that students need to transfer or complete their certificate or degree?
Is there more than one section of the course being offered? If so, are all the other sections full?
Is the course offered face to face, online, virtual hybrid? What are the student's needs for the courses being offered?"
Rockhill concludes, saying, "We center our decisions on what is best for students."
Unfortunately, as long as administrators do cut classes, students and faculty will be negatively impacted. Sometimes the cuts create a dearth of courses which lead to long waitlists on courses that do run. In these cases, students like Alex Su must scramble to find classes that work for them. Additionally, part-time faculty may feel pressure to overload their classes. At the beginning of fall quarter, Michael Reagan says he was "contacted by many students trying to enroll in my classes because there are not enough history classes being offered."
Tracy Lai says, "Community Colleges will never become their vibrant selves if courses are continually pruned back." She adds that "students become demoralized that classes and specific instructors (who are likely to be adjunct) keep disappearing, and students may feel less motivated or confident to continue."
In an email to the Collegian, Dr. Jaime Cárdenas, who recently served on the faculty in AHSS, says he's not sure how many winter quarter classes he will ultimately cut. "Cancelling a section/class is one of the hardest aspects of being a dean," he says, "because I know that there are real-life consequences. It's not an abstract activity for me, per se." He explains that when he taught at Central, deans cancelled some of his classes due to low enrollment. In some of those cases, he heard from students that the cancellation impacted their plans. "For instructors," he continues, "the cancellation of a class that they were set to teach will affect their income, schedule, and/or instructional activities. As a dean, I always think about how my decisions may affect the students and faculty. I proceed with seriousness and caution."
So far, Central student, Alex Su's classes for this winter haven't been cut. Looking back at her experience from last year, she says she wishes the college would have communicated more clearly with her about her class cancellations, "especially since I was a new student who had recently arrived from another country."
"I hope that the experience that's being addressed in this article will help the school be more aware of their weaknesses," she continues, "and help them realize what they need to work on. It worries me that I could have been a student who wasn't able to communicate as well in English, then I would have had a harder time getting a new schedule."
Lai urges students and faculty who worry about class cancellations to attend the Seattle Colleges Board of Trustees meeting via Zoom at 3pm on Dec. 17. Instructions for attending the meeting can be found at this link. "There is a public comment at the beginning of the meeting," Lai says, "and individuals can make their 2-minute comments or send in statements to be read into the public record."
She also recommends checking out the FaceBook page for a group led by Washington state student leaders called Communities for Our Colleges. "This coalition seeks to persuade the Washington State legislature to re-invest in community and technical colleges," says Lai. "If successful, the budget cuts [for 2021/22] would not be as dire as we are discussing."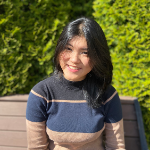 A young STEM student aspired for Mechanical Engineering and a staff writer at the Collegian. She's interested in design, machines, and the advancement of technology. Her dream is to use her design and technology skills to achieve a significant role in a dominantly male field. She enjoys playing video games, cooking, and mostly spending her time studying.