Whether you are on an afternoon run, or just merely passing by the park, you've probably heard Balcony Bridge playing, luring walkers with their songs and reminding people of the power of music; how it can create a space for the local community to connect.
Bridging of the balconies
Only four days after moving from California, vocalist Julian Pearlman was playing with some of his friends at the Ballard Farmers Market. In search of a drummer, one of his friends yelled "is there anyone here that plays drums?"  Coincidentally, guitarist Sean Moran happened to be in the crowd and volunteered to be the drummer. After Pearlman and Moran solidified their bond through open mics and other jam sessions, drummer Jack Moran and bassist Jacob Longhurst boarded the team after meeting the two at a house concert. 
In the midst of Covid-19, and not having their own space to practice their music, these constraints fruited the idea of playing outdoors: "We all have housemates; playing outside was a great way to not piss anybody off," said Jack Moran.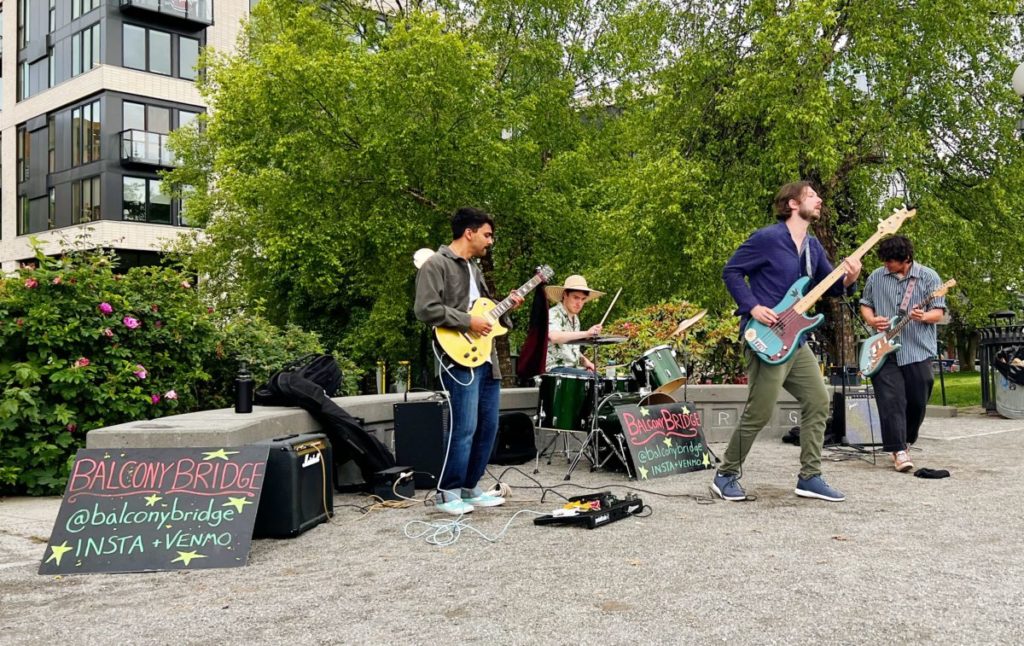 In a world that was struggling to see color due to the box that Covid-19 put us in, Balcony Bridge has been coloring outside the lines: "People have been pretty receptive overall. Covid sucked, and no one can get to [live] shows, and Seattle has this sweet spot for rock music from the likes of Nirvana," Jack Moran explained.
Hylas Landry-Lizshaedz, a Capitol Hill local and an audience member from one of their Cal Anderson park show says, "it was a nice surprise." Landry-Lizshaedz also elaborated on the impact that the band is making: "Seattle as a city that desperately needs more art. I feel there was so much culture here 20 years ago, and it got all eradicated by Amazon and big tech, and I've been seeing a lot of that starting to come back since the start of the pandemic."
Talkin' 'bout sharing the love
Titled "Talkin' 'Bout Love", the band has been working on a new album since March. With ten tracks on the album, Balcony Bridge is promising to deliver a more encompassing rock, served with some heavy tracks. But also songs that you can cry to while you watch Seattle's late spring rain.
With the modern era of music, the band is hoping to reshape how we consume music, and how artists, like themselves, reach people. "I feel a lot of artists [think] 'I need to have many spotify listens'. I think for us, we are reaching people already. That's not what it's about; it's more about giving the people who already know us a place to listen on their own if they want to," Jack Moran expressed.
Pearlman described the album as a labor of love; he hopes to redefine how listeners find and consume music: "We gotta take away the bullshit about venues and start having music readily available everywhere." Sean Moran agrees, "It does more for the band… In the traditional sense of how you do it in the music industry, it's all designed to benefit those businesses and not the artist."
Performing in the parks is an act of rebellion against capitalism, cutting off the middleman and directly giving the music to the people. "A venue can be like 'We can give you space and we love music,' but at the end of the day, they need to sell drinks at the bar so that this bar can keep going. Because, unfortunately, that's how you run a business in America," said Sean Moran. In every essence, this can be simply defined as rock and roll, an act of counter culture, a way to tell people that there are different ways of touching the community apart from consumerism. "This is kind of a way that music artists can have a lil bit more autonomy on playing, and then we can just bring that music to people who may not be a part of that bar venue," Sean Moran added.
In the far future, the band hopes for world domination. But for now, they plan to lead by example for other artists in the area. Jack Moran shared "We've been trying to invite other bands to join the set up, and we are hoping to flesh that out more and share the platform." Imagine a community where you get to listen to good rock music for free.
If you see the band playing, Pearlman says that the best way of showing your appreciation for their music is by getting them food, Korean barbecue preferably. In other ways, they'd also appreciate it if you give their new album a listen; you can stream on Spotify and Apple Music. Catch them live at local parks in Seattle such as Cal Anderson, Green Lake and Gas Works. Follow their Instagram where they announce their upcoming shows.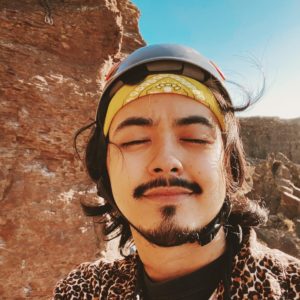 Juan Miguel Jocom, or Juanita Banana as his friends call him, is an Editorial Board member at the Seattle Collegian, where he focuses on writing about the experience of immigrant students at Seattle Central College. A documentarian, he hopes to create videos that will showcase the chaos and glory of humans.
As a Seattle local, he's an aspiring granola boy, who enjoys rock climbing and jumping off cliffs. His recent documentary, Welcome to the Neighborhood, was an official selected entry for the 2021 SCOOP film fest.