It is no news that Seattle is known for its coffee. As the birthplace of Starbucks, the city has gained a reputation for harboring a prominent coffee culture. The multitude of amazing cafes allows everyone, from the regular vanilla latte lovers to the most opinionated coffee critic, to satisfy their cravings.
With so many coffee shops to choose from, where does one even start? That's where I come in. I have made it my undertaking to try as many Seattle cafes as possible. This bi-weekly column is a space for my thoughts, opinions, and overall reviews surrounding the coffee shops I venture to.
I would like to state my credibility in the matter as well: I, myself, am a barista. With my own first-hand experience in the coffee industry, I hope you find my opinions trustworthy and verifiable, albeit slightly pretentious. With that being said, let us adventure into the grand world of Seattle coffee.
Coffee Stop II: Espresso Vivace
Espresso Vivace has been catering to Seattle's coffee fanatics since 1988. They roast their beans in the Northern Italian style with the goal of "bringing each bean in [their] blends to the fragrant peak of caramelized sugar content."
The name "Espresso Vivace" lends itself to the cafe's main priority: their espresso. Basic drip coffee isn't even offered at any of their three locations. As many third-wave coffee shops do, Espresso Vivace focuses on ristretto shots – espresso pulled for a shorter length of time for a more concentrated, flavorful shot.
Co-owner David Schomer has even published multiple books on professional coffee and barista techniques. With Espresso Vivace's priority on precision and the impressive authenticity behind its brand, they mark themselves as one of the more prominent names in Seattle coffee culture.
Atmosfera
I decided to stop by Espresso Vivace's "Brix" location on Broadway. While they have an additional sidewalk cafe on the same street, I was hoping to catch the ambiance of their primary shop.
With the doors open wide for customers and the dynamic music coming from within, I immediately felt welcomed into Espresso Vivace the moment I walked up to the entrance. However, I shortly discovered I would not be able to enjoy the aesthetic of the cafe for long. Unfortunately, due to the ongoing COVID-19 pandemic, all orders are only available to-go as indoor seating is currently unavailable to customers.
From what I could take in from my short time in line, the overall atmosphere of Espresso Vivace is lively and eye-catching. The interior has a retro style, and vintage neon signs make an appearance throughout the shop and at their sidewalk cafe.
When the coffee shop is once again offering indoor seating, it appears that there will be plenty of room to enjoy the atmosphere and soak up the exuberant vibes. For now, though, they do offer a few spaces outside for customers to enjoy their drinks. I was able to find a place slightly shielded by the typical Seattle drizzle, and although I am sure it was not up to par with the usual Espresso Vivace experience, it was still an enjoyable outing.
Although not being able to sit indoors was a bit of a bummer, I cannot penalize Espresso Vivace too harshly knowing that their decision was made due to the blight that COVID-19 has become in all of our lives. However, not being able to truly indulge in the shop's ambiance hinders my ability to fully critique the cafe's environment.
Atmosphere Rating: 3.5/5
Caffè
After noticing Espresso Vivace's focus on espresso, and specifically ristretto shots, I was anticipating some pretty good coffee. I was not disappointed.
The first thing I was able to evaluate was the overall appearance of my drink. Once again, I ordered a cortado, but this time I got it with oat milk. When handed to me, I immediately noticed the desired silky texture and the latte art.
As I mentioned in my previous review, plant milk can be hard to manipulate when it comes to art; however, Espresso Vivace was able to make a pretty coherent design in an extremely small to-go cup (and the art on my companion's breve was excellent). Consider me impressed.
As for the taste, I found it to be above satisfactory. The milk was steamed well, and there was no burnt aftertaste or evident overheating. The espresso was adequate as well. It wasn't the best espresso I have ever tasted, but it was certainly above average. The only distracting aspect was a touch of over-richness.
I always find that to-go cups impart a specific, unpleasant taste on coffee. Unfortunately, that taste was apparent in my cortado. It isn't the end of the world, but it did make me regret forgetting my personal, portable coffee cup at home.
Coffee Rating: 4/5
Servizio
The service at Espresso Vivace was excellent from start to finish. Upon entering the cafe, my friend and I were greeted by several baristas behind the counter. While in line, one behind the pastry counter asked if we would like some food. They were helpful and efficient in explaining the cafe's options and making one feel like they weren't waiting in line.
Another barista took our orders as we got closer to the front which helped to keep the line flowing. They made sure to be accurate with our orders, and the barista even clarified the "oat milk" portion of my order back to me — a small yet extremely relieving gesture for someone who cannot have dairy.
All the baristas kept a lively attitude, even amidst the shop's COVID-19 precautions: a transparent screen at the register and handing out lids with tongs to name a few. Working during this pandemic can be undoubtedly exhausting at times.
From explaining supply and demand issues to enforcing mask mandates with unruly people, sometimes keeping the peppy, service-industry attitude can be impossible. Even with these matters at hand, I found the service at Espresso Vivace to be incredibly kind and hospitable.
Service Rating: 5/5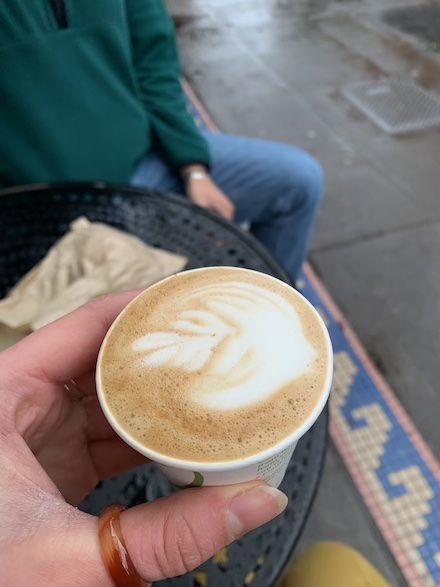 Finale
I thoroughly enjoyed my time at Espresso Vivace. I found the upbeat vibe of the space fun and attractive. Although sitting outside was not too much of a bother, I am slightly disappointed not to have enjoyed the whole experience of the interior.
Espresso Vivace's coffee game lives up to its standards. The baristas are skilled in their craft and were able to produce excellent products. Even with factors like finicky milk and small cups, my cortado was professionally presented. In addition to the looks, the taste of the beverage was also amazing. With quality espresso, milk, and appearance, I enjoyed my drink even with the slightly "off" taste that to-go cups sometimes leave behind.
As for service, there was no slacking to be seen by Espresso Vivace's baristas. Being consistently thoughtful, efficient, and pleasant are great barista trademarks, and the shop's employees checked all the boxes.
The feeling of being welcomed and at ease is important for a customer's overall experience. The entire process, from entering the door empty-handed to leaving with a delicious drink, was not only effortless but enjoyable.
With two Espresso Vivace cafes located conveniently close to the Seattle Central campus, it would be a shame not to take the opportunity to check the shop out. You can tell that they take their coffee seriously and prioritize the quality of what they serve, whether that be aesthetic, drink, or customer service.
Overall, I found Espresso Vivace to be a formidable figure in the sea of Seattle cafes and one to check out if you have the chance.
Overall Rating: 4/5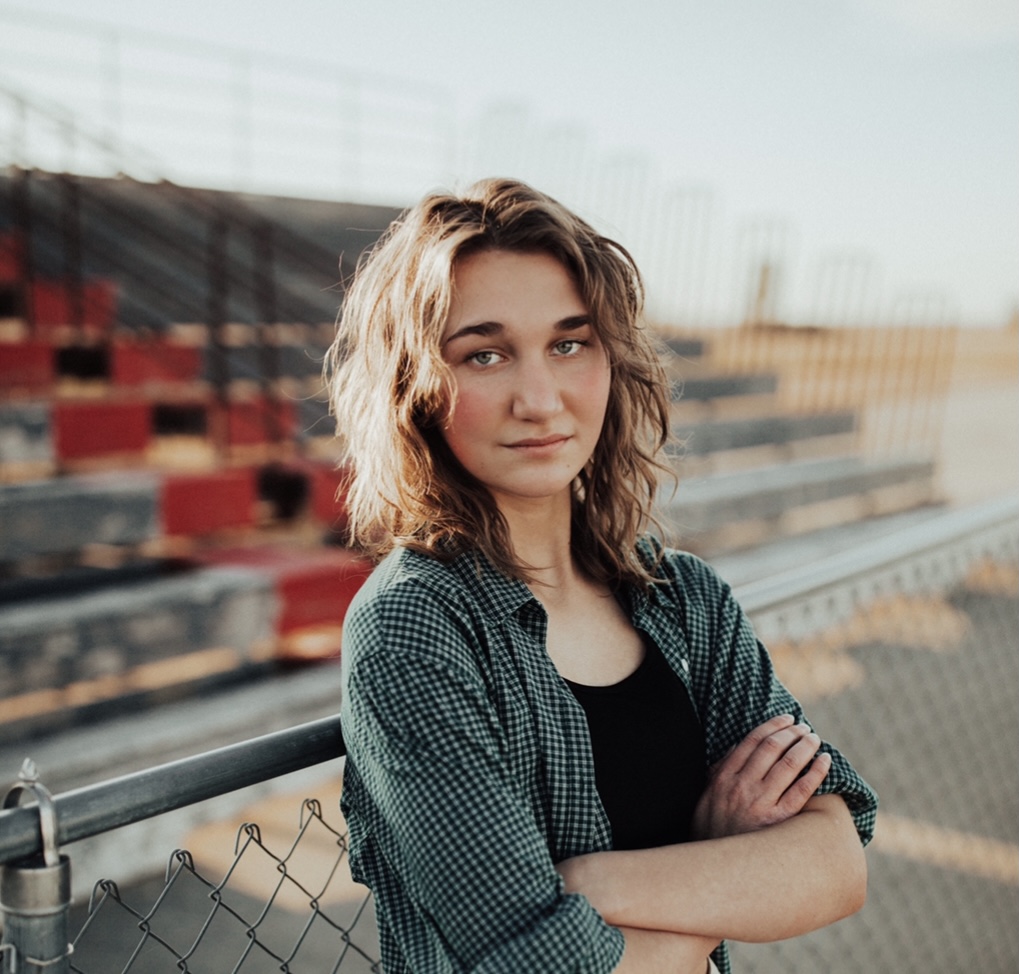 Mo is an alumni of Seattle Central and is currently attending the University of Washington with aspirations to pursue a career in journalism and communications while also delving into anthropology. She aims to explore the world and reveal the stories it wishes to tell through her writing and photography/videography. When she's not captivated by her journalistic pursuits, she loves to go on adventures, create, watch films, and surf.