On October 8th, a very compelling talk about Chief Seattle was held via Zoom at 12 PM. The event featured David M. Buerge, a biographer and historian to the Duwamish Tribe, from Humanities Washington. He focused on Chief Seattle's life and visions as well as the history of Seattle.
Buerge started off by talking about his book about Chief Seattle and how he worked to get it published. He explained that it was a difficult task as there isn't a primary source for his history. Beurge said Chief Seattle's picture is incomplete after 160 years. He was a man painted with both historical and fictional strokes, which could create conflicting messages.
Buerge explained the pronunciation of Seattle. He explained that since it is a Native name, it is a very subtle pronunciation. It is of three syllables with an emphasis on the middle and is in contrast to how we pronounce it now, which is only two syllables.
He then shared that when Seattle died in 1866, it was interesting how not a single newspaper mentioned his death. It was not until a few years later that people started to take notice. The pioneers put together a tombstone for Chief Seattle in 1890 and wrote what they knew of him at the time.
The key element of the tombstone was Seattle's age, which was about 80 years. This meant that he was alive during the time when the Virgin soil epidemics hit the Pacific Northwest, two years prior to the arrival of George Vancouver in 1792. After smallpox swept through the west coast, the population was limited by 50%. The societies there crashed and the turmoil from that produced a series of religious movements. New powers were introduced to the region.
Buerge told the session that Seattle was born in a very tumultuous time. The society was collapsing, the population was dropping, and violence was increasing. He said that there was a debate about whether Seattle was a noble or a slave. However, since the town was named after him, he is normally presented as a noble man.
He talked about how Seattle had placed himself in a leadership position and how he was also a successful warleader. He had a frightening reputation, his attacks being violent and bloody. Buerge then presented the session with maps of the region while briefly explaining where the Native tribes resided. He said that Seattle was head chief of both the Duwamish and the Suquamish tribes.
Buerge then described that Seattle and his son attacked the Chimacums, essentially wiping them out. It was a genocidal attack and was entirely successful. The Chimacums then broke up and dispersed to different places.
Later, Seattle lost his oldest son in a battle, who was a model of his father when he was in battle mode–devoid of any compassion. One of the recorded memories of the battle was Chief Seattle's reaction to his son's death: "Oh my son, my son, he is down."
The loss of his son affected him greatly and after that, he began to question his role in the Native society.
When the Americans came into their land, the Native people welcomed them warmly before they learned the nature of the invaders. They welcomed Columbus with food and shelter and in return, Columbus wrote in his log that they would make good servants.
Buerge said, "The Americans came in like gangbusters." After they conquered Mexico, they swept into California and moved north to Oregon and later Washington. A lot of the Native people there were nervous because they had heard stories about the Americans and they knew not to befriend them.
Buerge then explained how Seattle found ways to express things in ways that his people could grasp. He was quick on his feet and made radical decisions. In the end, he made the decision to marry his people to the Americans. He wanted both groups to prosper and made an attempt to build a peaceful multi-racial community.
Buerge emphasized that the town was named after Seattle because he was an indispensable man with a powerful reputation and a variety of skills. His character and vision make him an inspiring namesake for the city. Chief Seattle transformed from a war leader to a peace maker and his people depended on him. He had managed to survive by developing relationships with prominent settlers.
Sadly, his vision for a united society based on Native tradition did not survive. Buerge said that it was because the Americans brought in racism and refused to marry the Native people. Seattle did what he could but he aged and became exhausted.
The discussion ended with Buerge elaborating on Seattle's speech before answering questions from the participants. One of the questions asked was how many slaves were owned by Chief Seattle, to which Beurge answered six to eight. Another asked how Seattle was able to convince all the Native groups to welcome the Americans after he had attacked them. Buerge explained that a lot of them didn't initially but the substance of his argument was practical and eventually got through in the end. The last question asked if he thinks that there is a parallel between the racial tensions that occurred between the Native Americans and settlers and today's racial divide. Buerge answered, "The racial divide in settlements was not as severe as it is today because there were very few Americans among a lot of Native." After that, Buerge wrapped up the talk and wished everyone a good day.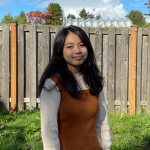 Alex Su is a Biochemistry student and a staff writer at the Collegian. Harboring a passionate love for fiction, she enjoys writing prose as much as reading books. She's fascinated by the complexity of living things and aims to work in the medical field. She likes writing for the Collegian as much as bullet journaling, drawing, and eating.