This is a developing story and there is still information that needs to be gathered. The Seattle Collegian will work diligently to make the voices of students and faculty heard as they are the ones who are going to be heavily affected by this change. We will post updates regarding this issue as soon as possible.
The pandemic has taken many favorite Seattle spots, including countless local restaurants, retailers, movie theaters, and art venues. A public forum held on January 12 left faculty, staff, and students wondering if Seattle Central College would be next on the list.
Seattle Colleges District Chancellor Shouan Pan, Ph.D., along with Terrence Hsiao, the Seattle Colleges District Vice Chancellor of Finance and Operations, broke the news to almost 200 participants in a video conference that Seattle Central is "spending money at an unsustainable rate" and this might spell the end for the college.
Hsiao explained that declines in enrollment have reduced revenues for the college. Since 2017, enrollment at Seattle Central College has been on a steady decline. Hsiao blamed this decline on competition, changing demand, and the city's overall high cost of living. Unfortunately, COVID-19 has turned this gentle decline into a slippery slope.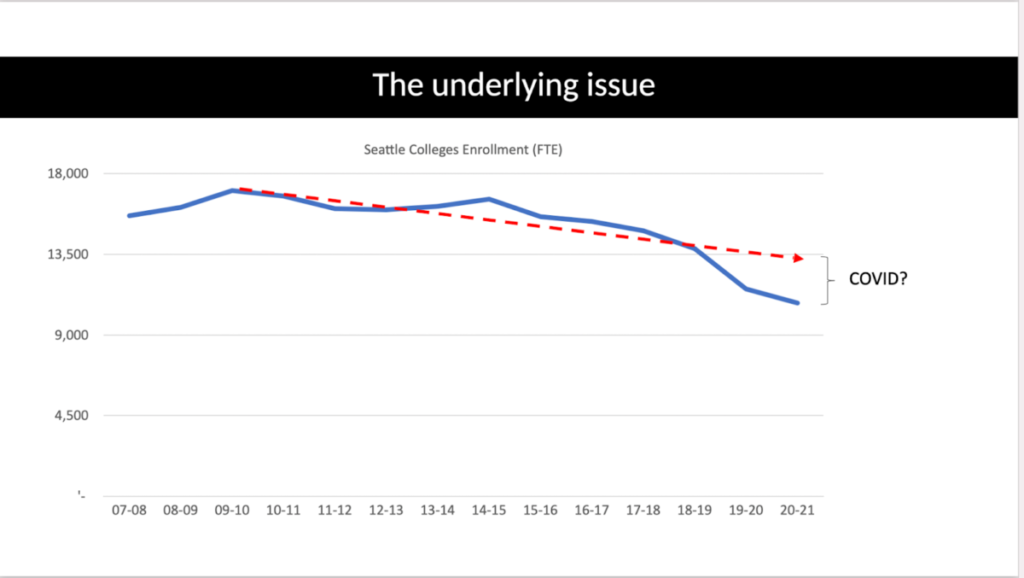 Where funding comes from
Seattle Central College is largely funded by the state of Washington. But this funding alone is not enough. Historically, the college has received supplemental funding for Running Start students and revenues earned from international students.
However, the pandemic has discouraged international and local students from enrolling, leaving a gap in funding. Enrollment between the 2019-20 and 2020-21 school years was down nearly 50%.
Hsiao used the airline business to explain the difficulties that the college is currently facing through the prism of supply and demand economics. He added that one way to save the whole system is to "de-duplicate," or in other words, to close down branches of the college, which puts Seattle Central on the chopping block.
Hsiao's analogy received mixed reactions from members of the faculty in attendance because it implied that the college views itself as a business and its students as customers. In response,  Hsiao said, "Unfortunately, we need money to educate."

Pan clarified that the mission of the college is to "get the students through, to prepare them for jobs, prepare them for credentials." He further emphasized that the mission of the college is the success of the students and not anything else.
Does the Chancellor have a plan?

The current deficit of the college stands at $15.5 million. To make up this deficit, Hsiao suggested cutting 15% of administration which will save $1.5 million. Another solution is to restore class sizes back to their 2009-10 norms, which will potentially save $5.8 million. The problem, Hsiao explained, was that the student-to-teacher ratio had dropped to 17 students per teacher, reducing class sizes to under 85% full.
Prior to the pandemic, this ratio remained higher, hovering between 20 and 23 students per teacher. To increase the student-to-teacher ratio, Hsiao explained, the college would need to reduce its number of course offerings, meaning faculty would be laid off.
Pan acknowledged that these options are still not enough, but he said that "necessary and timely adjustments" can potentially put the college back on track to recovery. We still have time, he said, but there is not much of it left.
The news has brought many concerns and questions from faculty. What will this mean to the current students of Seattle Central? How will reductions in faculty and staff impact the quality of students' education? Will the college survive another year to see a fresh batch of students?
As of now, no one from the administration has been able to give any definitive answers.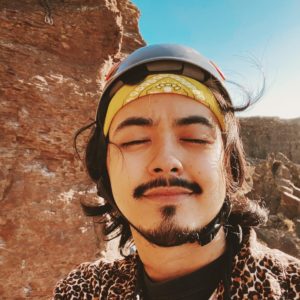 Juan Miguel Jocom, or Juanita Banana as his friends call him, is an Editorial Board member at the Seattle Collegian, where he focuses on writing about the experience of immigrant students at Seattle Central College. A documentarian, he hopes to create videos that will showcase the chaos and glory of humans.
As a Seattle local, he's an aspiring granola boy, who enjoys rock climbing and jumping off cliffs. His recent documentary, Welcome to the Neighborhood, was an official selected entry for the 2021 SCOOP film fest.