While numerous farmers markets are bound to reopen next month, year-round markets––such as the Ballard and University Farmers Markets––are maintaining the front. However, for the sake of a fresh landscape, my ventures led me to Fishermen's Terminal for a look into Seattle's local fish selection. Although seasonal produce cannot be found lining the docks of the pier, sustainable and wild-caught fish make a great addition to other farmers market finds.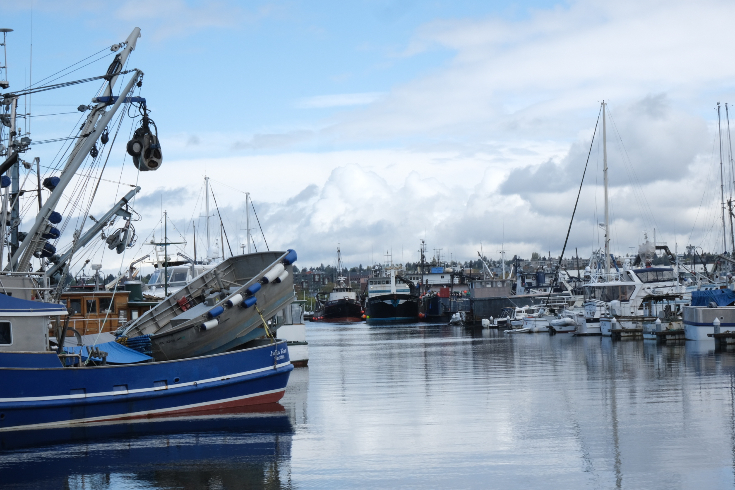 Among the expanse of vessels, from purse seine fishing boats to commodity yachts, one can find Dr. Peter Knutson aboard his small fishing boat, selling wild-caught Alaskan salmon. Knutson's local business, Loki Fish Co, sells their salmon from 11:00 a.m to 5:00 p.m every weekend on the West Wall of Fishermen's Terminal. Loki offers all things salmon, from small boneless filets to whole fish sold by the pound, and even salmon dog treats.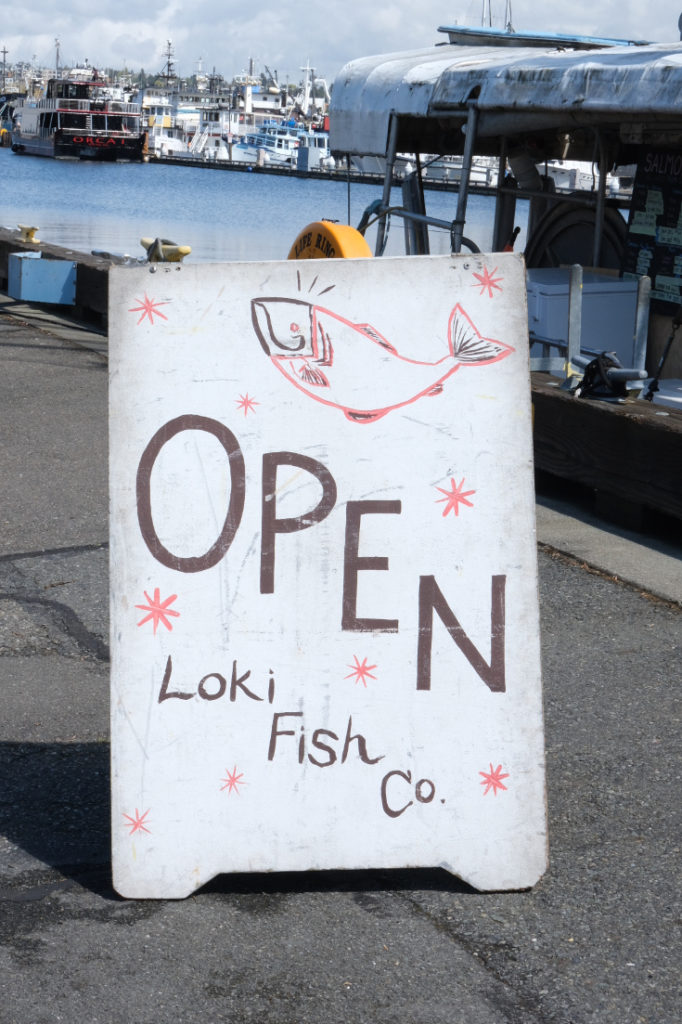 Choosing local fishermen, such as Knutson, ensures high-quality, sustainably-caught products while also supporting a small and ethical business. After working on commercial fishing boats in the beginning of his career, Knutson realized his ideals lay in the local business world: "I was just over the whole corporate thing," he remarked when speaking about the switch. Knutson also emphasized his enjoyment of community engagement. While large fisheries are majorly disconnected from consumers, Knutson makes a point to really get to know his customers, "I really just enjoy talking with people, you know?"
After watching Knutson's interactions and conversations with his customers, the response was undoubtedly genuine. With a warm demeanor and overarching knowledge of his product, Knutson seemed at ease explaining his salmon choices and helping consumers choose the right catch for them.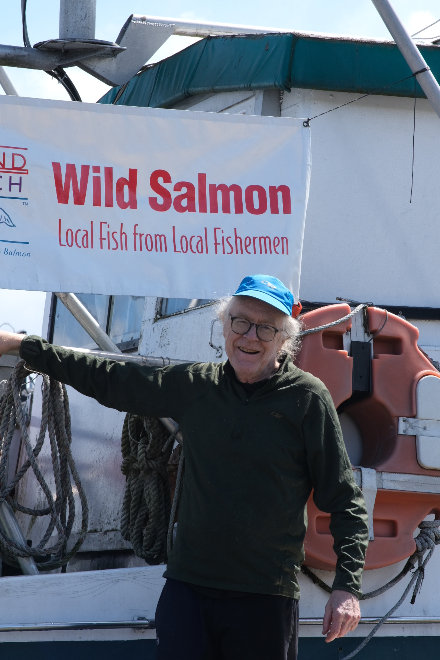 A jaunt to Fishermen's Terminal is a lovely way to accompany other weekend farmers market journeys. Along with Loki's incredible salmon selection, the terminal also houses the Wild Salmon Seafood Market, which offers white fish, shellfish, and even specialties like mahi-mahi. With May's seasonal produce offerings of arugula, beets, spinach, strawberries, asparagus, and more, there is ample room to create the perfect dish. Baked fish with fresh spring veggies is a great way to balance flavor and texture. A vibrant salad full of spring greens and produce is also perfect to accompany a fish main course.
Loki Fish Co can also be found selling their products at the University and West Seattle farmers market locations, making it all the easier to get some fresh fish to accompany all of those springtime veggies. One of my favorite ways to combine nutritious produce and fish is through poke bowls. Below is a recipe that includes some of May's freshest veggies and Knutson's impeccable sockeye salmon.
Pacific Northwest Poke Bowl
Servings: 2
½ cup short-grain white or sushi rice
2 golden beets
1 tbsp olive oil
1 tsp sea salt
1 6 oz. frozen, "sushi-grade" salmon filet*
1 tbsp sesame oil
2 tsp rice vinegar
½ tbsp soy or soyaki sauce
1 tsp grated or minced ginger
2 spring onions (ends removed and thinly sliced)
½ tsp sesame seeds
2 cups arugula
1 avocado
Optional toppings: spring onion, sesame seeds, seaweed salad
The night before, place frozen salmon in the fridge to thaw.
Prep and cook the rice according to the package of your specific rice brand and type.
Preheat the oven to 400 degrees.
Cut the tops off and peel beets. Chop into one inch-sized pieces.
Place chopped beets on a roasting tray lined with parchment paper. Drizzle olive oil and sea salt on top. Mix with hands or a large spoon.
Bake beets for 25-30 minutes.
Place salmon filet on a clean surface. If needed, remove the skin. Carefully slice salmon into one-inch pieces.
In a small bowl, combine sesame oil, rice vinegar, soy/soyaki sauce, ginger, spring onion, and sesame seeds.
Add the salmon into the bowl and carefully mix to coat.
Divide the cooked rice, roasted beets, arugula, and salmon into two bowls
Add half an avocado to each bowl. Optionally, top bowls with additional spring onion and sesame seeds and/or seaweed salad.
Serve immediately and enjoy.
*This recipe calls for "sushi-grade" salmon. Make sure you are getting high-quality, frozen fish that is safe to consume raw. Knutson's salmon is frozen immediately upon capture, making it acceptable for raw consumption. However, there is always a slight risk for food-borne illness when consuming raw animal products. Use discretion. Alternatively, you may use cooked or smoked salmon.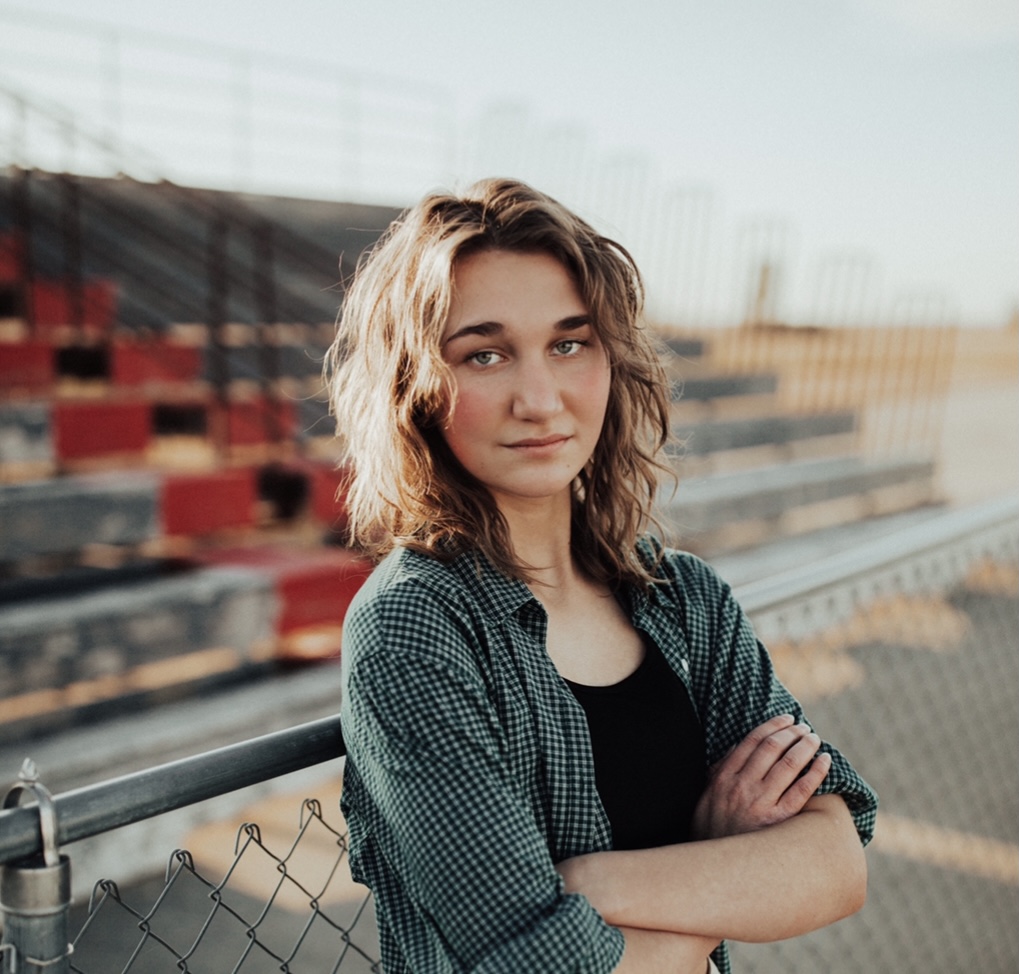 Mo is the current editor-in-chief of The Seattle Collegian and attends Seattle Central with aspirations to pursue a career in journalism and communications while also delving into anthropology. She aims to explore the world and reveal the stories it wishes to tell through her writing and photography/videography. When she's not captivated by her journalistic pursuits, she loves to go on adventures, create, watch films, and surf.