If you are from Seattle, the abundance of high-quality salmon is something you probably don't often think about. I don't even remember the last time I had a conversation with a Seattle local about fishing.
Seattle houses one of the biggest fishing fleets in the country, and from the words of Dr. Peter Knutson, "I think most people in Seattle don't realize how lucky they are to have a fishing fleet in the middle of their city. There is no other major American city that has that."
Seattle has changed quickly in such a short amount of time, and along with it, its roots and identity. What once was home for many indigenous tribes with rich cultures has now become a shelter for tech giants like Amazon, Microsoft, Google, and more.
But for a fisherman like Knutson, fishing means more than sustenance. Fishing is something that serves as a mirror that reflects the current state of the world.
A fingerling

As a boy, Knutson's first recollection of catching his first fish was with his dad. With a humble hook and line, they would go out to the San Juan Islands where some of his family had resided for generations.
A lutheran minister, his dad was never a fisherman, but fishing was never foreign to Knutson. He is a descendant of immigrant fishermen from Norway and farmers from North Dakota. His ancestors arrived in the Pacific Northwest where they built fishing boats to continue their heritage.
Knutson grew up around the Everett area where at that time, before Boeing, the main industries were lumber, timber, and fishing. When he was nineteen, he worked in different fields as a farmer where he picked strawberries and cucumbers. One summer, he worked on a pulp mill but despised the heavy chemicals and confinement involved with the labor.
In 1972, Knutson asked one of his neighbors who was a commercial fisher for a job on their boat, and he's been fishing ever since. "It's a fundamentally honest industry," Knutson said, explaining why he stayed as a fisherman for decades, "fishing is something that humans are always going to need," he added.
Knutson served as a crew man for seven years on a commercial boat that fished around the Puget Sound and South East Alaska. "When I went to Alaska for the first time on a commercial boat, I was amazed at how many fish there were," he said. He was attracted to it as a profession because it was something that was a service to the people, providing them honest, healthy food. However, fishing is not just taking something from nature. Being a fisherman is "being committed to preserve – to give and not just take," according to Knutson. That's why he has always been involved in fighting for the preservation of fishing culture, rights of fishermen, and the environment. Back in 2001, he was one of the organizers who fought against the real estate company who tried to transform the Fishermen's Terminal into a commercial space.
After meeting his wife in 1979, they got married and bought a small fishing boat where they established their small business, Loki, that is now managed by one of his sons.
Knutson is also a professor at Seattle Central College, where he teaches Anthropology.
The culture that kept Seattle afloat
Back in the 2008 financial crisis, Knutson argued that the fishing industry stayed afloat because fishing is not reliant on economic bubbles, but rather on the environment. According to University of Washington's Washington Sea Grant, the aquaculture and seafood industry was worth approximately $1.2 billion in 2019. This shows the resilience of the fishing industry despite challenges. "As long as the oceans are somewhat healthy, it supports a lot of people," says Knutson. And for the over 300 boats that are docked in the Fisherman's Terminal alone, Knutson emphasized that for most families "It's a livelihood not just a job."
Fishing is not only significant to Seattle economically, but it is also important to the indigenous culture. Every year, Pacific Northwest Native American tribes celebrate the return of the first salmon from their annual Pan-Pacific migration called the First-salmon ceremony. This tradition––still practiced to this day––celebrates the first salmon arriving back to their rivers. Once they are done consuming the salmon, they throw the bones back into the river to pay respect.

Knutson has been fishing for four decades now and has intertwined the tribal fishermen into his life, some of which are his neighbors. As someone who sails on the fishing grounds of the first people, Knutson said that "I try to work with my native brothers and sisters as much as I can." Non-tribal fishermen, like Knutson, work in coordination with tribal fishermen with assigned days on who gets to sail and fish on certain parts of the week. In addition, Knutson mentioned the salmon treaty between the state of Washington and the native tribes. It states that the tribes are entitled to half of the salmon population that enters their traditional fishing grounds.
Some schools in Washington participate in the "Salmon in the Classroom" program where students get to raise and release salmon. This is organized by the Washington Department of Fish and Wildlife in an effort to raise the youth's awareness about the life cycle of salmon and their role in the environment.
A drowning culture

Historically, fishing started in Egypt dating back to 40,000 years ago and has become one of the most integral parts in creating the civilization that we enjoy today. Some may argue that fishing as an industry is dying, but not on the shores of Knutson. "When I started fishing in 1972, I've heard that my whole life. People told me 'hey that's a dying industry', and I usually respond with 'if you think that the fishing [industry] is dying, then I guess you're saying that the planet is dying.'"
As a generation, younger people are more aware of the perils of global warming and how it affects the environment. However, Knutson admittedly is worried if we can save the Earth. He never fixated on this doom, however; in contrast, he has hope for the future.
The fight for the fishing culture and industry has proven that community is stronger together. Knutson explains how fishing brings an opportunity to unify different groups of people from Native Americans, to settlers, to religious people, and even to environmentalists. "When we organize, we win, and we [have] won a lot – Explain [to the people] what is on stake, and they will be on your side," he added.
Real estate and other threats are always lurking. "They don't care about the salmon, they only care about the money," Knutson expresses. When asked if he had lost sleep over this, he said "I don't worry about them, I just fight them."
Passing the line

Just like the tides, the highs and lows of life are constantly changing. For Knutson, he has expressed staying in shallower waters: "I'm at the point of life now. I'd like to cut back and maybe just fish on the Puget Sound." When asked about what he sees in the future of his fishing legacy, Knutson expressed, "I would like the culture as a whole to continue. I would like to see it passed on. I don't lean on my sons to follow in my footsteps, that's up to them. I do feel I have somewhat of an obligation for the people that work in our business to keep it going. I could see Loki not being around anymore at some point. I'm not worried about it. I would like to do a handoff that would work, and if it doesn't, that's how life goes."
The Odyssey

Odysseus spent 20 years of his life away from home: ten years fighting in the Trojan war, and ten years trying to get home. However, this is nothing compared to the four decades that Knutson has spent being away from shore and fighting his own battles.
"I have this little window of life where I can be alive. I know everything has a life, but as long as our planet is alive… there's fishing. If there is no fish, there is no future," Knutson says.
But the journey doesn't end here. There is still much that needs to be done in order to preserve and fight for fishing culture. In Feb 2022, the Sauk-Suiattle tribe sued Seattle City Light for building a dam that obstructed the spawning spot of salmon and other fishes that are culturally important to the native people. The tribes have requested for an alternative path for the salmon to pass through, but the city of Seattle has declined to fund this project.
The 700,000 Seattle residents may see the city now as a nesting spot for tech giants, but for people like Knutson and other fishermen who call Seattle their home, fishing is something they cannot afford to lose. It's a part of their cultural identity and future. Although not readily seen, this adds a layer of complexity to the city that is very fundamental for creating a society that is diverse and multi-dimensional.
Seattle's fishing culture serves as a reminder that this place that we live in is shared. Everything that we do to it will be reflected in ways that are imperative not only to us, but to others as well. So every time you look into the ocean and wonder what you see, it's just not a vast body of water, but rather the reflection of humanity and the life you've lived on this planet.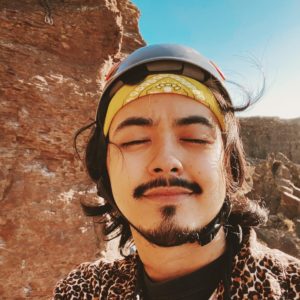 Juan Miguel Jocom, or Juanita Banana as his friends call him, is an Editorial Board member at the Seattle Collegian, where he focuses on writing about the experience of immigrant students at Seattle Central College. A documentarian, he hopes to create videos that will showcase the chaos and glory of humans.
As a Seattle local, he's an aspiring granola boy, who enjoys rock climbing and jumping off cliffs. His recent documentary, Welcome to the Neighborhood, was an official selected entry for the 2021 SCOOP film fest.