The Gen Z phenomenon
Tomorrow is the season 2 finale of the hit HBO show Euphoria. If you've spent any time on social media platforms, you'd know about Euphoria Sundays on Twitter and the Euphoria high memes on Tiktok. You cannot deny the impact of the show on pop culture, especially within the fashion sphere.
Euphoria follows a group of high school students as they navigate through different aspects of their teenage life. Topics tackled on the show includes drug, sex, gender identity, and love. The show is critically acclaimed, scoring 88% on rotten tomatoes. It is also praised for its brutally honest depiction of drug addiction and for its diverse cast. NRP described the show as "thrilling, daring, disquieting and compelling – a triumph at a time when truly unique storytelling remains unsettlingly rare."
And I agree with them. Euphoria's storytelling excels at giving each character room to grow. As an Asian viewer, however, something struck me at the season 1 finale. As much as I love the story and how well the cinematography is, there was something that was missing: a disconnect, a sense of unrelatability. WHERE ARE THE ASIANS AT!?
While doing my research, I stumbled upon an article by Ally Xu titled "Euphoria' Is Praised For Its Diversity, But Still Seems To Lack Asian Characters." Xu asked some hard hitting questions, like how is Euphoria still failing to represent the Asian American and Pacific Islander Community (AAPI community) when it is filmed in the suburbs of California where according to the United States Census Bureau, there are currently 5.8 million Asians living in the state? Xu also talked about how this lack of representation isn't new to Hollywood. Showing the disproportionate roles given to Asian actors. The New York Times Style Magazine reported that "Asian-Americans represent[ing] only 1 percent of all leading roles in Hollywood."
Yet, I think there is something even more glaring than the aforementioned issue.
Redlining and Exclusionary Zoning
Redlining happened during the 1930s when the government made it difficult for BIPOC communities to gain housing in an attempt to segregate white communities from BIPOC communities. Exclusionary Zoning is described by the Century Foundation as "a legal practice that has been used for decades to keep lower-income people—disproportionately racial minorities—out of wealthy and middle-class neighborhoods across the country."
So what's this have to do with the lack of representation of Asian voices? The show is set in fictional suburbia where the concept and prominence of white community plays at the forefront of the show. Asian communities were never really a part of this suburban lifestyle, at least in the eyes of Hollywood.
This image that was set by the U.S. government through zoning laws and redlining further reinforced the idea that whites are supposed to belong in suburbia, blacks in the hood, and Asians in Chinatown. This can be seen through how Asian actors are casted as stereotypes like nerds, model minorities, I.T. experts, and martial artists. Although the number of AAIP families living in suburbs are increasing, Hollywood clearly hasn't caught up with this idea.
The mass migration of the 1800s
Of course these stereotypes didn't come out of nowhere. These concepts are mostly rooted in the racist history of the influx of Asian immigrants back in the 1800s. Immigrants were viewed as prostitutes, criminals, or simply different. In that same era, the term Yellow Peril was born.

As an Asian viewer, this made me feel like the only people who had fun in their teenage years were the people who live in the suburbs. The show also reinforces the "model minority" myth. But Asians know how to party too. We get drunk, we get high, and our families aren't perfect. We make mistakes.
Although this has been a great way to look at the effect of redlining, zoning laws and racism in the past, and how this still affects marginalized communities, I wish this was something I no longer have to talk about.

The game is slowly changing

For a show that is celebrated for being diverse, it still has a lot of progress to make. AAIP actors have been greatly under-appreciated. Recent films like "Shang-Chi"(2021) and "Crazy Rich Asians"(2018) show that Asian actors and characters can perform just as well as their white counterparts. We are in a seminal age of film where online streaming giants like Netflix are already reaping the benefits for catering to Asian talents and stories. The Korean series "Squid Games"(2021) is reportedly valued at $900 million and stayed for 53 days on the top spot of the platform.

There is still a lot of work that needs to be done to make this more than just tokenism, not only by Euphoria, but by the whole film industry. There is a place in the film industry for Asian stories and characters, and with the same determination as the first Asian immigrants of the 1800s, we will continue to demand the representation that we deserve.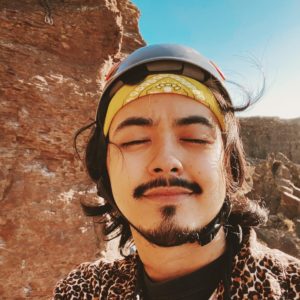 Juan Miguel Jocom, or Juanita Banana as his friends call him, is an Editorial Board member at the Seattle Collegian, where he focuses on writing about the experience of immigrant students at Seattle Central College. A documentarian, he hopes to create videos that will showcase the chaos and glory of humans.
As a Seattle local, he's an aspiring granola boy, who enjoys rock climbing and jumping off cliffs. His recent documentary, Welcome to the Neighborhood, was an official selected entry for the 2021 SCOOP film fest.