On Thursday May 27, students at Seattle Central College's first in-person Unity Fair since before the coronavirus pandemic suffered an unappetizing experience after they participated in a hot sauce challenge.
The challenge, hosted by the Information Central team, had students take part in a test of their taste buds as they endured the heat of a three-tiered hot sauce challenge for a chance to win a food coupon. However, an unconfirmed number of students weren't able to take the heat.
Some students were seen vomiting on the school grounds after participating in the challenge. The condition and identity of the students remains unknown. Seattle Central's Public Safety Department has confirmed the occurrence of the incident. "We had to call 911 to check on them," said one public safety officer.
Francisco Fonseca, programming club member, was one of the students who tried the challenge. "The level 3 [was the] spiciest," he said. Mad Dog 357 was one of the sauces in the challenge. With a score of 357,000 on the Scolville scale, it's one of the spiciest sauces in the world.
Fonseca was left to deal with the consequences of taking the hot sauce even hours after the event. "I'm still dealing with the effects in my stomach. It was very severe the first two hours." There were no waivers signed prior to the event, says Fonseca, nor did event organizers warn that the hot sauce may cause severe discomfort. "Whoever has taken that hot sauce, I think would know very well that particular sauce cannot be offered to the public."
There has been no announcement regarding the incident made by the student leaders who organized the event. The Seattle Collegian has reached out to Yiqiu Viv Cai, program manager of Information Central team. Dennis Denman, the director of Student Leadership has yet to make a comment.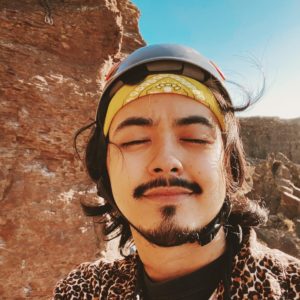 Juan Miguel Jocom, or Juanita Banana as his friends call him, is an Editorial Board member at the Seattle Collegian, where he focuses on writing about the experience of immigrant students at Seattle Central College. A documentarian, he hopes to create videos that will showcase the chaos and glory of humans.
As a Seattle local, he's an aspiring granola boy, who enjoys rock climbing and jumping off cliffs. His recent documentary, Welcome to the Neighborhood, was an official selected entry for the 2021 SCOOP film fest.